Baltimore rock guitar ace EH reaffirms his top-of-the-heap status on his new 7 track album "Mirrors". It's a superlative set of new music full of tightly-written, engaging instrumentals that don't need a singer up front to rock hard and hold your attention. This type of writing is EH's trademark, and is one of the main reasons he will develop a audience. While many other technically-proficient rock guitarists mainly play for other guitar players, EH seems to play for the people. He relies less on continuous shredding and more, on dynamically impacting riffs.
EH gets us going with his opening track, "Pounding The Pavement" straight away and immediately delivers the goods. It's a classic head banger, full of all the things we love about this kind of music.
EH employs cool melodies, memorable off-kilter riffs, and expressive reverb-drenched leads that leave no doubt in anyone's ears why he's a straight-up rock guitar champ. EH doesn't play fast, he plays music and lets his considerable chops serve the track as needed.
"Basket Case" is up next and treats us to a blast of good, crunchy rock and roll. EH unleashes his skills, building interest with a great groove and an echoed-out power chord riff. When he finally lets go, he goes hard into a creative rock vocabulary without ever overwhelming the song or grandstanding. This is his genius and should give aspirant instrumental rockers a profoundly different idea of what rock playing is all about.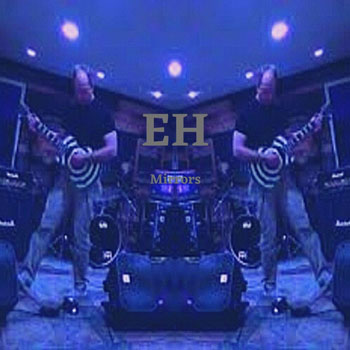 The title track, "Mirrors" takes the record on another big turn and combines EH's melodic side with his left field progressive rock creativity. He does this focused psychedelic style better than anyone out there and turns it into something that's uniquely his own.
His tone is monstrous, dirty, and articulate and his note choice is beyond reproach. EH has a knack for the uncluttered driving rock rhythm that's undeniable, but he's also deeply creative in his artistry. Here he blends the two seamlessly.
"Roll the Dice" is an expanding rocker with a fleet-fingered intro, a big beat, and a harmonized instrumental hook for rock n' roll authenticity. It's an up-tempo, yet whimsical track with cinematic appeal that does much with texture and feel.
EH lets it fly with the fret-board work to thoroughly rock you, but never goes over the edge. It's another bold, beautiful effort to listen to loudly and repeatedly. "Dig Deep" demonstrates his capacity to create instrumental guitar tunes that retain interest with their structure and how EH literally makes his six-string sing.
"Mindset" features some tasty aural candy in the spacey and luscious layers that drift around the controlled beat. Some nice dynamics let the rhythm section shine as the lead guitar roars. This track again displays EH's capacity to play with appropriate tones and heaviness when it best serves the song.
"Sensory Perception" kicks in with some sumptuous drums and bass that give the number an infectious beat behind some mesmerizing guitar work that is just a pure delight on your ear. This is by far and away the most diverse track on the album and gives us yet another different guitar style from EH. Full of smoldering and bone-crushing guitar work, "Mirrors" is an impeccable release!
OFFICIAL LINKS: STREAMS – REVERBNATION – TWITTER
Please follow and like us: