Rock is alive and well and especially with the electrifying DownTown Mystic. The project led by musician, writer and producer Robert Allen, has something special and if rock bands could bottle it, they'd all be incredibly believable. DownTown Mystic is original, authentic with exceptional musicianship and airtight songwriting. With rip-roaring guitar riffs, gritty blues infused arrangements, equally compelling drumming and bass, the collection of six tracks on their latest release, 'The DownTown Demos' EP features downright killer songs and beats. Of course the surprise is that these are essentially demos.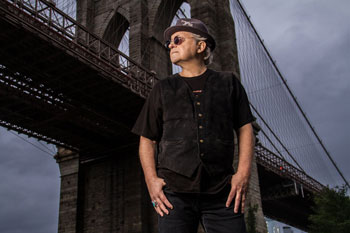 'The DownTown Demos' contain 6 new tracks that are unlike anything previously released by DownTown Mystic. Instead of a live band, there's just beats. DownTown Mystic writer/producer Robert Allen comments, "I hooked up with the Bong Bros. for some experimentation and this is the result." What also makes the release somewhat unique is that the new songs are demos for a studio project that has yet to begin recording. Robert adds, "The idea is to show the process of how the project proceeds in real-time, from demo to finished product."
The EP opens with the ZZ Top-like "(I Want To) Live". An abrasive mid-tempo mesmerizer which buzzes in your ear incessantly. "I want to live I want to sing. I want to do everything. I want to live, love, dance and sing. I want to do everything," recites the chorus. Composed by Robert Allen, the track was written 10 months before he would be diagnosed with MDS, a condition for pre-Leukemia. 7 months later he would receive a stem cell transplant as a cure for the MDS. Robert says, "It's been a long strange trip for sure and the one constant that's kept me going is the music."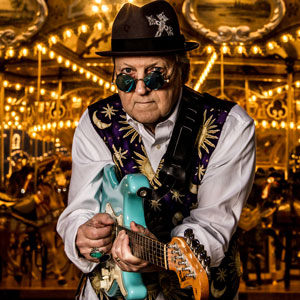 "And when the sun was falling. All did fade to black. Now the night is calling. Who will have your back? Do you know my name?" are the opening lines to "Shadow Walk", also penned by Robert Allen. This one too, is steeped in bluesy guitars flavors – both acoustic and electric – which adds a dark, thick sound with a firm grip on tone. The moody piercing vocals also bring more fuel to the fire. At this point, the vocals step out of the equation, leaving the rest of the songs to be fired up by their beats alone. All of which makes for a fascinating and diverse listen from DownTown Mystic.
I couldn't help notice the similarity in sound, to Mike and the Mechanics in some of these beats, especially on the melodically inclined "KoolSkool" and the acoustically driven "AcousticHeart". Except in general, DownTown Mystic are a whole lot more 'dirtier and grittier' than the English rockers ever were. The two final tracks are both instrumental versions of "(I Want To) Live" and "Shadow Walk". In summation, 'The DownTown Demos' is a collection of blues-drenched rock demos that would belong in any era of rock 'n' roll.
Dropped on September the 10th, releasing 'The DownTown Demos' was definitely the right move, as I believe fans will appreciate it a lot, for its immediacy and rawness. Despite the genre's well-worn familiarity, DownTown Mystic proves there is still plenty of life in it – with or without vocals, and with or without a live band. The EP is out via Sha-La Music Inc.
OFFICIAL LINKS:
DownTown Mystic: https://downtownmystic.net
FaceBook: https://www.facebook.com/DTMystic/
Twitter: https://twitter.com/dtmysticband
Spotify: https://tinyurl.com/y7ntbt88
DownTown Mystic YouTube Channel: https://www.youtube.com/DowntownMystic1
DownTown Blog: https://downtownmystic.net/blog/
Please follow and like us: