DownTown Mystic writer/producer Robert Allen's insatiable hunger for making music always seems to lead him to notable projects. Moreover, his projects are always greater than the sum of their parts – the superb sound quality is indicative of the clarity of thought permeating the musicianship and production. This is also present on the new single "Fly" – it's a virtue that informs impeccable craftsmanship similar to its immediate predecessors. As announced by Sha-La Music Inc., the single was digitally released at Radio, on May 9 via iPluggers, and distributed worldwide, via The Orchard/Sony Music group.
"Fly" is the first single to be released at Radio by DownTown Mystic since June 2021. It's also the first song to be released from the current recording sessions that started in January of this year with long time compatriots Steve Holley (Paul McCartney, Elton John) on drums and urban legend Paul Page (Ian Hunter, Dion) on bass. The recordings are taking place at the famed Shorefire Studios where DownTown Mystic recorded On E Street with Max Weinberg and Garry Tallent from the E Street Band.
"Fly was written as a reaction to the emotional toll of living through a worldwide pandemic that is still with us," explains DownTown Mystic writer/producer Robert Allen. "Now add to that the death and destruction in Ukraine and tell me, who wouldn't want to fly away from it all?" The song, and the sessions that spawned it, also represent a new era of recording for DownTown Mystic after the loss of long-time engineer Ben Elliott and his Showplace Studios.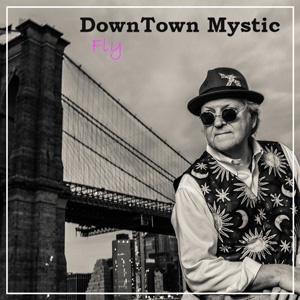 "I knew it was the end of an era, but where to go next was my dilemma," continues Robert Allen. "Luckily, I moved into a new house and realized I was only a half hour away from Shorefire. Working there with (engineer & owner) Joe DeMaio has really been a great experience and the sound he gets from his Helios console is amazing," concluded Allen. From the very start of "Fly", all the resources of this project unfolds – warm, incisive singing, rich layers of jangling guitars, steady metronome drumming, and a melody to hug and hold onto.
"Fly" features the various components of DownTown Mystic, parceled out in a purposeful sequence to generate momentum, emotion, and a captivating organic listening experience. The resulting music is downright brilliant, displaying an incredible array of pop and rock influences that run decades deep, in only 3 minutes and 9 seconds. Understated and unobtrusive, the sound of "Fly" simply flows non-stop from verse to chorus, and back.
Constant work over many years of experience has certainly honed the instincts of the players in the DownTown Mystic ensemble, and it is to their great credit they can bring that rigorous expertise to bear in recording sessions with such understated ease. The soulful simplicity of its sound and delivery invites contemplation of what preceded and further encourages the pleasurable staying power of DownTown Mystic in the current music arena.
The music on "Fly" is subtle, revealing layers of intricate, thoughtful stuff going on underneath the top coating of the single's amiable, easy-going tune and steady rhythm. These elements take "Fly" from simply being a good retro-rock flavored song, to being something that needs to be listened to again and again.
OFFICIAL LINKS:
DownTown Mystic Website: http://downtownmystic.net/
DownTown Mystic YouTube Channel: https://www.youtube.com/DowntownMystic1
FaceBook: https://www.facebook.com/DTMystic
Twitter: https://twitter.com/DTMysticBand
Instagram: https://www.instagram.com/downtownmystic33/
Spotify: https://play.spotify.com/artist/19VD3b7cxZuylUNNUP9sdm
Sha-La Music: http://sha-lamusic.com
Please follow and like us: