In the world of music, some tracks are not just songs but rather profound emotional narratives that etch their tales onto the hearts of listeners. One such track that has achieved legendary status in the alternative music universe is Lil Peep's "Star Shopping." This melancholic masterpiece encapsulates the raw emotions of an artist struggling with love, personal growth, and the trials of life. But as the musical sands of time continue to shift, fresh interpretations emerge, offering a new perspective on an old classic. Enter doomcat, the enigmatic duo hailing from Raleigh, whose rendition of "Star Shopping" is nothing short of surprising.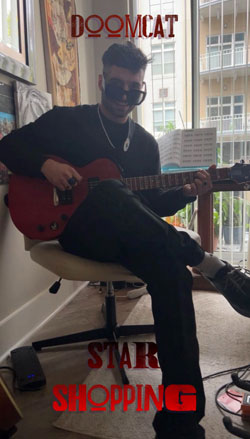 Lil Peep's "Star Shopping" serves as a poignant confession of the rapper's feelings for Emma Harris. In the track, Lil Peep appeals to her patience and understanding, admitting that he's not as important to her as she is to him. He yearns for time to work on himself and his musical journey while expressing his deep affection for Emma. Amidst this emotional turmoil, he highlights the lack of support from friends and ex-lovers. It's a stirring narrative that resonated with countless listeners, making it one of Lil Peep's most cherished compositions.
Produced by Kryptik and sampling "Never Mess With Sunday" by Yppah, the song was crafted in a deeply personal setting — Lil Peep wrote it in his mother's bedroom while battling his own demons. Originally released on August 17, 2015, "Star Shopping" faced a significant hurdle due to a copyright dispute involving the sample. However, it finally found its rightful place on streaming platforms on April 19, 2019, allowing it to continue its journey into the hearts of music enthusiasts worldwide.
The impact of "Star Shopping" is undeniable, with over 81 million views on YouTube and a staggering 300 million streams on Spotify. Its emotional depth and guitar-driven melody have left an indelible mark on the alternative music landscape. Countless artists have paid homage to this masterpiece, including Machine Gun Kelly, iann dior, and nothing, nowhere. Most recently, doomcat, the duo consisting of Catie and David Doom, unveiled their own interpretation of this iconic track.
doomcat's rendition of "Star Shopping" undergoes a striking metamorphosis as they strip away the drums and spotlight a gritty, unadulterated electric guitar motif that provides the sole instrumental backdrop to their vocals. In contrast to Lil Peep's echoing and melancholic delivery, doomcat's rendition thrusts itself into the listener's consciousness with an unabashed urgency. The emotional subtlety of the original gives way to a visceral intensity as doomcat's vocals intertwine with the resonant guitar lines.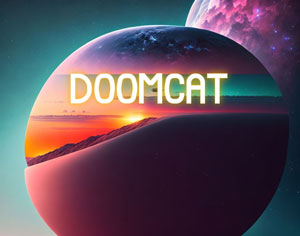 The beauty of doomcat's cover lies in its ability to offer a fresh perspective while preserving the essence of Lil Peep's classic. The decision to eschew the original's sonic aura and emotional atmosphere in favor of a more upfront, confrontational approach pays dividends. In doing so, doomcat have not merely replicated the past; they've boldly carved their own artistic path within the shadow of Lil Peep's legacy—a feat that is anything but easy.
As we delve into the lyrics of "Star Shopping," we are reminded of the timeless themes it explores. The chorus, "Look at the sky tonight, all of the stars have a reason," reflects the enduring human quest for meaning and purpose, a theme that echoes throughout the track. Lil Peep's verses narrate the tumultuous journey of love and self-discovery, all set against a backdrop of celestial symbolism. In their rendition, doomcat pays homage to this lyrical tapestry with a passionate delivery that underscores the song's profound message.
In conclusion, doomcat's take on "Star Shopping" is a testament to the enduring power of music to reinvent itself while staying true to its core emotions. The originality and raw energy they inject into this timeless classic breathe new life into Lil Peep's masterpiece, offering fans a fresh perspective and a renewed appreciation for the artistry of both Lil Peep and doomcat.
OFFICIAL LINKS: https://soundcloud.com/doomcatdj – https://www.tiktok.com/@doomcatdj
Please follow and like us: