USA Neo-Soul artist Destiny Swayne is from The Bay Area. She started out with poetry which led to her singing and turning her poems into songs. Both her parents have musical backgrounds with her mother playing instruments and her father singing. At the age of 7 Swayne realized she could sing but she didn't take it seriously until she graduated high school.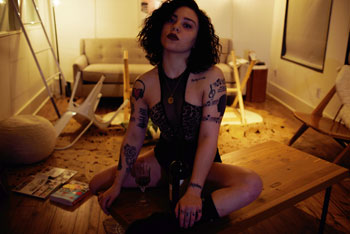 Her debut EP is titled "Chasing Chaos", and the music represents a time in her life where she felt the world was against her and that she couldn't escape from. Destiny Swayne has now dropped the first visual from the EP's title, and lead single, "Chasing Chaos". The current rage in the industry seems to be the retro-soul or neo-soul movement. I enjoy the music because it offers a refreshing alternative to the stuff being labeled as "soul" and "R&B" these days. I don't know how she got there, or who encouraged Destiny Swayne to go in this direction musically, but no better decision could have been made.
I feel that she has found her niche in the music world – a neo-soul diva-in-the making. I'm glad she took this route and did something completely dissimilar from what most current R&B females are into. If she had recorded yet just another standard urban contemporary record, she would have gotten lost in the sauce with all those other R&B chicks, along with having to endure constant comparisons to older, more famous and commercial-sounding sisters.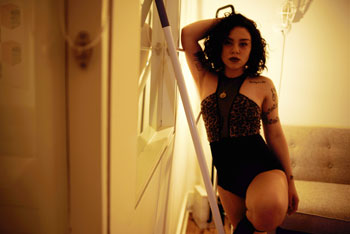 However, "Chasing Chaos" is superb and it is far more different, unique, innovative, creative, and exploring than the efforts of many already, affirmed neo-soul artists. Here, Destiny Swayne does more than enough to set herself apart, and provides refreshing modern touches to what could so easily become an otherwise trite throwback trend. Vocally, Swayne can certainly hold her own up against any of the current crop of R&B divas, and this song proves it. This woman just captures the sound of Motown, Stax, and Atlantic of the 60's and 70's, together with some smooth jazz flavors, which she puts in a bag, shakes up, adds some personal modern twists, and creates pure ear-candy.
She comes out of left field with a great new sound. Her lyrical content and range are raw, soulful, and heartfelt.  "Chasing Chaos" is hypnotically infectious and a great showcase of her writing and singing talent. As an extreme music lover, I needed this artist. I was waiting for something different and Destiny Swayne gave it to me signed, sealed and delivered here. I sincerely look forward to her EP release, if this beautiful and eclectic track is anything to go by.
OFFICIAL LINKS: YOUTUBE – TWITTER – INSTAGRAM
Please follow and like us: