Deryo first hit the airwaves as the lead singer for Herbie Hancock's group The Headhunters. Deryo sang on the groups' 1977 album "Straight From the Gate". Since then, he's worked with legendary artists such as Rick James, Carl Carlton, and Two Tons O' Fun. Now he's creating his own music – Oakland, CA funk, mixed with pop and R&B. Deryo is one of those artists who you know is going to set your life on fire with his music. It's never frilly or empty and his voice is thick as honey and smooth as fine silk. It's hard to believe that 40 years have passed since Deryo first turned heads with the smooth and funky Headhunters.
He must have gotten lost in the corporate shuffles over the years, but his been back working on his catalog and solidifying his credibility as a savvy interpreter of a wide-ranging repertoire of funky urban themes. Songs like "Anytime" steadily keep rebuilding his reputation as both a vocalist and songwriter to be reckoned with.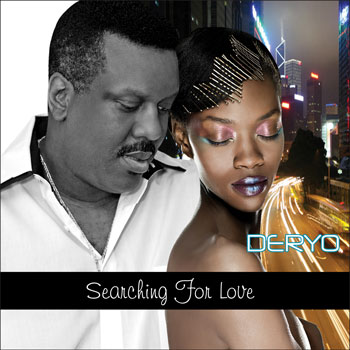 His catalog flows fluidly with thoughtfully crafted songs that complement the singer's graceful baritone tenacity with smart production values. His phrasing and nuances shines through, but the arrangements stand equally firm in their musicality.
"Anytime" is, in fact, a cut that bends both considerably backwards and to current trends – and it does so in a way that doesn't compromise melodic or lyrical quality. The track, although hip in its percussive programming patterns and atmospheric vocal effects, stays the purist course harmonically and in Deryo distinct glowing delivery.
The song is fresh while remaining free of gimmickry, with the authentically classic flavors and simple, straightforward lyrics conveyed with vocal earnestness and a head-nod-inducing chorus and rhythm arrangement.
One definite highlight of "Anytime" lies in the summery, kinetic slices of funk infused into the track – the keyboard and guitar layering, as well as the drum and bass tracks, bring to mind a timeless boogie flow, while Deryo's voice rides the rhythm effortlessly through passages of desire and intention. Between Deryo's sanguine lyrics and the idyllic instrumental elements lies a balance between sweetness and strength in true classic funk fashion.
"Anytime" hangs loose with a danceable groove, while simultaneously embodying a chilled-out feel. Deryo vocal performance here resonates with every ounce of zest and richness that's been there from the start and still possesses a singular keenness of melodic, harmonic, and rhythmic flow.
Deryo is an artist that ranks as one of the more creatively talented. His vocal abilities and his dedication to his art is something that seems to not be negotiable to him. Moreover his contribution to the field of honestly original singers, is as pure as music can come these days.
OFFICIAL LINKS: WEBSITE – FACEBOOK – TWITTER
Please follow and like us: