Progressive House producers, Frankie and Dave, better known as Dasko, have released their track "Strike".  This full throttle, flawless approach to their art is probably what will draw gargantuan crowds to the dance floor every time this song plays.  Dasko's energy is unquenchable. Their skill is unquestionable.
They know what they want, and how to get it. And they hit their compositions from all angles – from the sounds, the rhythms, the breakdowns and buildups – they leave no musical bar unturned as trap meet progressive sounds.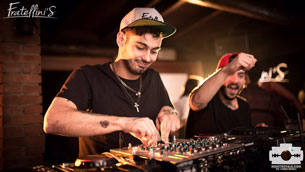 "Strike" is one of those tracks that manage to make you leave whatever you doing and pay particular attention. A deep bassline, chunky energetic groove, and cool little keyboard hook will instantly grab your attention. This positive and optimistic track will no doubt bring summer and the energy of sunrays onto any dancefloor. It sounds so dirty, stylish and cool, all at the same time.
This is a mix whose transmission moves tactically upwards through tempo and tone phases, whilst largely transcending genre and established categorization. The track weighs anchor with the grunting and shuffling basslines, as well as the hard-kicking bass drum.
As it transits through its bars, "Strike" slowly, but perceptibly changes gears, generating a more galactic, open-natured feel, adding shades, before concluding its stylistic journey, and bringing it near full circle, falling to an almost isolated kick drum beat.
"Strike" is a 100% pure big room banger – without the usual anthemic vocal hooks or epic sounds. Dasko has built this track on a strong rhythm, intense energy and unexpected, after-break destinations, as the track never goes where you think it will, or should go! All-round this is a fantastic new production from Frankie and Dave which will bring chaos to the dancefloor.
If you're searching for the next big room monster that bangs hard with powerful drums, punchy vicious basslines, electro-touched synths, and of course magnificent melodic breakdown with uplifting feel-good pianos then you can't go wrong with "Strike". A straight to the point crowd pleaser that does the job neatly and perfectly!
OFFICIAL LINKS: SOUNDCLOUD – FACEBOOK
Please follow and like us: