Cuddi aka Young Cudd is an up and coming Hip hop artist representing the Third Coast. He recently dropped his latest track entitled "JUUGATHON" (ft Cada Prod. by Pdot). No one will debate the musical talent of Cuddi, as stretches the boundaries of his trap induced sound. On a sonic level, this track is strong and the identity and continuity are spirited.
It sounds like it was made by someone able to find the lightning in a bottle that so often eludes some of Cuddi's peers. The song is both impressive and entrancing, without the need to be groundbreaking, as it rides totally on the banging rhythm and Cuddi's charisma
Injected with adrenaline-filled flows and pimped-up punch-lines that are alternative and experimental, lyrical and luscious, "JUUGATHON" (ft Cada Prod. by Pdot) rides out on an electrifying energetic vibe.
And all is infused with Cuddi's own hyperactive rhyming style, prone to suddenly switching tempo, dropping in an apparently disconnected line or making a jolting turn into new musical verse.
The production tends to be spacey, drifting through an ambient soundscape with colliding elements slowing down and speeding up. It is psychedelic in the sense of its colorfulness and warped interior logic.
There is a sense of everything being at play, of fluid boundaries and shifting flow, with oddball keyboard bites popping out of the mix to underpin both Cuddi and Cada's narrative of grinding, hustling, partying and womanizing.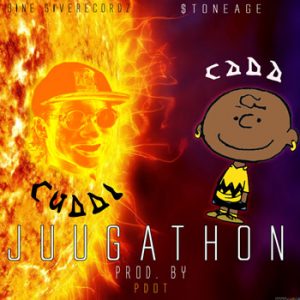 Despite the music's richness, however, at the center of a hip hop song there will always be the emcee himself, and Cuddi aka Young Cudd has a lot of impressive skills with the musical maturity to see them to fruition.
His depiction of his experiences and thoughts can be devastatingly on point, though every now and then he too is prone to the gang banging braggadocio so typical of the genre. But that's part of the game that we've all gotten used too already. At his best, Cuddi is able to create a vivid sense of interior monologue that is impressive and where he should be taking his craft more often.
In effect, he sounds like a smart young man trying to balance deeper artistic and emotional thoughts with the tough-guy streetwise culture. And as he continues to perfect that formula he will no doubt frequently be making more dazzling sonic spectacles.
"JUUGATHON" (ft Cada Prod. by Pdot) is yet another reminder that regardless of which coast it's coming from, hip hop is currently setting the bar very high indeed.
OFFICIAL LINKS: REVERBNATION – SOUNDCLOUD – TWITTER – INSTAGRAM
Please follow and like us: