It becomes a cliché to say this when describing music or bands, but Billy Roberts and the Rough Riders has yet to deliver a weak track. Their latest track "Blood and Bones" from the upcoming album "Greenbah", is another winner. Once again they place one foot in the past and one in the present, with truly positive results. The confident, well-paced strut of "Blood and Bones" exemplifies what's good about this record, with clear, muscular production showcasing strong riffs and oversized, crowd-friendly choruses. The band treads far from the chugging Nickelback-style modern radio territory, and stick to variations on their bread-and-butter blues, jamband, and roots rock style.
With each passing song release, a new side of Billy Roberts and the Rough Riders is revealed, to the benefit of the band and the listener. Billy Roberts' intimate vocals and songwriting, coupled with the non-pretentiousness of the musical composition, immediately make this new record likable.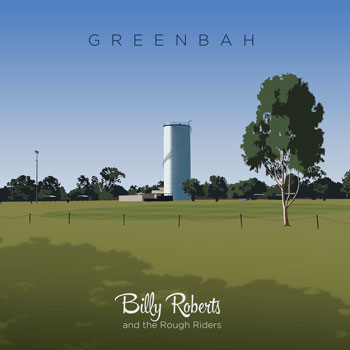 Along with the sounds of the Blues intertwined among the rock, Robert's lyrics, and delivery of, show a facet that not many rock bands put out: heart-on-sleeve honesty. In a time of vague, drug-riddled songwriting by rockers, Billy Roberts and the Rough Riders takes the country approach and writes open, visceral songs, and sings them with unparalleled confidence and sincerity.
In the true style of alternative rockers, Billy Roberts and the Rough Riders doesn't try and rely on heavily produced tracks. Their sound is meant to be raw and dirty. The lightly distorted guitars come through bright and piercing as the walking bass is easily identified without being overpowering.
The guitar jams can sound a bit gritty at times, but Billy Roberts and the Rough Riders aren't trying to be the world's cleanest, most composed band. What they succeed at is creating a carefree sound that should come to be admired for what it is.
Billy Roberts and the Rough Riders take the bite of rock and roll, the virtue of country and the soulfulness of blues to make music that can only be experienced through listening. The perfect balance between the old and the new is what makes "Blood and Bones" such a cracking track.
Now ignoring the harsh fact that most music is in danger of becoming irrelevant due to the rise of computer games and virtual reality, etc., the vibe here is warm, flowing, and somehow reassuring. While many artists are experimenting with new styles and reaching out to a younger generation, Billy Roberts and the Rough Riders stays true to its down-home roots as shown by its latest project.
"Blood and Bones" showcases Billy Roberts and the Rough Riders for what they really are; a talented bunch of rock musicians who are proud of their roots, love music and love to perform, never ever taking themselves too seriously.
OFFICIAL LINKS: Artist Website – Reverbnation – Bandcamp – YouTube
Please follow and like us: