A good reason for celebrating the arrival of "Singing My Life Away" the new single by rock duo A&L, is simply the fact that the record showcases a band whose output remains as strong as cohesive and as relevant as any one of their previous records. Always pushing their sound into new territory while retaining that signature catchy rock vein that makes A&L records, well, distinctively A&L; "Singing My Life Away" is a truly exceptional song from one of the finest independent duos in rock music.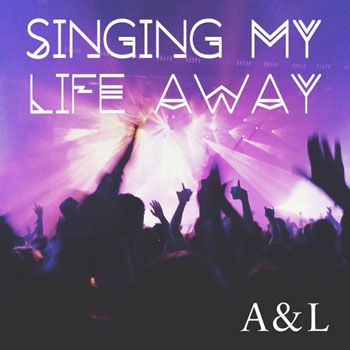 "We took very organic approach to this song" say Anthony Casuccio, one half of the chart topping band. "There are very little overdubs or audio processing. What you hear is what was performed in the studio." "We are excited to release this song. It's a serious side fans have not heard from us," says Lana Marie, the other half of A&L. The slower tempo song has layers of guitar, piano and organ, along with powerful harmonies. Contributing to the track is drummer extraordinaire Rich Smith and Paco Quebral on piano, as well as Bill Drew on Bass.
To the casual listener of the bands material over the years, "Singing My Life Away" will contain more surprises than to those more avid followers of the band. Anthony Casuccio; the songwriting mastermind behind the band's hits, has edged A&L into much more mainstream classic rock heavy terrain with this record that has once again paid off for the duo.
The track packs a big sonic punch, along with its sentimental lyrics, which "illustrates the passing of life and the positive effect that music can have if you just sing along!" This is life-letter full of hope, excitement and a blood-pumping guitar dressing that begs for you to press the repeat button as the track begins its fade-out.
Lana Marie's powerful vocal against the gritty and crunchy soundscape is a reminder of why A&L have been climbing all the way up the Euro Indie Music Charts. There is no better song than "Singing My Life Away" to continue oiling the wheels of this phenomenal due as they propel themselves in a strong forward motion.
There is no doubt that the band have focused on pushing their sound into deeper into mainstream waters where the masses are eagerly waiting, and while this track is still knee-deep in rock, it combines an acoustic guitar opening, some sweetly sung verses, and a bitchin' anthemic chorus that sidesteps right into pure, unadulterated earcandy terrain.
Casuccio delivers a short but scintillating guitar-solo sequence near the middle and closing of the track which slots in quite nicely, but this is also Lana Marie's moment to tear the song apart and she does so with exceptional precision and strength.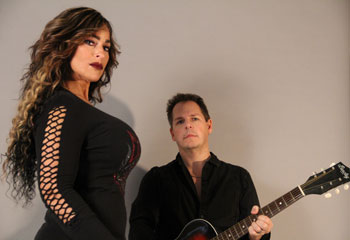 After a haunting and pulsating intro, A&L have painted the rest of the track with their high-octane rock expertise. This is serious goose-bump-inducing stuff. The production on "Singing My Life Away" is one of the finest features about this new track. While this could have resulted in a cluttered arrangement, 3-time Grammy nominated Anthony Casuccio has applied care to the placement of instruments, vocals and other elements, so the track unravels itself with a vigorous almost live-sounding consistency, yet opposed to feeling messy.
"Singing My Life Away" is yet another stellar effort from this critically acclaimed USA rock duo which contains some of their finest work. It's a testament to A&L's songwriting, vocal, production and instrumental talents and is further evidence that their creative well is very far from running dry, notwithstanding their noteworthy experience in the industry.
MORE ABOUT: A&L is made up of two seasoned industry professionals: Anthony Casuccio and Lana Marie. Anthony is a 20 year music veteran whose production work has been nominated for three Grammy awards, been featured in major music publications and topped the music charts. Anthony's received RIAA certified gold records for his production work. Lana is an award winning vocalist who has been a long-time force on the NY music scene and voice to many jingles on radio and television.
Although both have worked in the music business, neither has released original music before creating A&L. They have released four singles over the past two years and are planning on releasing an EP with an additional song. A&L has received radio play in over 70 countries. Their last single Cliché, peaked at #9 on the Euro Indie Music Top 200 and was on the countdown for over 3 months. A&L's other songs have also charted on that countdown as well as in other countries. Their videos have topped various popular video platforms.
OFFICIAL LINKS: FACEBOOK – TWITTER – INSTAGRAM –  SOUNDCLOUD
Please follow and like us: