"I make music because I cannot leave it, it's like destiny," says Aki Akiyama Kong. "I tried to give up before, but it will never let me go. I am not just a musician, I am an artist. I don't want to make 'music', I want to make art," continues Aki. And quick run through the artist's catalog confirms that Aki is no conventional musician, especially where the lyrics and song themes are concerned. Aki Akiyama Kong tackles a whole lot of 'uncomfortable' topics with ease, and a witty open-mindedness that is refreshingly surprising. From gay love to weed-smoking Aki's tongue, is equally sharp and loose. Nothing is taboo for Aki, and even when the singer-songwriter is flippant and irreverent, it is all done with total respect for the subjects discussed.
The single "M.J. Friend (Marijuana Friend)" is one of the latest releases from Aki Akiyama Kong, and as the title suggests it deals with the crazy, happy and ridiculously amusing effects of weed. In fact Aki wrote the song while being high, which adds a curious level of authenticity to the piece.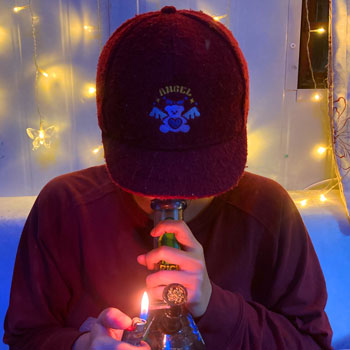 Everyone loves listening to music. It's a way to escape your everyday life or a way to spice it up, and this track actually achieves both. Listening to a weed-smoking musician sharing experiences with other smokers, just hits on another level. If any artist can handle penetrating, honest and candid writing with care and respect, it's Aki Akiyama Kong, but on this latest single Aki proves the ability to do much more.
Here Aki goes into surreal territory taking listeners on a kaleidoscopic trip, especially with the accompanying visual to the song, which mixes gaming, gay sex and cannabis, while Aki also finds the time to drop some lyrical truths along the way. It is a perfect capsule of fun, emotion and expression, revealing how much universality can be found in simple gestures – even smoking weed.
The crunchy guitar chugs and the steady drumming encapsulate the track's youthful-like energy with an explicit rock element, while Aki Akiyama Kong lays down a punkish-pop singalong melody which incorporates a layer of backing vocals to thicken the sound.
By turning on alternative radio, you can hear plenty of songs in the same catchy vein as the one Aki offers here, but underneath the production of "M.J. Friend (Marijuana Friend)"  lies something deeply personal, which only Aki's songs have.
The dynamic arrangement and devil-may-care lyrics, makes sure there's an undeniable realness to the track. It's these moments of unrestrained songwriting that stand out the most. Throughout "M.J. Friend (Marijuana Friend)", the music blends into an alternative pop-rock cavalcade, and what really wins out in the end is the track's genuine over- the-top and carefree origin, which shines through in all the right places.
OFFICIAL LINKS: INSTAGRAM – YOUTUBE – ALL STREAMS
Please follow and like us: