Hip-hop fans should be thrilled by the creative risks the Ogden (Utah) by way of Syracuse (NY) rapper, aCeGodsGrandpa, takes on his debut album 'Based Elevator'. The tracks are witty, capturing the haphazard, dizzying, and chaotic flows the rapper brings to the table. He is not simply spitting double-time bars, bringing ridiculous punchlines, or trafficking singsong verses. His bringing a quick-witted absurdist vibe which is totally endearing. aCeGodsGrandpa is playing with sophisticated rhyming techniques that take hold of your ear and naturally spell trouble. He captivates the listener's attention when he fires off rapid lines accompanying catchy choruses.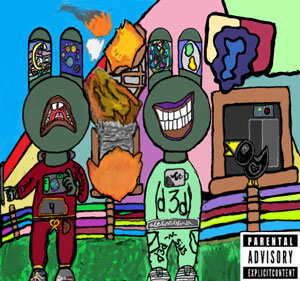 This fearless 14 track project demonstrates aCeGodsGrandpa's musical flexibility throughout each track, while also maintaining his usual sound that he is admired for. From the moment the album opens with "Lucky", each track tells a story filled with hard bars, clever punchlines, many unique flows, and displays the rapper's versatility. aCeGodsGrandpa shows his fluidity and desire to continue exploring different soundscapes while also keeping his music unique and very different from the rest.
"American Fork (Furnace)" slaps, and the vocals match. aCeGodsGrandpa has a way of switching his flow and creating such a strange voice that it almost sounds like multiple voices. And sometimes it is multiple layered voices.
The combination of lyrics and heavy bass, while maintaining an interesting flow and unique vocal inflections is something that you can't get from many other rappers today. And it's what aCeGodsGrandpa serves up effortlessly on "i15 North (The Run Down)".
aCeGodsGrandpa is in a lane of his own on "Tour Bus", riding an infectious electro beat, before sliding into "Discord", where one half skews pop, and the other half rap, both overflowing with melodic energy and intensity.
aCeGodsGrandpa's flow is in-your-face not only in sound but in the deliberate choice of certain lyrics. His aesthetic universe is transparent, evoking cerebral rhymes, forward-thinking production, and outspoken lyrics. Experimentation abounds, in both his flows and beats.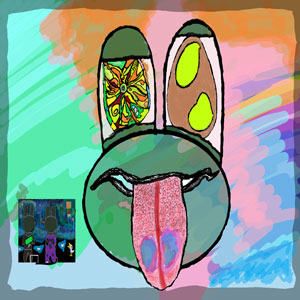 From "Salt Lake City U.T (On a Bih)" to "Elevator" and "Circles (Friday Night)", aCeGodsGrandpa unpacks a number ear-catching elements. One of the most stimulating things about the rapper's approach is the way he injects fresh air into rap tropes.
A modicum of wit elevates his lyrics over the standard litany of hip-hop topics. aCeGodsGrandpa throws everything at the wall and, for the most part, it sticks. His writing combines with his off-kilter personality to blur the lines between fantasy stories and his own reality.
In fact, the album's power comes be way of its unpredictability, as you never know – from "Elevator" ft. Lil B, to "Circles (Friday Night)" and "P.I.M.P" – where the album is heading next.
There can be no doubt that these songs are the finest showcase for aCeGodsGrandpa's significant strengths. On tracks "Im It", "Let Me Find Out", and "Pac Flow", his flow is like a ninja's sword, swooping in from a dozen directions at once and slicing from seemingly impossible angles.
There is still plenty to be excited about, on the final tracks – "West Valley City" and "Green River Wyoming (Big Mood)". Fans will undoubtedly be left wanting more, and such a calculation will allow aCeGodsGrandpa even more room to rise and develop.
OFFICIAL LINKS:
@aCeGodsGrandpa on IG
@WhoeverDead4 on Twitter
www.aCeGodGrandpa.com
Please follow and like us: