As hip-hop continues to grow and inspire new sub-genres, more cities across the U.S. have become hubs for up-and-coming rap and hip-hop stars. Many new or underrated rappers hail from different areas, drawing attention to those cities as fresh talent. All of these artists in this make music that resonates and move people. What fans look for in a new artist changes depending on the artist. For some, it can be a single lyric, a melody or a hook. For others it's their swag, their character, their unique approach. It's never the same. Then there are artists who combine all of those qualities, and standout above the rest. They are usually the ones who rise to the top the quickest. One such talent is Adeeldareal. A 20-year-old artist out of Portland, Oregon, who dropped out of school at seventeen to pursue a musical career.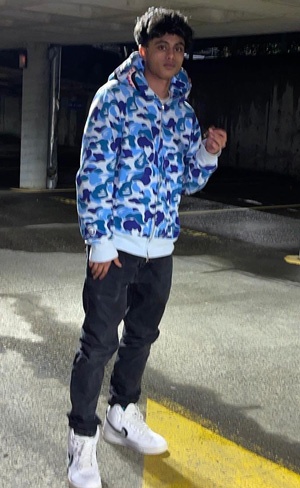 When Adeeldareal dropped his single, "Fly 2 The Moon", about a year ago, it reached 50k streams on Soundcloud within a month. He hasn't looked since, and has been growing both his catalog and fanbase in the meantime. Just recently, he unleashed the track "Destined 4 The Win", which narrates the hustle of selling drugs to stacking cash, and navigating the challenges towards rising to the top.
Adeeldareal has always had an ear for sounds and high quality production, with that being a big reason why he blew up in the first place. On the new single, "Destined 4 The Win", he flips between jangling guitars and a skittering trap hi-hats, combining an infectious melody with unapologetic lyrics. The track highlights his limitless potential of turning lifetime stories into music to intrigue potential fans.
Right from the opening bars, Adeeldareal sounds like an artist of the moment, and the next. Fans will relish in his street code-heavy storytelling on "Destined 4 The Win". From a multi-layered, melodic flow to metaphorical rhyme slaying, and a banging beat, Adeeldareal's music is everything you desire in your new-wave hip-hop feast. Armed with all the intangible qualities that define a top tier artist, Adeeldareal has a bright future ahead.
Adeeldareal radiates an evocative authenticity for a 20-year-old as he feeds fans with an impassioned delivery and well-crafted storytelling. His songwriting ability and vocal versatility is what makes him a name to watch. Already creating an upsurge of interest in his city, it seems like only a matter of time before the rest of the country is on his wave. Moreover, Adeeldareal boasts some pretty incredible production for an underground artist.
Letting his character shine through his storytelling, Adeeldareal is at his most impressive when he lets his melodies shine through, as he does here. "Destined 4 The Win" is perfectly titled, as the artist shows not only his ambition, but the ability to concisely explore its theme with a fiery attitude. Unlike most gifted artists with a knack for catchy production, he has an intriguing malleability with his vocal approach, which will help him further entrench himself as one of the artists to watch closely.
OFFICIAL LINKS: https://www.instagram.com/adeeldareal
Please follow and like us: