PH8L is a Hip-Hop artist from Chicagoland, and 1/4 of the group PHOR RE4L. A student of the game since its golden hour, PH8L (pronounced fatal) has released his debut EP "Since 1985". "The recording was inspired by big life changes and moving back home to Chicagoland," explains the artist. "It felt like this album had been building up in me since 1985." Entering the next step of his musical career, PH8L proves to be one of the most genuine acts in contemporary rap. This recognition is due in part to his remarkable ability to weave creative wordplay into personal and profound storytelling.  Like the best of his fellow Chicagoan creatives, PH8L consistently delivers a balance in his art that is both entertaining and rich with insight. This EP, offers authenticated proof of the artist's emotional depth and talent.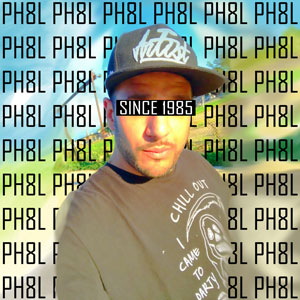 PH8L's lyrics make for a bombardment of sensory detail. When PH8L speaks, it feels like he's giving a part of himself (and a variety of emotions) to the listener. He starts doing that right from the opening track, "Who Am I", as he kicks things off with the affirmation: "I was raised just to raise hell." The song's instrumental has a dark nature, with the lyricism establishing an urgent edge to the material. PH8L provides a realistic and sincere depiction of his determination.
"Since 1985" is a work that displays what makes PH8L an important voice in today's rap scene. Whether it's through his lyrics about personal experiences or narratives about his surroundings, PH8L is an artist that writes authentic stories with intimate depth.
"Rest Less" is an honest addition to PH8L's catalog, the type that should keep listeners excited for the next installment in his story, which comes quickly with the hard hitting "B A G-O-D!" A track that displays a clever and focused use of verbiage, as well as a relentless flow from.
The album is confessional to its core with a narrative that spans PH8L's entire mindset. "Sucker Free" gives us further insight into the rapper's modus operandi. Packing a punch in every bar, PH8L shows us how he stays ahead of the pettiness in the game.
Each track on this EP sets the tone for the rest of the recording: they're candid, complex, and challenging, harkening back to the grooves of old-school hip-hop, while still offering a modern twist that is entirely PH8L's own.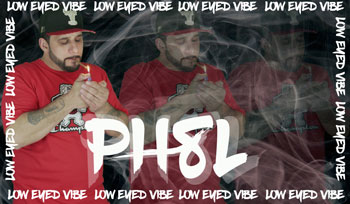 The rapper's impressive lyricism and polyrhythmic lines are perfectly matched with thumping drum loops on "Brainwashed" ft. Decoy Dungeons. It presents a fine-tuned balancing act where its potency does not sacrifice its groove.
As a rapper, PH8L is sharp, clear and authoritative, pronouncing every syllable crisply enough that you never have to strain to understand him. Rather than chasing hits, he's put his gifts, which are considerable, toward building something affecting, something that really gets across his feelings and thoughts.
All throughout "Since 1985", it clear that PH8L really does have stories to tell, and the urgency in the way he tells them helps make the closing track, "Low Eyed Vibe" into something special. PH8L is a talented and expressive emcee, and on this track he is even more incisive and potent.
As a first time listener to PH8L on "Since 1985", I was thoroughly impressed. His flow is effortless and captivating. The ambition is there, and so is the music. This EP has done everything it can be expected to do.
OFFICIAL LINKS: WEBSITE – INSTAGRAM – FACEBOOK – TWITTER – MUSIC STREAMS
Please follow and like us: