Pittsburgh's award-winning "Lady Of The Blues", was influenced by the likes of Koko Taylor, Etta James, Billie Holiday, Sarah Vaughn, Big Mama Thornton, Bessie Smith, and "Big" Al Leavitt, under whose direction she has worked in BMW (Blues Music Works). Miss Freddye has played in, and founded, various groups, including Blue Faze, Miss Freddye's Blues Band (electric blues) and Miss Freddye's Homecookin Band.
Aside from her music, Miss Freddye has also been lauded for her dedication to charity work, as well as her sensibilities towards homeless veterans and domestic violence. Her latest single, "Wade In The Water" is from her forthcoming gospel album, scheduled for 2021 release.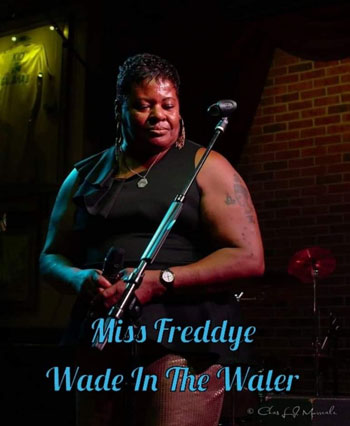 This is a mature Miss Freddye bringing you a soulful approach to praise and worship. Miss Freddye is using a nuanced more classical bluesy vocal on this track. This gives listeners a sophisticated aspect of her vocal ability. She is a beast. The warmly understated production also stretches Miss Freddye's vocal ability resulting in an all-round outstanding project.
You can't go wrong with a woman that is highly anointed and ministers to your very soul. Her spirit is welcoming and a testament of a true love for God. When thinking of premiere female vocalists who've delivered timeless music that has ministered to lost souls, the name Miss Freddye certainly belongs on that list.
Miss Freddye's vocal performance reaches to the core of the believer, as she expresses the need for God's healing power and touch. The song is just so rich. "Wade In The Water" is an experience of pure worship as Miss Freddye effortlessly delivers the song with every lyric flowing clear and beautifully.
The song speaks to the believer who will recall the genuine praise and worship experienced when attending religious events and musicals. The surprising part is that the pure artistry will allow this song to be appreciated by just about anyone – believer or not. In its soaring melisma, Miss Freddye sends you first class, straight into God's presence. She has a voice that instantly places you in the heavens.
Miss Freddye is such a blessed vocalist that could sing the telephone book and make you dance for joy. She has a beautiful tone and clear melodic riffs and turns. Miss Freddye's voice is strong yet tender in the places where it needs to be. She is not one of those average singers whose diminutive vocals are often swallowed by the latest beat. Her voice is a no nonsense powerhouse, with so many mellifluous variants that will leave you in awe.
"Wade In The Water" is yet another centerpiece and showcase of Miss Freddye's talents, and the stellar vocalist will no doubt continue to revel in the spotlight, due to its release, and that of her upcoming album.
OFFICIAL LINKS: WEBSITE – INSTAGRAM – TWITTER – FACEBOOK
Please follow and like us: