Approaching his umpteenth year as an award-winning singer-songwriter, performer and multi-instrumentalist from Shelburne, Ontario, Canada, Ed Roman has done the unexpected. He has made possibly one of his best singles, if not his best. Yes, it is unusual for an artist with already a long string of releases in his catalog to create a track that sounds this fresh and invigorating. "Tomorrow Is Today", finds Ed reaching new heights, exploring new territory and as a result producing one of the year's beat rock-based singles. Ed Roman has done, what he does on each subsequent release –he elevates the music and arrangements to another level.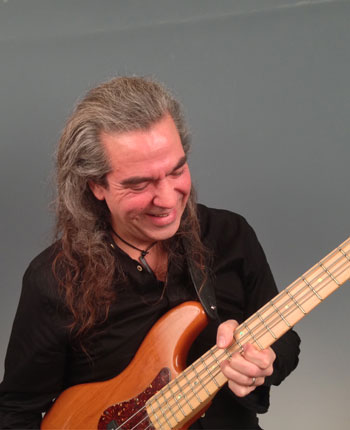 I love my music dynamic, dramatic and emotional, which is what Ed Roman knows how to deliver better than most. "Tomorrow Is Today" is another exiting musical affair with the usual profound lyrical flavors, Ed Roman is known for, plus it rocks and bangs with a funk-like fervor. Drums, bass and guitars hammer and flourish, as Ed brings in the blistering synths to twist and turn within the arrangement.
Opening with a barrage of percussion, the track builds and shifts through various sections and musical motifs, highlighting each of Ed Roman's skills. And just when you think the uplifting groove of "Tomorrow Is Today" has provided all that is necessary, it moves into another gorgeous explosion of sound.
For those who like intricacies, details and musical grooves that take you on a journey, it is undeniable that "Tomorrow Is Today" delivers in spades.  Ed's vocals lean toward the ferocious, as the guitars skew between a deliberate strum and a high-powered jangle. All the while, the bass slaps and thumps under the pressure of the percussion, which makes a major impact on the sound.
The result is high-energy brilliance. Ed Roman has always set a standard of how to combine gorgeously heartrending songwriting with sophisticated, nuanced, and enveloping sonic auras, driven by nitty gritty rock n' roll machinery. "Tomorrow Is Today" exemplifies this formula. Each of Ed's records purvey a masterful sense of craft, and this, again, delivers in that sense.
Continuing in the accessible path of its immediate predecessors, the new single is another strong snapshot of how powerful and creative Ed Roman can be. It's his characteristic and dominant role, as well as the ceaseless dedication Ed shows in pushing his music – technically and artistically – that makes his tracks so commanding.
"Tomorrow Is Today" is simply brilliant, necessary and captivating, with a performance that demands attention. It possesses enough distinctive musical grandeur and biting sentiment to be exultantly mesmerizing. Without a doubt, Ed Roman's contribution to the independent music scene is a significant one, and he has made yet another statement – after all the accolades and many musical releases, he's just getting started!
OFFICIAL LINKS: WEBSITE – FACEBOOK – TWITTER – YOUTUBE – ITUNES
Please follow and like us: