"Too Tight" is a live performance video of vocals and guitar over a self-produced multi-tracked backing track, which was composed, arranged, performed, and produced by Jathon Delsy. Now let me get this off my chest very quickly – this is a little-heralded progressive masterwork from a visionary who straddles many genres and transcends them all.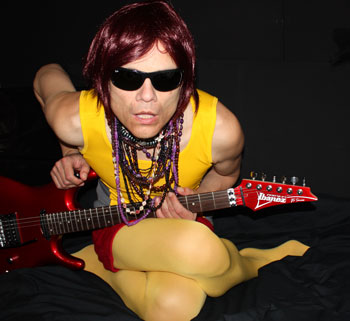 Even if you are one of those folks who does not care for what may seem like Delsy's smirking cynicism and unorthodox (to say the least) arrangements, nobody can question the man's god-like chops.
Delsy's videos are a collective set of absolutely flabbergasting guitar solos and insidious musical arrangements. This is definitely not for the fainted-hearted or weak-at-the-knee Top40 lover, so be warned. Clearly Jathon Delsy has set out to test our musical appreciation beyond what our perception of conventional music structures may be.
Not satisfied, to just play us his complex music, Delsy throws in, what I would call 'distractions'. Each of his video sets has different scenery, chromatically and painstakingly arranged to match the particular song's theme. Included into some of these visuals you will also discover some attractive paintings too, by the way.
But hey, geniuses don't stop at any extremity; they will push ahead and over it. It's just something geniuses naturally do. So during his performances, Delsy wears a variety of skirts and matching stockings…just in case everything else about his music, video clip scenery and persona, has not challenged your intellect quite enough.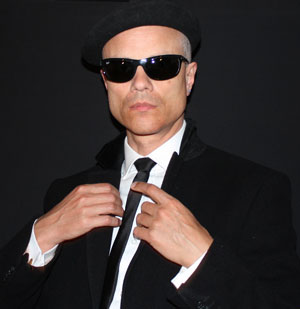 In fact this no longer is a challenge – it is a direct confrontation and an absolute provocation, as Delsy's message seems to be – look, listen and learn, beyond the confines of your indoctrinated mind.
And once you are able go over and above all of that, you will be left with the rock-based music that flows more or less continuously, generally separated by spoken-sung, poetic lyrics, and bursts of epic chord progressions, guitar soloing and mind-blowing fully orchestrated passages.
To the non-initiated who are dipping a toe into the water and are ready to dive in, let me assure you this blows the doors off your usual guitar heroes – of whom you know the names – including all of their shredding-fests combined.
Jathon Delsy will stun, delight and enthrall anybody with an internet connection and a brain – both in working order, obviously. For the open-minded, adventurous music lover, "Too Tight", Delsy, and everything else he does, is as essential as oxygen!
Check out Jathon Delsy on YouTube.
Please follow and like us: