A veteran of the battle rap arena and among the most respected lyricists in his Upstate NY region, Ice Grill is poised to take his career to the next level; a career that began in Jr. high lunchrooms in the early 1990s. No stranger to adversity, you can hear the passion and hunger in every bar, a reflection on the hardships he has faced from being shot while still an adolescent and serving a 5-yr sentence for a gun possession charge.
That prison bid set off a 5-year hiatus from making music for Ice Grill, who made his first recordings at the legendary World Dignity recording studios in his hometown of Rochester, NY. Not long after that initial introduction to studio recording, Ice Grill found himself on stage with the Wu-Tang Clan's Raekwon. Ice Grill's resume is both extensive and impressive, having been a member of the Rochester chapter of Element 5, and even given a deal by the infamous Death Row Records. Unfortunately for Ice Grill, the upcoming trial associated with the aforementioned sentence, prevented him from accepting.
In recent years, Ice Grill , a tireless writer and performer, has been running a marathon to get back in the public eye. He has released 3 projects in 3 years, and this year is releasing two more highly anticipated follow ups, to further solidify himself as a consistent producer and a legitimate star in the making. His latest release is "The WestSide Stories". Completely produced by D.J M-80.This project is an autobiography of WEWE with a few changes to allow this to be put in music form.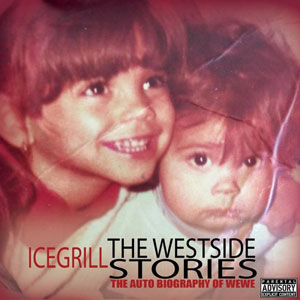 How long have you been in the music business and how did you get started in the first place?
Ice Grill: I've been involved with music since the Late 90's. I was actually on the block doing some things I would rather not say when A van pulled up and The driver asked for a guy from my block. One thing lead to another and Me and my cousin ended up at our first Studio session. The Emcee who sparked my music career was A Brother by The name of Abidon.
Who were your first musical influences?
Ice Grill: Kool G Rap, Big L, Slick Rick, Nas and Az.
Which current Rap and Hip-hop artists would you spend time listening to?
Ice Grill: I would say Action Bronson, Joey Bad Ass, Chris Rivers, Fabulous, And Jada Kiss.
Which ingredient do you think makes you special and unique as a performing artist in a genre thriving with newcomers and new sounds?
Ice Grill: I create from my heart using life experiences to paint my pictures aside from the occasional punch line and metaphors bars sprinkled here and there. I also stay true to myself and what I like and enjoy I don't hop on waves or trends to fit in. I can adapt to whatever the song calls for I like to say I have no exact style aside from my last 3 projects do to people requesting that I give them a particular gritty grimy sound. I also Freestyle I mean really Freestyle no pre written bars this always wins a crowd they love being incorporated into the show's.  Examplehttps://www.youtube.com/watch?v=p33FZC7Nab8 live on Tony Touch.
What are your thoughts on visual media and YouTube in particular? Do think that video is an ideal marketing tool for your music, and do you have any videos published for fans to see?
Ice Grill: I think videos are essential to any artist weather its performance footage interviews or music videos whether it be on Youtube or Vimeo. I do think videos are ideal for me to push to prospective listener's supporters and fans. The videos give people the ability to become familiar with your face and style, and builds a bridge of familiarity. https://www.youtube.com/watch?v=SNr3-Dbram  ,https://www.youtube.com/watch?v=oOkjOoGKqdE  ,https://www.youtube.com/watch?v=rcTLtSHjk4
Which do you ultimately prefer? Entertaining a live audience or creating songs in a studio setting?
Ice Grill: I absolutely love performing but I have to choose creating songs because it allows me to release whatever I am feeling and construct it to display via track. It's like a flood of endorphin's an unexplained high that's completely legal lmao.
Tell us something about your lyrics and music production on your releases. Which part of these processes do you handle, and which do you outsource?
Ice Grill: My Lyrics are paint while the production is my canvas I feel like my bars allow me to channel the things I let no one else see or feel like a safety valve that just snaps. I hand pick the production to each project it's just how a certain arraignment makes me feel you can tell when it's perfect so I settle for no less. The Other Half of BlackChalk Is My D.J. Slash Producer M-80 He has production credits from Black Rob, G Dep, and the list goes on. M-80 Provides Me with that 90's Gritty Hip Hop feel that in turn flips my lyrical switch I am The Emcee and He is the Producer.
Can you tell us something about the intent, creation and production of your latest album – "The WestSide Stories"?
Ice Grill: Yes We had just come off the buzz Of BlackChalk and where prepping For BlackChalk2 and we needed material to bridge the Gap between projects. I then approached DJ M-80 and told him I wanted to do an E.P. For my cousin, all real life, but in song. He was with it we knocked out 7 tracks from scratch production, Lyrics, Recording and mixing plus mastering. Upon listening to it and getting feedback from a select few people It felt like it needed more to complete the story and provide the right feel we than invested 1 more day and the Product Is The WestSide Stories. We sat in the lab and chopped samples and built from the ground up I provided some samples he found the rest but that's why u can hear the chemistry it wasn't like a producer just shooting me a zip folder of tracks to choose from. So the listeners can actually differentiate the HI'sand lows because it was all emotion no fluff or filler.
How did your 5-year jail sentence for gun possession, affect your career, and has it changed you in any way?
Ice Grill: It stopped everything cold I did a show 9 months before the charge where I opened up for Raekwon from Wu Tang He built with me back stage Telling D.J. Green Lantern That he had to F#ck with me. And I also became a part of the Zulu Nation and got offered a record deal from the now defunct Death Row Records. On the night I caught my charge I was supposed to be going to MTV Fight club a few hours later but there's a difference between rap and real life especially when you live what you rap. I learned how to be patient and humble thru my bid jail is not what people paint it out to be and definitely nothing to brag about. I feel jail sort of dulled my emotions I don't react to thing's the same as I use to and I lost way too much on my bid to ever forget so I have a thick skin and can read a person in a heartbeat.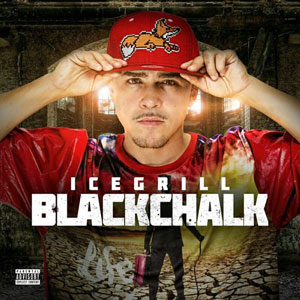 Do you regret not having been able to sign with Death Row Records? And how do you think that would have changed your career?
Ice Grill: Not really I couldn't see myself being pushed around that's just not me and the reputation that the label had was just that although the money would a been good and a plus the exchange wouldn't of equaled out. But If I would have signed I'm sure I would of had songs out on the radar especially with such a huge machine behind me. I would have used that deal as a stepping stone to solidify myself as an all-around artist.
What was the experience like being on stage with Raekwon? And has this experience enriched you in any way?
Ice Grill: It was like living out a dream Who doesn't remember The Wu? and to be on stage with Raekwon smh absolutely priceless. And watching him vibe to me rap head nodding into every bar was an experience I will never forget. And yes it showed me that if you can engage the crowd and refocus their energy you win automatically.
How would you describe the current state of the Rap and Hip hop industry in general? Compared to when you started out?
Ice Grill: It's gimmickier and fad driven you use to have to prove you where an emcee now as long as U can do a double time or dumb it down with auto tune you can have a hit. Although there are exceptions I hate to use the reference but Underground Hip Hop still has its purity if you know where to search. Half the rappers who are buzzing wouldn't be a blip in the golden era nothing against those selling record's it's what the fans and the people enjoy so the culture suffers do to this.
Which aspect of being an independent artist and the music making process excites you most and which aspect discourages you most today?
Ice Grill: No one handcuffing me to creating a particular sound or follow so and so's format, I can write and let loose whatever I feel with no need to get approval from any middle men or record execs. But not being signed means having to fund it all yourself as well as market it which is very costly where as if you have a deal you have a budget. But that's a loan you won't see till every cent is recouped and then u only see pennies off sales. Whereas being independent everything's yours aside from whatever you work out with the producers and so forth. But to be honest the discouraging part it is gaining the capital to keep up the momentum it's far from cheap to get in traffic and take the lime light.
The best piece of advice in this business you actually followed so far, and one you didn't f know for sure that you should have?
Ice Grill: That would be perfect my writing because I use to freestyle my life away I would say some dope lines but when it came time to write it was next to impossible. I didn't follow my mind I allowed my heart to make business decisions I lost countless opportunities do to my misplaced loyalties. If I would of took those opportunities a lot of doors would of flew open but I was in my team is my fam mode if it wasn't all of us it wasn't any of us. That decision cost me a lot of traction and access to different markets and different fans sort of stunting my musical growth.
Has winning five consecutive Ultimate Breakdown victories, a Hip Hop Fest title and the Zulu Anniversary in Harlem New York helped you in anyway?
Ice Grill: To be honest not really I actually gained a lot more negative energy and hate do to it I was labeled the battle rapper who battled everyone lol. And I actually came in 2nd In the Zulu Anniversary although it was to one of Kay Slays artists who was from Harlem and we battled in Harlem. So I think that sort of gives me the win lmao.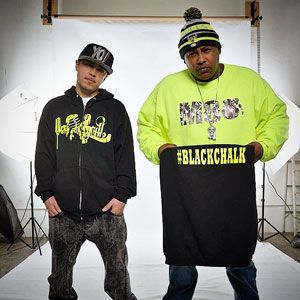 Do you consider Internet and all the social media websites as fundamental in building a career in music today, and what is your personal relationship with the new technology at hand?
Ice Grill: I do because it gives the prospective listeners a chance to see and interact with you and get to know you thru these avenues and outlets no one's going to support someone they never heard of or saw. I have become savvy via the Net It has allowed me the opportunity to meet so many people who have helped me propel forward in this arena. From Producers, and managers, fans, to booking shows not to mention being put on internet radio and podcasts. And I stay up on all my social media you never know when an important email will land and you have to be ready to respond and deliver to get ahead and stay there.
If someone has never heard your music, which keywords would you personally use to describe your overall sound and style?
Ice Grill: Passionate, Heartfelt, Lyricist, who is thought provoking, and unique.
Apart from the release of "The WestSide Stories", do you have any other set for 2016?
Ice Grill: Yes I am set to perform in Austin Texas at SXSW on March 17th and I have a few other shows cooking as well. We also plan on hitting Up Shade 45 again to do Tony Touch as well as Sway in The Morning no dates just yet on those though. And we are gearing up to complete BlackChalk 2 Which will be way sicker than the last got some huge features lined up for this round a lot of unexpected surprises this round. And some things lined up via my Management at Chase Entertainment if you don't know the name please research he's one of the founding members of The Cold Crush Brothers.
As you work your way through your career, which more than any other still fires-up your imagination – A Grammy award, Platinum music sales or any other tangible milestone you have set your mind on?
Ice Grill: Have to say the Grammy's To be in that league pushes me every time I don't know how to not hustle to get things done so stopping isn't in the equation. And i have yet to reach my peak I've got so much more to write and deliver there's no safe suit when I rhyme and no imaginary box.
What is the ONE thing you are NOT willing or prepared to do EVER, in your quest to achieve a successful musical career?
Ice Grill: Give up my creative control couldn't imagine that nor would I conform to what's hot just to get in the lime light. I will remain true to myself and my roots and stay hungry refusing to compromise my growth for commercial success just love being me and reaching deeper to deliver what they don't expect. So selling out is never an option it's either uncut or it's no good point blank period. #BlackChalk.
OFFICIAL LINKS: SOUNDCLOUD – FACEBOOK
Please follow and like us: