Texas born, GA raised, Hymaginn (pronounced him again), grew up in Tifton GA, aka Notfit aka the 229. Starting out writing poetry, he has been rapping his entire life, since Grade 2. Started from writing poetry. Married to his Jr. High sweetheart, he is the father of 5 daughters. With 3 albums under his belt, Hymaginn is currently in a little bit of controversy because rapper DaBaby is suspected of stealing his rhyme scheme. He even dropped a diss song called "Gerber (DaBaby Diss?)" which details it all.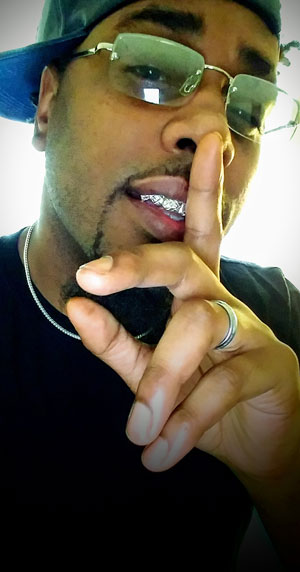 Can you tell us a bit about where you come from and how you got started

?



HYMAGINN: I'm a Texas Baby. Born in Cleburne TX. To be exact! But life's journey landed me in Georgia at a young age. But Tifton Ga. Is my hometown AKA Notfit!
Do you handle both the lyrics and beats on your songs, and/or do you collaborate with other songwriters and producers?



HYMAGINN: Creative writing is my biggest passion so I definitely handle writing my own lyrics. My Styles and cadences aren't the norm so I doubt another artist could write for me the way I'd like it. The beats I leave to the guys who do that, you know? I have close relationships with a few producers so I'm always good. I wouldn't mind learning more about producing though, Fa sho.
Who were your first and strongest musical influences that you can remember, and who do you listen to right now?
HYMAGINN: My earliest memories of really being a fan of artists was back when No Limit had everybody wearing fake No Limit chains and calling themselves soldiers LOL But it was Bone Thugs N Harmony who actually influenced me and showed me that I could rap. Them and a lot of Chicago artists like Do or Die, Twista, Psychodrama, etc. The fast lyricism was more impressive to me. I use to write what I was guessing they were saying. Then 1 day I thought, if I can guess their lyrics in the rhythm of the instrumentals, I can write my own. Plus I was already dope with poems. I currently listen to some of the same artists. The new rap is cool but I'm a fan of styles, signature sounds and skilled flows. I got some Pablo Juan in my Playlist, some Lil Ronny MF, Some Spodee, Twisted Insane, Young Dro, Hustle Gang, Rod Wave, King Iso to name a few. Lot of good spittaz out there. I like variety.
What do you feel are the key elements in your music that should resonate with listeners?



HYMAGINN: My versatility and ability to show every side of myself through music. No two songs will ever sound alike. My creativity is endless and my songs are not the typical dope selling, Kill an opp jams. I make all kinds. Songs that can be relevant in different times and aspects of life.
When, and in what circumstance, did you come to realize that music was the way forward for you, and the one thing you wanted to do above all else?



HYMAGINN: When I rapped my 1st song and got a good reaction from friends. Talking Like 5th or 6th grade. When I rapped and my peers refused to believe I made it up, that's when I knew I was going to continue.
What's your view on the role and function of music as political, cultural, spiritual, and/or social vehicles – and do you try and affront any of these themes in your work, or are you purely interested in music as an expression of technical artistry, personal narrative and entertainment?

HYMAGINN: If used correctly, I do feel like music is a great compliment to the expression of political, cultural and spiritual views and opinions. But you always have to be extra careful because those are all sensitive topics. We live in the day of cancel culture LOL Personally, my mood would have to tell me to tackle any of those for me to wanna do it.
For most artists, originality is first preceded by a phase of learning and, often, emulating others. What was this like for you? How would you describe your own development as an artist and music maker, and the transition towards your own sound and style?



HYMAGINN: In the beginning with Bone Thugs being a major influence, I mimicked my style and flow first off of Layzie Bone. He wasn't too slow but he wasn't the fastest but he was for me then the most understandable. So I used his style of cadences to develop my flow. And after studying the fast rap style for many years after, I learned how to do different chops and twist and lastly learned to play with my voice. Still learning to play with my voice honestly. But I'm highly skilled nonetheless.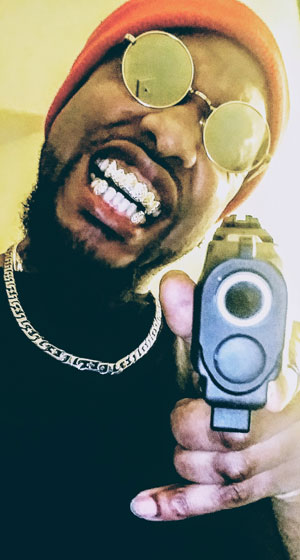 Could you describe your creative processes? How do usually start, and go about shaping ideas into a completed song? Do you usually start with a beat, or a narrative in your head?
HYMAGINN: Most times I prefer getting the beat and 1st seeing what it's telling me to say. That's how I create. I get the melody in my mind first and see if words automatically begin to fit the melody. If a beat tells me the words, it's no question I want it! Lol Other times I might just know a beat is banging but it be so dope to me that I have to force myself to think of a song. But I always get the beat first.
What has been the most difficult thing you've had to endure in your life or career so far?



HYMAGINN: Fatherhood, Individuality, and a loyal fan base have been my biggest challenges thus far. Fatherhood because I have 5 daughters and they drive me insane. Individuality because the world nowadays seems to want everyone to be the same and think the same. And a loyal fan base because I struggle understanding how I fly under so many radars and why so many tell me they love my music but rarely support it. It's a weird profession LOL
On the contrary, what would you consider a successful, proud or significant point in your life or career so far?
HYMAGINN: All three things I just mentioned LOL I love fatherhood. I became a father at 19 and I truly believe it saved my life. Individuality, meaning I'm proud of being able to disagree with things when most agree with it. I'm confident enough to wear what I like and not what others wanna see me in. That's power. And though my fan base or listeners aren't as large as I believe they will be soon, I'm still driven to give more until I reach more.
Putting aside the accolades or criticisms that fans or the media may afford your releases, what's the one thing about you or your music, you think people may overlook or misunderstand most often?
HYMAGINN: My personality and sense of humor. I'm cocky and confident so many tend to think I'm full of myself. But it actually comes from never getting my deserved support and recognition. I figured since nobody wanted to give me my Just dues, I'd start applauding myself and speaking confidently of myself. And my sense of humor can sometimes ruffle feathers because I can find humor in anything. I strongly advise easily offended people to not listen to or be around me. My honesty can sometimes be a mothafucka.
Do you think is it important for fans of your music to understand the real story and message driving each of your songs, or do you think everyone should be free to interpret your songs in their own way?



HYMAGINN: Both. Whatever catches YOU was meant to catch you in whichever way it did. As long as I can captivate my listeners long enough for them to see that I'm actually saying something and Doing it in 1 of the most creative ways ever done, I'm satisfied. If my songs relate to your life, I'm satisfied then too. Some people can't create music to express themselves and I feel like that's where we the real artists come in. 4EverSoul is the Brand but it represents so much more than what people may understand.
Do you feel that your music has given you back just as much as you have put into it over time, or were you expecting something more, or different in any way?



HYMAGINN: Not at all. I'm nowhere near where I wanna be. And for me it's not about superstardom. But I do aim to solidify my name as 1 of Hip Hops most undeniable greats and I hadn't done that just yet. I feel that no real music lover can listen to 3 of my songs and honestly say I'm not Him! Talking styles, flows, cadences, Wordplay, Bars, signature sound, etc. If you listen, you will have to recognize the greatness. I don't think a rapper alive has more styles than ME! LOL So I gotta keep going til the world recognizes.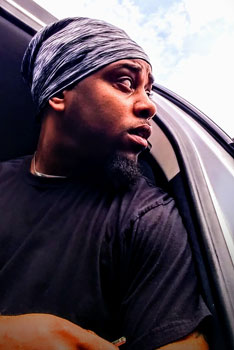 With social media having a heavy impact on our lives and the music business in general, how do you handle criticism, haters and/or naysayers in general? Is it something you pay attention to, or simply ignore? What's your advice on the matter?
HYMAGINN: I use to live on social media but nowadays not so much. It can poison your thoughts and ruin lives because it's no longer used for the right things. So I chose to fall back from it. But Haters have 1 job and they do it well. There was a time where lack of support from associates and naysayers really did bother me. But now I just don't care as much. I'm still doing everything I wanted to do musically and as an entertainer. I'm still getting paid for what I love doing.
Could you tell us something about your latest or upcoming projects and what the highlights are to watch out for?
HYMAGINN: Man! My schedule is hectic right now LOL True independence is a definite challenge but I'm definitely working. Got a couple music projects in the works, planning to drop 2 albums either same day or same week so be looking for those no later than early 2022. Just finished writing up the script for a new short film set to drop in December. Gonna be dope as fuck so you can't miss THAT! Oh and be sure to check out my recent video interview with WORLDWIDE SPOTLIGHT on YouTube. We covered the story about DaBaby stealing my flow. Yes rapper DaBABY. Stole my shit! Video proof is out there and ALL. And the Diss track "GERBER" is a banger!
What's the story and all the hype behind "Gerber (DaBaby Diss?)"

?



HYMAGINN: Well it's a clear depiction of my thoughts and feelings on the situation at hand. As a creator, nobody wants their work stolen. I reached out through IG by sending my material, never heard back from him, moved on. Many months later I hear my flow on a song. People say I'm reaching but I uploaded the proof of me sending the messages, the dates from when my verse was posted and when their song dropped as well. And when you hear the bars n cadence, even though slightly different, it's very clear that he either copied me or we think with the same brain! So "GERBER" is a battle call. Showing that I'm Skilled enough to have your fav rapper steal from ME. I've gone public with it, he hasn't responded. So until he does, in my opinion, he stole it.
Creative work in studio environment, or interaction with a live audience? Which of these two options excite you most?



HYMAGINN: My favorite part is the creating in the studio. Well most times I have my songs written, rehearsed and ready when I go. I'm normally knocking out 3 songs in 1 hour. But getting that live fan feedback is an experience of its own as well. I'd say I love em both for different reasons.
Do you have a favorite motto, phrase or piece of advice, you try to live or inspire yourself by

?



HYMAGINN: Yep. In all things, gain understanding. This advice is a real peace maker and helps to resolve a lot of issues in life. Most people walk around ready to spazz and take their life frustrations out on others. But if those people took time to understand that others are equally frustrated with life or may also be dealing with things, maybe they'd think twice before reacting and acting in certain ways. Many lives have been ruined and lost over small Misunderstandings. And we all hate reacting to something stupidly just to later realize we acted without understanding the full situation. So in all things, make sure you gain understanding before involving yourself.
Is there any particular artist or producer you'd love to collaborate with if you had the chance, and why?

HYMAGINN: I'm open to working with anybody who has love and passion for the sport. Some of my fav producers are Timbaland, Nard N B, Metro Boomin, DJ Quik, Turbo, and Kanye to name a few. Far as artist, if they're dope and can bring out my creative powers, I'm down. Let's work!
What do you find most rewarding about what you do? And do you have a specific vision or goal set in your mind that you would like to achieve in the near future?
HYMAGINN: The most rewarding part of it all is the money! Lol nah, it's reaching new listeners every day for me. I love genuine reactions to my music. Knowing other people understand my points of view and relate to the feelings I have is a sense of therapy. A lot of us feel alone out here in a world full of billions of people. It's refreshing to know that many like-minded individuals do exist. And for me, my mission won't end until long after I reach them ALL!
OFFICIAL LINKS: INSTAGRAM – SPOTIFY – YOUTUBE
Please follow and like us: