As any serious Hip-Hop fan or follower will attest, it's all about the beats! Beneath the glossy production tricks, behind the lyrics, at the heart of the Hip-Hop matter are the beats and perhaps that's what separates Kenny Thomas from most of the other rapper/producers trying to break through. He's exceptional in both worlds.Rapping and producing. If you find yourself in Mississippi, Georgia, or his home state of Alabama anytime soon. Don't be surprised to find that Kenny Thomas is already a household name on the rap circuit.
As a native of Tuscaloosa, Kenny lives somewhere near the halfway point between East Atlanta and New Orleans – two dominant forces in current Hip-Hop. The Rawness of the Big Easy's Cash Money Millionaires is mixed with the inventive rhyming and musicianship of the Atlanta Dungeon Family. He has a way with lyrics that simultaneously cut to the bone, keeps your head knocking, and evokes the occasional chuckle. He displays witty punch lines and most of his songs are painfully honest and to-the-point.
What's most impressive about Kenny is that he produces almost every track that he is heard on, via his production company Dirdy Beatz. Having his own beat factory has enabled him to take time with his craft which is obvious when you hear his music. Remember the name Kenny Thomas. The major labels are not going to be able to ignore a talent like this for too long.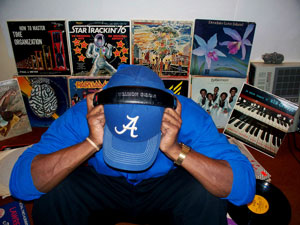 How long have you been working on your latest project 'Unkut' 2?



Alabama Kenny: The thing about 'U2' that I want everyone to understand is that, it's more of an experience than just a record dropping….It'll be songs, videos and physical product but it won't be delivered in the traditional way.You're getting in the car with me for a hell of a ride…
Who or what influenced this project?



Alabama Kenny: It started off as something small but as I started promoting it, I also started seeing more things that I wanted to address. As I was living it, I was writing it down. So it's based off of real life experiences.
What artists if any are featured on 'U2'?



Alabama Kenny: It will have features but nothing is in stone right now.
What do you feel are the key elements people should be getting out of 'U2'?



Alabama Kenny: I really just want people to enjoy the music as I paint a vivid picture for them.
What do you think separates you from the massive crowd of artists emerging right now?



Alabama Kenny: Even though I've gained a lot of knowledge in the past years and have experienced more than a lot of artists, I pride myself on still being a student…I'm not out here acting like I know everything.
Do you currently have a preferred song in your catalog, and why is it special to you?



Alabama Kenny: Right now it's a song called 'Name Kallin'…Anyone that has any doubt about Hip-Hop coming from Alabama should listen to this song…I'll be Re-releasing it soon.
Are your lyrics predominantly based on real events and personal experiences, or are they drawn from your creative storytelling skills?



Alabama Kenny: For the most part they come from real events and experiences when I'm telling a story but I do have songs where I'm just having fun rapping.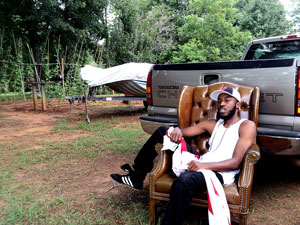 What would you consider a successful, proud or high point in your career so far?



Alabama Kenny: Anytime I can reach new people with my music is a huge success to me. I really can't name just one thing or an event. I've fed people as well as myself because of words that I put together so that's being successful to me.
What has been the most difficult thing you've had to endure in your life or music so far?



Alabama Kenny: In this business it's the sacrifices…Most people don't know that it's really a full time job….Blood Sweat & Years…
What key ingredients do you always try and infuse into your songs, regardless of style or tempo?



Alabama Kenny: A little Dirdy South pepper…No salt or sugar.
Do you produce the beats and write all the lyrics on your songs or do you collaborate with outside sources in any of these cases?
Alabama Kenny: I always write my own material but I'm open to outside ideas and I like working with other producers…As far as being a real emcee in Hip-Hop, I don't believe in ghosts Lol.
Can you tell us something about the scope of your production company Dirdy Beatz?



Alabama Kenny: It's an all genre production team (Hip-Hop, EDM, Pop Etc.)  We have writers too.
Which aspect of being an independent artist and the music making process excites you most and which aspect discourages you most?



Alabama Kenny: The creative process always excites me and by being independent I don't have to rush anything for anyone. Nothing really discourages me.
If you had the opportunity to change one thing about how the music business works right now, what would that be?



Alabama Kenny: Nothing at all.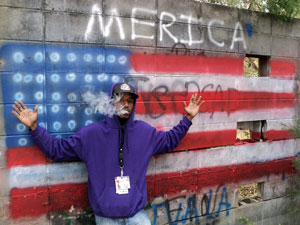 If someone has never heard your music, which keywords would you personally use to describe your overall sound and style?
Alabama Kenny: Lyrical, Unapologetic, Authentic, Unkut…
Do you consider Internet and all the social media websites as fundamental in building a career in music today, and what is your personal relationship with the new technology at hand?



Alabama Kenny: Yeah the internet is a major tool. I'm definitely learning all I can right now and trying to apply things the right way.
Tell us something about your latest release and where fans can find it.



Alabama Kenny: I just released 'Buckin Again'. It's a single from 'U2'…It's available in all digital stores.
What is your relationship with visual media? Do you think videos are important for your music? Do you have a video you would recommend fans checkout so they can get in to what you're doing?



Alabama Kenny: I think video is everything right now. Please check out my EPK video on YouTube.
Do you prefer working and creating in a studio environment, or performing live in front of an audience?



Alabama Kenny: That's a hard one because it's nothing like seeing people react to your music live but I also love creating in the studio…I really can't just choose one.
What's next on the upcoming agenda for Alabama Kenny?
Alabama Kenny: I'm hitting the road…See y'all soon… #unkutseason
OFFICIAL LINKS: WEBSITE – INSTAGRAM – TWITTER MUSIC STREAMS: BANDCAMP – SOUNDCLOUD – YOUTUBE
Please follow and like us: