Viiolence aka "The Crooked Man" is a polish Rapper/Songwriter influenced by heavy genres like Metal, Hard Rock, Alternative etc. He started making music at the age of 14 and searched for his own sound and identity. At first he tried to make Metal music and create a community for artists called 'T.B' (The Barrred), but he couldn't find any bandmates/artists sharing his taste or vision so he abandoned his dream to focus on his life, as he was struggling with depression, rejection and drugs. At the age of 21, influenced by Rap/R'n'B, he started rapping and producing beats for himself only, not knowing if he should ever post it, fearing people wouldn't care. On 30th May 2020, Viiolence released his first song called 'Babygirl' which took off on Platforms like Soundcloud or Youtube, from unknown to 30k views in a couple weeks on Soundcloud, mostly recognized in Countries like Russia, Ukraine and Mexico where he started gaining fans quickly.
Can you tell us a bit about how you got started, and why you chose the moniker Viiolence?

Viiolence: Well, at first I wanted to start a Metal band and a Community called 'TB' for Artists to connect. Designers, Musicians, Comedians etc. Whoever you are you would be able to be one of us. Something like ASAP Mob but on a bigger scale, but then I realized that I had no friends in my circles that share my visions in how the music should sound or what we should represent so I gave up. I listened to rap occasionally but always the good old school Tupac, Ice Cube, Dre etc. First after Lil Peep and XXXTentacion became a thing and rap really extended its creative wings I started really rapping myself and producing beats. The name Viiolence also came from old school hip hop, like Eazy-E line 'They put my picture on silence, because my identity by itself causes violence' or Tupac 'They claim that I'm violent just because I refuse to be silent' and I thought that there's nobody with that artists name but I added the second 'I' to make it more interesting. VII like the roman 7.
Do you handle both the songwriting and beats on your songs, or do you collaborate with others in any of these processes?

Viiolence: I do everything on my own with my songs right now, but I'm more than open to collaborations in the future. I did 2, 3 songs with friends but that's their songs.
Who were your first and strongest musical influences that you can remember?
Viiolence: In rap it's definitely all the old school rappers from the West Coast because the songs were way groovier. And besides rap H.I.M, The GazettE, DIR EN GREY, Moonspell and right now The Weeknd.
What do you feel are the key elements in your music that should resonate with listeners?

Viiolence: Music for me has no judgement. I don't really like pop or country but there are people who live for it so who am I to judge? It's important to be yourself and make the kind of music that you like and not what someone else likes. Be different and people will like it because they already know music, but they don't know you yet.
For most artists, originality is first preceded by a phase of learning and, often, emulating others. What was this like for you? How would you describe your own development as an artist and music maker, and the transition towards your own style?

Viiolence:  I think that at the start you try to be like the Musician you're inspired by, or all of them that you listen to. You need a little bit of time and experience to find your own voice and sound. I'm not even sure if I'm there yet.
What's your view on the role and function of music as political, cultural, spiritual, and/or social vehicles – and do you try and affront any of these themes in your work, or are you purely interested in music as an expression of technical artistry, personal narrative and entertainment?

Viiolence: I've always loved Artists that voice their opinions. I would rather listen to 'Joyner Lucas – I'm not racist' than 6ix9ine's songs. All the metal bands I listened to wrote songs about how life treats them, what they think of religion, political standpoints…and many of them just have that worldview you can relate to. DIR EN GREY touches very controversial topics in their songs but it makes you think, or even cry.
Do you think it is important for fans of your music to understand the real story and message driving each of your songs, or do you think everyone should be free to interpret your songs in their own way?

Viiolence: I think that everybody will interpret the songs how they want even if told them the meaning because we all view the world differently, but I would love them to know why I wrote the songs the way I did.
Could you describe your creative processes? How do usually start, and go about shaping ideas into a completed song? Do you usually start with a beat, or a narrative in your head?
Viiolence:  It just comes. I have to think about the topic, visualize it and start making melodies until I find the one that suits the narrative. Then I make the beat and at the end I write the song to really FEEL the beat and the feeling I had when I was coming up with this specific topic.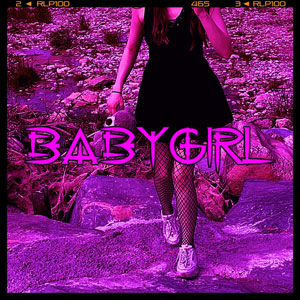 What has been the most difficult thing you've had to endure in your life or career so far?

Viiolence:  The start is always hard, mostly with 0 budget because I'm at the start now and lost more money for my music than earned but it's okay. I will enjoy every single second of this journey with my people.
On the contrary, what would you consider a successful, proud or significant point in your life or career so far?
Viiolence:  Haha, I think that my first Single did 60k on Soundcloud and 10k on Youtube. I remember in 2020 being super euphoric and telling everybody I'm a rapper now when the song had 100 views.
Putting aside the accolades or criticisms that fans or the media may afford your releases, what's the one thing about you or your music, you think people overlook or misunderstand most often?
Viiolence: I think at first you may think with my name and my looks that I'm a wannabe gangster rapper but I really try to just be the most humble and cool guy. I want to have an interesting life, the money and success is not even on the list.
If I switched on your media player right now, which artist or song will I most likely hear?

Viiolence: The GazettE – Blinding Hope, It's Japanese Rock/Metal and I don't think many people would like it but this song just came out this week and that's creatively speaking my most favorite band of all time.
If you had a choice to collaborate with any acclaimed international artist or producer in the near future, who would you choose, and why?

Viiolence:  Artist would be Night Lovell, Ghostemane or Squidnice. Producer I think Kirk Knight, BigHead and MetroBoomin.
With social media having a heavy impact on our lives and the music business in general, how do you handle criticism, haters and/or naysayers in general? Is it something you pay attention to, or simply ignore?
Viiolence:  People are allowed to say whatever they want, it's free speech on my channels, but be prepared to get roasted haha. Starting out I thought I would receive only hate so everything else is a success.
Could you tell us something about your latest project and what the highlights are to watch out for?
Viiolence: I'm recording my first album now called 'R.I.P Viiolence' about myself struggling with depression and rejection in the past and I hope people can hear it soon, because I'm pretty far with the recordings.
Do you have a personal favorite track amongst those in your catalog that has a specific backstory and/or message and meaning very special to you?

Viiolence: I have an unreleased one that you will maybe hear on my album called 'LOTUS'. At first I did a little 5, 6 song mixtape with bad equipment and shitty mic and that was one of the songs on there. It was the first really good and interesting beat I ever made with my girlfriends favorite song as the sample and it just needs better vocals for me to publish it again because I of course deleted it all. I'm a perfectionist and this quality was not my intention.
Creative work in studio environment, or interaction with a live audience? Which of these two options excite you most?

Viiolence:  Audience, but I would die of stress before my first concert. I would be there 5 days early to make rehearsals so that the people really get what they paid for. I'm also a person that enjoys concerts and I know how you feel when the musicians are not as good live as on their songs.
Do you have a favorite motto, phrase or piece of advice, you try to live or inspire yourself by?

Viiolence: 'You're nothing and everything at the same time' just a little something to remind me that mistakes don't matter and I can do whatever I want.
How essential do you think video is in relation to your music? Do you have a video you suggest fans see, to get a better understanding of your persona and craft?

Viiolence:   Music videos help you see what the artist tries to tell you. I love videos and enjoy making them but right now the 'Babygirl' video is the first so it's not much but its honest work. For the album I have ideas that would be as professional as I can with my budget.
What do you find most rewarding about what you do? And do you have a specific vision or goal set in your mind that you would like to achieve in the near future?
Viiolence: There is nothing more rewarding than people just engaging with you and your song. I love every one of them. I would love to get to the stage where I earn a little more so I can also expand and give people more, and more. Right now I go through the pain of fighting with neighbors every time I work on a song haha and I still have the cheapest version of FL Studio.
Connect with all music streams, social media and websites for Viiolence here: https://beacons.ai/viiolence_tb
Please follow and like us: