Gustavo de Freitas Costa, known professionally as Preck, is a rapper and songwriter born in Brazil. His passion for music started when his parents gave him a Michael Jackson DVD, Preck then began a collection to which he listened and danced to when got from school. According to his mom, he grew up listening to Black Music and that was the main reason for loving Rap so much.
When he was 10 years old, he made a Rap song along with his cousin for a TV show submission, then, at 12, he started learning English since his dream was to sing like the international rappers. Now, Preck has dropped his first song called "Let Dem Know", a track that speaks about his life; events that occurred when he was a child, as well as his friendships and achievements.
How long have you been in the music business and how did you get started in the first place?



Preck: I've been writing songs since I was a child; all my feelings, my thoughts and any uncomfortable situations served as fuel for me to write more and more. I confess I was afraid of singing for the first time so I crossed a battle with myself; Whenever my fears grew, so did the distance between me and my dreams, until the day I convinced myself that I had to chase them. I sang to myself all the time to improve my voice and my way of singing and wrote new songs to improve my lyrics and vocabulary until I felt ready to record my first song.
Who were your first and strongest musical influences that you can remember?



Preck: Soulja Boy certainly.
Which artists and/or producers are you currently listening to?



Preck: The artists that I usually listen to are Drake, Future and Post Malone, but I listen to any music that I like no matter the artist or his fame. Producer wise, currently the one I like the most is Pharrell Williams, hands down.
What do you feel are the key elements people should be getting out of your music?



Preck: Resilience, positivity, faith, perseverance and joy.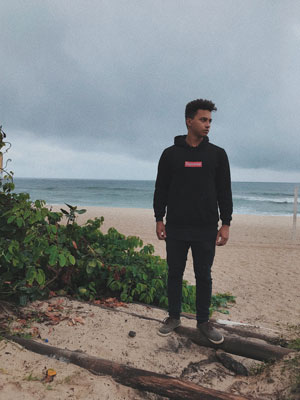 What do you think separates you from the crowd of artists emerging right now?



Preck: My way of writing songs. I try to make songs that people identify themselves with. Nowadays most of the new rappers don't even write their own songs anymore, and some have just never written. People think Rap is just something to make you sing and bounce to but it's not. We really express ourselves through rap. When you rap, you show the world what you think. It's authentic, you sing exactly what comes to you, no filters. So yeah, I'd say that the lyrics and above all the love I have for doing what I love most are the main things that separate me from that crowd.
Do you currently have a preferred song in your catalog, and why is it special to you?



Preck: Yes, I have many songs but I think my favorite one, right now is Let Dem Know for being the first song I've released; my composition is getting better and better and I know I will have new favorites as time goes by but for now, Let Dem Know is it.
Are your lyrics predominantly based on real events and personal experiences, or are they drawn from your creative storytelling skills.
Preck: Usually both. My lyrics are based in real events and describe most part of my life story. My songs talk about who I am and all the things that brought me where I am now. I get creative when I talk about the future because I write how I picture it.
What would you consider a successful, proud or high point in your career so far?



Preck: First of all, happiness. This was always important to me. Happiness moves me, keeps positive and makes me pass good things on through music. When you do things moved by happiness, you do them well done and with no effort at all. I'm grateful for everything that happened in my life, it made me humble, fearless and empathic. And of course, the appreciation. Everybody wants to be remembered for something good they've done in their life… things that they've do, something that they were or words that they had spoken- especially if it's life-changing. I want to be able to help and influence people around the world with my music and my point of view. If that doesn't happen, I just want to represent my mindset and make people as happy as I am.
What has been the most difficult thing you've had to endure in your life or music so far?



Preck: In music, the most difficult time was when I recorded for the first time in a studio and I heard rude things from the producer, things like "It's awful", I was not prepared for that, I got really sad but I decided to shut him up. I worked hard, I trained my voice, my lyrics, my emotions, everything! Now I'm happy with my evolution and will keep on working hard. I overcame my fears.
What key ingredients do you always try and infuse into your songs, regardless of style or tempo?



Preck: The laugh, the musical expression and the joy are a must have.
Do you also produce the beats and write the lyrics on your songs or do you work with outside sources in any of these cases?
Preck: I write my own songs. I feel better releasing what I wrote down myself. I love singing my own words. And no, I don't produce my beats, I have a great beatmaker on my team. He kills it!
Which aspect of being an independent artist and the music making process excites you most and which aspect discourages you most?



Preck: The freedom of being an indie artist motivates me. I'm free to create and to get exactly what I want in a song. I can manifest my feelings with truth and authenticity to then sing it. The music making process excites me! I love how the music starts and how it ends, it's really awesome. Money is an aspect that discourages most artists, this includes me. A manager or an entrepreneur helps to take care of our career and invests in it. Sometimes we just need money to solve our problems.
How do you record, produce and market your music? Do you have a team to help you or do you do everything by yourself?



Preck: I have a great team to help me, no one comes to the top alone. I have my English Coach, Lucca Cesar, that helps me a lot with my English and my accent, he spends hours teaching me, he's my big bro for life. I have my beatmaker, Cleones, that makes crazy beats that show off his talent, he's the man! Shoutout to my bros! I recorded my first track in a studio, but now I'll produce my tracks in my own studio – this is a novelty. I love to produce! As I had said: I love how the music starts and how it ends. I'd like to appreciate the producer that worked on Let Dem Know. He's a talented guy! He worked so hard and I'm grateful for that! Shoutout to my bro Léo! I'm so grateful for all their support and dedicated attention during all this time.
If you had the opportunity to change one thing about how the music business works right now, what would that be?



Preck: I think I'd change the way they refer to drugs. I'm not saying what rappers should or shouldn't do with their songs or their lives, but everybody should know that many minors are listening to Rap songs. It's gone viral, everybody from everywhere is listening to Rap music, so all the rappers should cut the drugs from their lyrics, unless it's a narrative.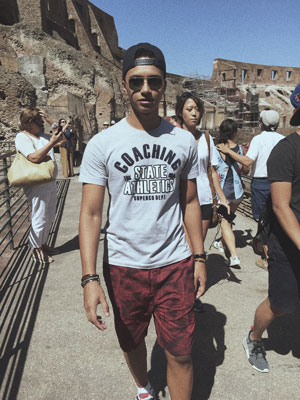 If someone has never heard your music, which keywords would you personally use to describe your overall sound and style?
Preck: I always like to innovate! I sing every type of song, from slow to fast-paced, etc. I like to breathe in new airs. When you always sing the same thing, it gets boring to you and your public. I love when people are surprised with my music! What I want to say is that I don't have a single style and my songs show real-life situations, the type that people identify themselves with.
Do you consider Internet and all the social media websites as fundamental in building a career in music today, and what is your personal relationship with the new technology at hand?



Preck: Of course! The internet helped a lot of artists who are up nowadays! It greatly increased our chances of being discovered. We don't have to sell our cd's on the streets as the old rappers used to do. Now we have the streaming, YouTube, platforms that help us to spread our music faster than before. I'm always connected to all social media, they are fundamental to promote my work and I started being recognized through them.
Tell us more about you. What's your way of living?



Preck: I'm a positive, empathetic and dedicated guy. I like to live the good things in life, to meet new people and to help people when I can. I try to work well with my karma. I love music, all kind of music, but I have a special passion for Rap. I love to produce too, the evolution of the music is amazing. I want to spend my life traveling and working with what I love most. My goal is to visit the whole world and to appreciate new cultures for my personal experience and professional life.
What is your relationship with visual media? Do you think videos are important for your music?



Preck: Yeah, of course! Sometimes people don't like the music too much, but when they watch the clip, they come to like it. Visual media helps artists with their music promotion.
Which one opportunity, promotional service or product – currently existent, or still to be created – do you wish was available to help independent artists reach wider audiences?



Preck: The affordability. Some artists can't promote themselves due to lack of money. Maybe a platform of entrepreneurs where people can post their songs and be rated by entrepreneurs who can help the artists financially.
What are the Preck's aspirations for 2018?
Preck: To release new songs, work for new brands, make new video clips and grow musically speaking.
OFFICIAL LINKS: SOUNDCLOUD – INSTAGRAM – TWITTER – GENIUS – ITUNES
Please follow and like us: