Don Hughes released his debut solo album in 2008. In 2012 he got married to his longtime girlfriend, after which time he followed a substantial period of inactivity. In 2016 he released "It's Christmas", which featured original interpretations of holiday classics. August 2020 saw the artist release his most ambitious project to date – "A Hero's Journey".  The new album features a 9-song instrumental story on the theme of heroism, and includes 4 bonus tracks selected from other unfinished projects.
Can you tell us a little bit about where you come from and how you got started making music

?



Don Hughes: I did some studio work for a blues artist in Altoona, Pa in 2004, and soon after joined a cover band. I started recording music just to see if it was possible for an unsigned artist like me to put out content. Independent music was really taking off in the mid-2000s. Once I saw that it was possible, I knew it was something I wanted to continue to do.
Have you had formal training or are you self-taught?



Don Hughes: I took private lessons from a guy named Reed Larrimore who works for Yamaha now. He wasn't a classical teacher, but that worked to my advantage with what I wanted to do. Since he was more of a rock guy, I learned the importance of improvising in live settings, and also appreciating different genres out there.
Who were your first and strongest musical influences that you can remember?
Don Hughes: Growing up before I started playing an instrument I think I wore out my parents' ZZ Top "Eliminator" album. That was an early influence in just my love of music. In my writing, I have always been drawn to bands like Trans-Siberian Orchestra and Mannheim Steamroller. As a fan, Dream Theater is my favorite band, and lately I have been listening to a lot of guys like Sabaton, Devin Townsend, and Ghost.  I'm a metal fan at heart, but can also just as easily listen to guys like Gordon Lightfoot. Good music is good music, no matter what the genre is.
What do you feel are the key elements in your music that should resonate with listeners?



Don Hughes: I want there to be something for everyone in my music. If you don't like the style of one song, chances are the next song is going to have something different in it. Some of my music can be complex, but at the same time still has accessibility.
For most artists, originality is first preceded by a phase of learning and, often, emulating others. What was this like for you? How would you describe your own development as an artist and music maker, and the transition towards your own style?



Don Hughes: In my first album in 2008, most of the original pieces were just solo piano pieces that I put background music to. Where I had a lot of fun was taking a classical piece and putting my own spin on it. That's why I did my Christmas album in 2016. I actually wanted to continue to do that originally with my new album until I stumbled upon an idea of telling a story instrumentally, with no music. That's how "A Hero's Journey" was born.
What's your view on the role and function of music as political, cultural, spiritual, and/or social vehicles – and do you affront any of these themes in your work, or are you purely interested in music as an expression of technical artistry, personal narrative and entertainment?

Don Hughes: Music is whatever someone wants it to be. While I have treated my own music from an artistic perspective, the other side is just as important. We all have those songs that we listen to that move us, whether it be remembering past experiences or shaping who we are. That's where the real beauty of music lies.  What it means to you may not be what it means to me, but we both can appreciate what music has done for us in our lives.
Do you ever write a song with current musical trends, formulas or listener satisfaction in mind, or do you simply focus on your own personal vision and presuppose that it will be appreciated by a specific audience?



Don Hughes: I've always wrote for myself. While my influences can probably be heard in my music, I never sought to sound like a certain artist or trend.
Could you describe your creative processes? How do you most often start, and go about shaping ideas into a completed musical piece? Do you usually start with a beat, a narrative in your head, or a melody?
Don Hughes: It depends on the project. With "A Hero's Journey", I definitely wanted to tell a story. The narrative was heavily influenced by a book written by Christopher Volger called "The Writer's Journey: Mythic Structure For Writers."  That's where the framework for the story came from. With "It's Christmas", I had ideas in my head of what I wanted the song to sound like, and what I could add to the arrangements. As far as writing individul sounds, I found that I was writing/recording songs in parts. I'd come up with an idea, fit it into the song, then move forward to the next chapter. I never wanted my original pieces to sound like the usual verse-chorus-verse-chorus-solo-chorus sturcture. I wanted songs to sound different, for them to be stories all in their own,
What has been the most difficult thing you've had to endure in your musical career, or life so far, and how did you overcome the event?



Don Hughes: Music isn't what pays my bills, so I'm afforded a bit more freedom in what I do. I think the most difficult thing is just seeing the role that music plays in people's lives change over the years. I can still just lie down, put on headphones, and listen to a release from start to finish.  Anymore the mainstream music industry is all about the Top 40 hit or what music can make the most money right now, even if the subject matter is vulgar or controversial. Music has become background noise, that thing you put on in the car just so you don't have to drive in silence. I still look at music as much more than that. I take it very seriously, sometimes too seriously.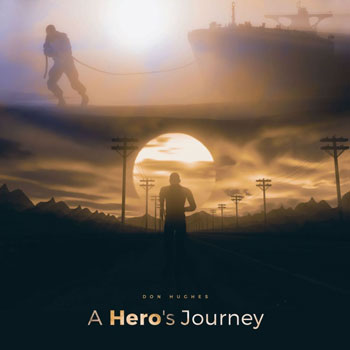 What would you consider a successful, proud or significant point in your career so far?
Don Hughes: Putting out my first album in 2008. It wasn't meant to be a starting point of me putting out more music. I just wanted to see if I could do it.  It made me realize that yes, not only can I do this, but I have a real chance of putting out stuff that people enjoy.
How would you describe the sound of your new upcoming album "A Hero's Journey" to any potential new fan?
Don Hughes: There are so many elements present in the new album. I guess "symphonic rock" is the best way to describe it, but I also have some pieces in it that do not fit that description at all. I was trying to tell a story, and stories have twists and turns. There are even a couple of songs in it that my wife called "urban new age." It's eclectic like the Christmas album, but in a different way.
Does the album have an overarching theme and storyline or is simply made up of a series of individual songs?



Don Hughes: The first 9 songs encompass a hero story. In the book I mentioned, it explains that most hero stories (Star Wars, Die Hard, Lord Of The Rings, buddy cop films, Alladin, etc) follow a general structure. The all have these elements in their stories.  My goal was to tell a hero story instrumentally, with no lyrics.  The cool part is that the story in my head may not be the story in your head, but the songs still fit the narrative. I also included 4 extra songs from projects that I started but never completed.
Where did the original idea and inspiration behind "A Hero's Journey" come from?



Don Hughes: After reading the Christopher Volger book, I came up with the idea of telling a story instrumentally.
Did you use any particular sounds and/or recording techniques on this album that you would like to share with us?
Don Hughes: I introduced a pan flute that I never used in my past recordings. I always used strings, but never thought to add different flutes in my arrangements.  I'm always up for hearing different instruments that don't belong together somehow work.
What were the main compositional, performance and/or production challenges you came across on the new album?
Don Hughes: I wanted to tell a story, so I couldn't just write a bunch of songs and then put them together in an order that fits well. I wrote the first track first, then the second track, then the third, etc. I had to always be aware of what I did before, in order for every track to sound fresh. It was almost like writing chapters in a book.
Did your initial artistic vision for the album change at any time during recording, or did you pretty much stick to what you had in mind from the start?



Don Hughes: Very much. At first I was going to do another Christmas album, recorded one song, then stalled.  Then I wanted to do an album of patriotic songs in my style, recorded one or two, then stalled. I then got an idea of doing a new age album, recorded a couple of songs, then stalled. It wasn't till I came across the Volger book that the idea to tell a story instrumentally came about. That's when "A Hero's Journey" was born.
How long did it take you to complete the song – from its conception to its recording and the final production – and which phase took up the most of your time?



Don Hughes: I recorded the album from June 2019 to December 2019. The original plan was to have the album out in March 2020, April at the latest, but then Covid-19 just had to happen. I didn't want to put money in the album till I was sure that my day job was safe and I wasn't going to get laid off. Once I was comfortable that I wasn't going to lose my job, that's when I decide to put it out.
Are you entirely happy about how the album came out, or in retrospect, is there something you keep thinking you could have done a little differently in some way or another?



Don Hughes: I'm very happy with it especially with the old equipment I use.  Once a project is completed I don't dwell too much on what it could have been or what I could have changed.
Do you ever collaborate, or consider collaborating with any other artists in the future? And if you could choose to perform alongside any internationally recognized artist right now, who would that be?



Don Hughes: I'm always up for collaborating with people. It's a blast working with someone, especially someone who writes different music than you, and seeing what comes out of it. As far as recognized artists, I guess my top three would be Trans-Siberian Orchestra, Sabaton, Devin Townsend, and especially Dream Theater.
What do you find most rewarding about what you do? And do you have a specific vision or goal set in your mind that you would like to achieve in the near future?
Don Hughes: For me, the reward is seeing the finished product, holding the physical CD in my hand, and just getting it out to the masses. Not everyone puts themselves and their talent out there, and they should. Who cares if people don't like what you do. I don't like certain music, but I respect the fact they put it out.  It's your vision. It's your hard work. It's your art form. If people tell you that you shouldn't do it or can't do it, they shouldn't be in your life.  As far as my future goals, I just want to keep putting out music and seeing what happens.  I've had a piano/keyboard in my presence since I was 8 years old, and I don't plan on stopping anytime soon.
OFFICIAL LINKS: WEBSITE – BANDCAMP
Please follow and like us: