Canadian melodic roots rocker Cory M. Coons is no stranger to the music awards podium. His singles have earned him accolades at the Radio Music Awards and the World Songwriting Awards. His albums have been recognized at the International Singer Songwriters Association (ISSA Awards), the Ottawa Sound Music Awards, The Los Angeles Music Awards and the Producer's Choice Honors. Now, the prolific singer-songwriter has been nominated for one of independent music's most prestigious awards, The Josie Music Awards. Cory M. Coons released the melodic/roots-rock album "The Long Road Home" in 2018, produced by multi-platinum veteran music producer Ron Nevison, (Heart, Bad Company, Damn Yankees, Survivor, Styx, Night Ranger), along with additional stellar guitar work by musical cohort and engineer Marc D. Muir. The album is currently nominated for "Male Album Of The Year" at one of the biggest Independent Award Shows in North America, the 2019 "Josie Music Awards". Cory's influences are a collection of various genres like melodic rock and roots-rock, blended with hints of country-rock. He is a respected freelance guitar instructor in the local St. Lawrence Seaway Valley and at Rock My House Music Centre in Kemptville, ON. Cory has opened and performed alongside such treasured National Canadian like April Wine, Kim Mitchell, Glass Tiger and David Wilcox.
Can you tell us a bit about where you come from and how you got started?

Cory M. Coons: I grew up in the country, just outside of a small town (South Mountain) in Eastern, Ontario, Canada. I started playing bass at 13. I played in high school bands with friends for Talent shows and Christmas Assemblies, etc. Started writing song ideas and creating little guitar structures in my teens. Then travelled and started touring with some high energy cover bands from Cornwall and Ottawa in the early and mid-nineties. After that I started focusing mostly on my own writing, recording and performing with my own projects in the early 2000's. I have released several independent albums and Ep.'s from about 1999 through until now.
Who were your first and strongest musical influences that you can remember?

Cory M. Coons: The Beach Boys. Duran Duran. 80's Melodic Rock bands. Bon Jovi. Styx/Tommy Shaw. And older country music when I was just a kid.
If I was to turn on your media player right now, which artists/songs would I be most likely to hear on your recently played list?
Cory M. Coons: Chris Golden. Tom Petty. Styx. Shaw/Blades. Bon Jovi. Duran Duran. Many others, lol! 😉
What do you feel are the key elements in your music that should resonate with listeners?



Cory M. Coons: It has to be honest, believable, and the message needs to hit home, and take you away somewhere or make you feel like you are living in that moment of a song or story.
For most artists, originality is first preceded by a phase of learning and, often, emulating others. What was this like for you? How would you describe your own development as an artist and music maker, and the transition towards your own style?

Cory M. Coons: I think my music is a big melting pot of all my influences over the years I have worked in music. Writing, recording and performing different styles all have their little influences and merit on what I do now.  Everyone is influenced by someone or something that has come before them. It's just a natural evolution for me.
What's your view on the role and function of music as political, cultural, spiritual, and/or social vehicles – and do you try and affront any of these themes in your work, or are you purely interested in music as an expression of technical artistry, personal narrative and entertainment?

Cory M. Coons: I don't like to mix Politics and my music. I believe music to be an escape for most people. I like to focus on a positive outlook if I can… It can be very spiritual for me at times. And it has to resonate with me and the people who listen.
Do you ever write a song with current musical trends, formulas or listener satisfaction in mind, or do you simply write focused on your own personal vision?

Cory M. Coons: A lot of times it's how I'm feeling, or what comes to me. I don't tend to follow trends. Too easy to get caught up in trying to be something you are not. 🙂
Could you describe your creative processes? How do start, and go about shaping ideas into a completed song? Do you usually start with a tune, or a narrative in your head?
Cory M. Coons: Each one is totally different. There's no cookie cutter way I go about things usually. It has to have a great melody, and has to speak to me.
What has been the most difficult thing you've had to endure in your career or life so far, and how did you overcome the event?

Cory M. Coons: Losing my Parents. It's still a struggle every day. Having my beautiful wife and daughter to lean on for strength and enjoy life with… now gets me through each day along with my music.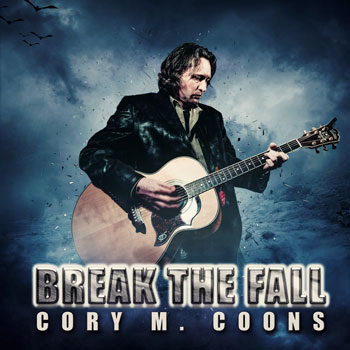 What would you consider a successful, proud or significant point in your career so far?
Cory M. Coons: Working with legendary Producer Ron Nevison. Attending the Josie Music Awards, and also the Los Angeles Music Awards previously (and performing for them). Working with MTS Management Group/MTS Records. As for not career related, I would have to say the birth of our daughter in 2014! She is the best blessing we could have asked for! 🙂
If someone has never heard your music, which 5 keywords would you personally use to describe what you and your music is all about?
Cory M. Coons: Melodic. Honest. Believable. Roots-Rock. Americana
With social media having a heavy impact on our lives and the music business in general, how do you handle criticism, haters and/or naysayers in general? Is it something you pay attention to, or simply ignore?

Cory M. Coons: You just try to ignore it the best you can. If you don't have something positive or constructive to say, then say nothing. 😉 That would be my advice.
Which aspects of being an independent artist excites you most and which aspects discourages you most?

Cory M. Coons: It's nice to have your own creative control without anyone telling you how to create your and release your work. But the industry is also very fragmented right now, and over saturated with a lot of stuff at the same time. You have to really stay true to what and who you are. Forget about forcing yourself to standout with something you aren't or don't believe in.
If you had a choice to go on tour with any acclaimed international artist or band in the near future, who would you choose, and why?
Cory M. Coons: It's hard to say… With the current state of things with Covid – 19 and the economy of our neighboring countries, it doesn't look too promising right now, unfortunately. But I'm open to anything in the near future if it is the right opportunity. 🙂
Could you tell us something about your latest project and what fans can expect to hear?
Cory M. Coons: There are two new songs in the works for later this year. I think you will get a real sense of an "Americana" feel and vibe from these…
Do you have a personal favorite track amongst your compositions that has a specific backstory and/or message and meaning very special to you?

Cory M. Coons: I really like the newest single "Leavin". Basically resonates as the life of a musician, and having to be away from family at times. Sometimes the experience of loneliness.
Creative work in studio environment, or interaction with a live audience? Which of these two do you ultimately prefer and why?

Cory M. Coons: They both have their time and place, and merit I think… I love the creative aspect of the studio environment, but there's also nothing better than to resonate with a live audience as well!
What's your favorite motto, phrase or piece of advice, you try to live or inspire yourself by?

Cory M. Coons: "Don't let your music die inside of you"… Dr. Wayne Dyer. That's a good one. 🙂
How essential do you think video is in relation to your music? Do you have a video you would suggest fans see, to get a better understanding of your craft?

Cory M. Coons: It's important. I have a few lyric videos and regular videos. "Would You Stay", "Seven Year Itch", and the new one "Leavin'" are pretty representative I think.
What is the best piece of advice regarding the music business that you actually followed so far, and what is the advice you didn't follow, but now know for sure that you should have?
Cory M. Coons: Surround yourself with the right team of players. Trust your heart and your intuition. And learn not to trust the wrong people in this business.
OFFICIAL LINKS:
https://www.facebook.com/cmc.music
https://twitter.com/CoryMCoons1
https://open.spotify.com/album/4DBW2u9RgqknDo52CTK6ZG  
https://www.youtube.com/watch?v=LkfNVBlsg2s
Please follow and like us: