Na'Kia Evonne Ricks, known as Ayo Kia, is an American rapper, singer, and songwriter. She is known for her motivating lyrics, jabbing punchlines, and unforgettable storytelling.  Ayo Kia began to build popularity after releasing her first project in 2021. Her solo project, "Before I Go", was listed on JukeBox Time's Magazine as a Top 10 Album, where "Before I Go" ranked as Number 8 and Number 1 in Trending. Ayo Kia has been featured in Disrupt Magazine, 1 in Music Online Magazine, and The Popular 'Hip Hop Only' Magazine.
1. Can you tell us a bit about when you decided to take music seriously, and how you got started recording and releasing music?
Ayo Kia: I had been doing music for so long, since I was 14. It was always serious for me even then. I stopped for a little while back when I was 22, when I just graduated from college. which was like the worst time to take a break, and I didn't get back into it to take it seriously until 26. that's when I told myself, "No matter what. I'm going to give up on this." I'll be doing music until I'm 99.
2. Do you handle both the songwriting, and beats on your songs, or do you collaborate with other songwriters and producers?
Ayo Kia: I handle the songwriting, yes. Typically, I don't make the beats. I have in the past, made a beat and collaborate with my more experienced producer to make it final product. But usually, my trusted producers will handle making the beats. It's been a while since I collaborated with another songwriter that is outside of my family. My brother writes and My dad writes. I work with them all the time. But, outside of my family, it's rare right now. I recently created a song with an artist/producer from South Africa. The name of that song is "Black Leather". It's on all streaming platform. You can hear the diversity in that song, and I love it. I'd like to collaborate with more experienced artists, though. That would be nice.
3. Who were your first and strongest musical influences that you can remember, and who are you listening to right now?

Ayo Kia: Bebe and Cece Winans, Lil Wayne/504 Boys, Nicki Minaj, Drake, J.Cole, Destiny's Child, J.Lo, Jarule, Lil Romeo. These artists were my first set of impactful influences. Today, I like Lil Baby, Kanye West, Cardi B, Ice Spicee, City Girls, No Cap, YoungBoy.
4. What do you feel are the key elements in your music that should resonate with listeners?
Ayo Kia: The lyrics. I'm writing this song to deliver a message. I hope listeners like the beats and appreciate the mixing and mastering, but most of all, I hope they get the message that I'm trying to deliver.
5. For most artists, originality is first preceded by a phase of learning and, often, emulating others. What was this like for you? How would you describe your own development as an artist and music maker, and the transition towards your own style?
Ayo Kia: I didn't get my style from anyone actually. When I first started writing songs, I based them off of how I wrote poems. I was a poet first. Doing poetry for the church and school. Once I started writing songs, I was just designed the poems to fit the instrumentals. This goes into the transition question too. When I first started rapping, I'll never forget, I was by another rappers house, we were recording in her home studio – she was a lot older than me. She told me I sounded like an English teacher, after I did my very first verse. (Laughs) I'll never forget that. I was 15 at the time, I wanted to be cool and liked and approved, so I started to become more blunt and unrestricted about my lyrics. Punchlines and everything were good from day one, but I never wanted to be told something like that again. So I made sure that I was slapping every time i wrote a song. When I first started doing music, I was just rapping. I rapped in rap groups with classmates, mainly men. When I was out of the rap groups, and started to explore my sound, I started singing. The singing with the rapping was me! And I understood that. And that's how I write song today, not limiting myself to just rap. I started off with my beats from the hood, club banger beats, and eventually moved into softer acoustic airy instrumentals. Today, it's a mixed bag of both.
6. What's your view on the role and function of music as political, cultural, spiritual, and/or social vehicles – and do you try and affront any of these themes in your work, or are you purely interested in music as an expression of technical artistry, personal narrative and entertainment?
Ayo Kia: Music is so powerful and influential to the people. I strongly believe that so many people make decisions based on the music that they listen to and take advice from the artists on these songs, that's why you have to be careful about what you say, I feel. Not careful in the sense of limiting yourself, but just mindful of your audience. For artists, I think it's therapeutic. To release those emotions and feelings into the world. I believe in the power that music has to affect political, cultural, spiritual, and social views. I have yet to use my music or platform to address any of those yet. But in the future, I hope to. Right now, as you said, it's just personal narrative, entertainment. But a good example, Is Latto's song P*ssy. Nicki mentioning Mitt Romney. These are examples of females speaking on these types of things. And they are impactful, I just haven't done that yet.
7. Do you write a song with current musical trends, formulas or listener satisfaction in mind, or do you simply focus on your own personal vision and trust that people will empathize and vibe with your sound?
Ayo Kia: Today, I will attempt to select beats that are in the style of what the rappers are using today; however, I'm not really a fan of that. Because if that's the case, how will I develop the meaning of an "Ayo Kia Type Beat". Same for lyrical delivery. So I have tried to, but usually I just stick to my personal vision and trust that the people will vibe.
8. Could you describe your creative processes? How do usually start, and go about shaping ideas into a completed song? Do you usually start with a beat, a tune or a narrative in your head?

Ayo Kia: Sure. So, I go to a beat library, and I look for a beat I like and I start writing. I start with what my heart feels or whatever comes out of my mouth and I just start writing. Then I fact check the lyrics, tweak the lyrics for relevancy, make sure the punchlines are on point, make sure it make sense. Follow the song structure. Record it on my phone a few times. Listen to it in the car. Listen to it with my dog. If it meets all the standards that I have now for logic, delivery, style, I'll go to the studio and record. Think or the cover and if I should have a video. Make that ready and get ready for a release. This is typically the process. Unless I'm working on an album, then the process is a little different.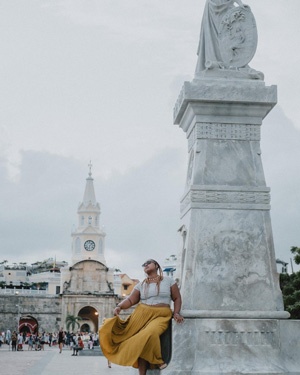 9. What has been the most difficult thing you have had to endure in your life or career so far?
Ayo Kia: The most difficult thing I've had to endure in my music career? Well, it's two things. First is maintaining a good reputation and Second is continuing to keep working with a lack of support. So, when I was in high school, because I was very smart and a music artist, I was an easy topic in the barbershop or the girls lunch table. I'll never forget this, because people would come back in tell me, like "Hey, they were talking about you at the barbershop."  From the music, to the person I'm dating, or the way that I dress, I was a thing to talk about. So, at first, I didn't even realize how popular I was. I thought I was invisible, but one day I realized I wasn't. And I had to make some changes. I felt like I had to distance myself from a lot of people and a lot of things, just to stay out of foolishness. And, then the lack of support. When I first started rapping it was a controversial thing at school, people didn't see that for me. But, still, when I was in high school. I was much more supported then, than I am now. The people that supported me then are non existent today. And it's a new set of people coming in to support me and taking interest in my music. That was tough. Because I didn't understand why they stopped supporting me. And it made me very angry (laughs). I was always going off about it. Because I felt like I had been dumped or dropped off. Paying for a studio session, or a music video, and releasing it to the public, for 10 people to listen to the song or watch the video is tough. Especially when you know 300-500 people used to be here. So, it's been an experience, and I feel like I'm starting from square one. But, the growth and the expansion is happening. That's all that matters.
10. On the contrary, what would you consider a successful, proud or significant point in your life or career so far?

Ayo Kia: When I had the opportunity to perform for Maya Angelou while I was at LSU. I was in the LSU Student Newspaper at that time too. My artist development program was pretty nice as well. I just finished that last year. The finished products shocked me a lot.
11. Putting aside any accolades or criticisms that fans, the industry, or the media may afford your persona or music, is there anything about you or your music, you think people may overlook, underestimate or misunderstand at all?

Ayo Kia: I think people overlook me as an artist. I think people overlook the time, work, and effort that goes into making these songs or music videos (or merchandise, whatever I am creating). I think they underestimate the value of support. Something as simple as a connection being made or introduced to if they have connections, a like, a follow, a repost, a comment, a purchase of a T-shirt. I think they underestimate everything about this process. But that's not just for me, that's for every artist. Someone who is not an artist, producer, engineer, photo/videographer, may never understand how much work goes into making one song, let alone a music video or an album. How much courage and bravery it takes to release that to the public not knowing if you will sink or swim. So, I think they underestimate everything about it.
12. Do you think is it important for fans of your music to understand the real story and message driving each of your songs, or do you feel everyone should be free to interpret your songs with their own feelings and experiences?
Ayo Kia: I would be nice if you understand my story, but it's okay if you don't. I'm okay with listeners interpreting the music how they interpret it to fit their life or current situation. Placing their own meaning on the music.
13. Do you feel that your music is giving you back just as much as you put into it, or are you expecting something more, or different in any way?
Ayo Kia: No. (Laughs) Definitely was expecting more. Definitely. But that is in terms of numbers and cash money … and that will change. But, has it given me wonderful experiences and the opportunity to share myself with the rest of the world? Yes, It definitely serves as a stamp saying that I was here. And when I move on to the next life, I will love on forever through this music.
14. With social media having a heavy impact on our lives and the music business in general, how do you handle criticism, haters and/or naysayers in general? Is it something you pay attention to, or simply ignore?

Ayo Kia: (Laughs) If you watch me on Instagram … on my stories. I'm always getting on haters and naysayers. I usually speak on it. I talk about it in my songs, sometimes. I usually will address it because it annoys me and I feel that if I speak on it, it will subside. Sometimes, I will ignore it. But, I'll never forget, reading DJ Khaled's book, The Keys. He said the way to deal with haters is more success. So I'm learning how to calm down and stay off of social media with my Critic Rants. And just continue to work on my vision.
15. Could you tell us something about your latest project; the meaning, the message, and what the highlights are to watch out for?

Ayo Kia: Well, my first project "Before I Go" just turned 1 at the end of September. So I was excited to celebrate that. To talk about this a little, that title "Before I Go" meant: if I don't do anything else on this earth, before I go, let me release these songs. And these are considered to be my "hit" solo songs from when I was growing up as an artist, if you let my family and friends tell it (laughs). "Your Eyes", "Running", "Satisfy Me" are on that to project. Great Songs. The project that I'm working on now is about growth, strength, and taking myself out of situations that no longer serve me and focusing on the better aspects of myself instead of the negative things that certain people may point out about me. This newer project, you will definitely be able to hear and experience the growth in me and as artist. I can't wait to release it. I'm thinking if not the end of this year, definitely beginning on next year.
16. Do you have a personal favorite track amongst those in your catalog that has a specific backstory and/or message and meaning very special to you in a personal way, and why is it so?

Ayo Kia: To be honest, Not yet. I don't have a favorite track of my own right now. None of them have made the cut (laughs).
17. Creative work in studio environment, or interaction with a live audience? Which of these two options excite you most, and why?

Ayo Kia: Interaction with a live audience. I love the stage. I love how I feel on stage. I love singing or rapping live, it's nothing like it. I love reading and impressing the audience.
18. Do you have a favorite motto, phrase or piece of advice, you try to live or inspire yourself by?
Ayo Kia: Yes. "If you are afraid to do it, do just that."
19. How essential do you think video is in relation to your music? Do you have a visual you could suggest fans see, to get a better understanding of your persona and craft, or will you be working on something new soon?

Ayo Kia: It's funny that you ask. I was just talking about this. Videos are so important. I feel that as an artist, you must give your listeners a visual. Even if it's just a visualizer, instead of a full music video, you have to give them something. Videos are vital. For me, I would suggest "Your Eyes" music video. And the "We Can't" Visualizer. "More Time" is good too. All on YouTube. And will definitely be working on new videos. Absolutely.
20. What do you find most rewarding about what you do? And do you have a specific vision or goal set in your mind that you would like to achieve in the near future?

Ayo Kia: The most rewarding thing about being a music artist (to me) is witnessing your own growth. Evolving as an artist is what I enjoy most about this.  I do have specific goals that I want to achieve. That's another interview right there (laughs). But overall, I want my music and my purpose in this life to inspire someone else to be the best version of themselves that they can be.
OFFICIAL LINKS:
Website: www.ayokia.com
Instagram: @iamayokia
Facebook: https://www.facebook.com/iamayokia/
Apple Music: https://music.apple.com/us/artist/ayo-kia/1390911240
Spotify: https://open.spotify.com/artist/7kmAgwQFz6Few28Iu2ko8v
TIDAL: https://tidal.com/browse/artist/9900991
Please follow and like us: