The Brimstone Lab, also known as "The Brimstone Lab Collective", is an American independent record label based in Pontiac, Michigan that specializes in weird, dark hip hop music. The label was founded in 1999 by Snake Eyes Da Great and Jason Phalen. Since 2001, the label is fully owned and operated by Snake Eyes Da Great. Members past and current are Swing Dee Diablo, Sel D Sinatree, The Eloheim, M4H, Congo Red, Ariez Divine, Big Sneak, Black Magik, J Mac, J Stone, Hoodlums, Dead Mike The Assassin and HakMUp.
How long have you been in the music business and how did you get started in the first place?
Swing Dee Diablo: Wow, I've been selling my music since around 2000. As far as making and/or writing lyrics I can't remember. Pretty much since I was a child.
Who were your first musical influences that you can remember?
Swing Dee Diablo:​Well, I remember seeing Prince and thinking "Wow" How cool does that look? . My parents played a lot of soul music in the house but as far as Hip Hop it was all the greats from New York Mostly. Around 8th or 9th Grade I discovered Esham and Natas.Loved that shit!
Which artists are you currently listening to?
Swing Dee Diablo: I pretty much just listen to our group of artists at The Brimstone Lab. A Lot of new young local artists who may or may not fit us, I'll give they shit a listen. I don't listen to a lot of Rap anymore. I can't get into this Drug/Thot era of music. As far as main stream artists not many are making good original music. I only listen to rappers who are older than 30 years old for the most part. These cats nowadays be spitting a lot of gibberish.
Where did the moniker Swing Dee Diablo come from?
Swing Dee Diablo: Man it's been so long I kinda don't remember. I think my old friend Bernie Marcelo gave me the Swing part but not sure.My name is Darren but as far as where the "Swing" part come from not sure. I added the Diablo part to Spice it up a bit.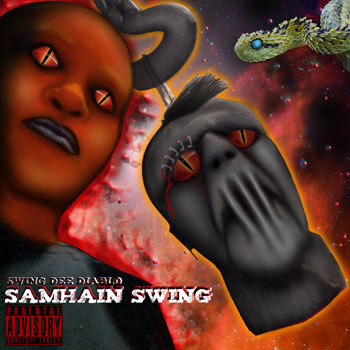 What are your thoughts on visual media and Youtube? Do you have any videos published for fans to see?
Swing Dee Diablo: Not as many as I need but that's all changing. Now that we have real Distribution we kinda gotta put some more visuals out there. @WattsVideo has been doing a lot of videos for The Underground Collection 2 album we put out in the Summer. I think we may have a Triiple Siix aka Shake Ass (Chey) video in the works. Dead Mike The Assassin has a bunch of videos out. You can check a lot of our stuff out at The Brimstone Lab Vimeo Channel.
Which do you ultimately prefer? Entertaining a live audience or creating songs in a studio environment?
Swing Dee Diablo: Both are fun but It's easier to record. I think u have to be able to perform on stage though.
Tell us something about your lyrics and music production on your releases. Which part of these processes do you handle personally, and which do you outsource, if any?
Swing Dee Diablo: Well I consider what I do now as #DarkHipHop. A Lot of this so called horror rap music out now sounds like stand up comedy…lol. I tend to scare people away before they even give it a listen. Fuck Em!
What is the title of your latest music release and where can fans find it?
Swing Dee Diablo: The new E.P. is entitled Samhain Swing and it drops Worldwide on Friday January 29, 2016 at the stroke of midnight.
Who did you collaborate with on your latest release and what do you think makes this recording special and a must have for fans of the genre?
Swing Dee Diablo: Production was handled by The New Mexico Production team The Sick Beats! SickTanicK did 4 tracks and Stitch Mouth did 2. I wanted to make a fast heavy rap record and that's what these guys do well. I handle all the spells and rhymes.
Which ingredient do you think makes you special and unique as a performing artist in a genre thriving with newcomers?
Swing Dee Diablo: I think the crowds these days have low Expectations. So when u hit the stage and semi look like you know what u are doing then they are shocked…lol. I guess I always looked at it like u really ain't a Rapper if u can't do it live on stage.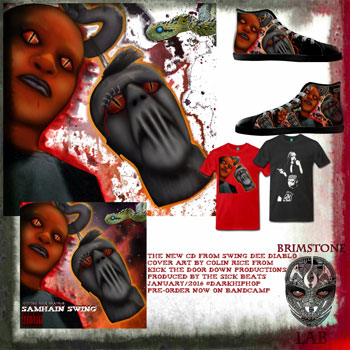 Which aspect of being an independent artist and the music making process excites you most and which aspect discourages you most?
Swing Dee Diablo: Meeting new people because of the music is great. I don't really get discouraged anymore. I do it because I love to do it. Back in the "M4H" days I was starting to get discouraged.Once the Fat was cut I pretty much rep'd The Brimstone Lab as a solo artist. I spent 2015 getting our roster back up and now we are as big as we have ever been! It helps when everybody is on board and excited about what going on. With M4H egos got in the way. How u got the biggest ego but u do the least….lol I know cats is sick right now! haha. We had some artists jump ship after I Branded ,Marketed them for the "Greener Grass" on the other side…lol Now these same dudes lucky to put 1 track out a year…lol People gonna be mad if they read this but the truth is the truth and I knew it then when it happened. Ps, If any of these cats don't like what I'm saying then do something about it. Most of these dudes are females! People hate me and I love it! Fuck Em! Brimstone is a cult! #FuckEm
Do you have a management team to advise you or do you control everything by yourself?
Swing Dee Diablo: We used to do everything ourselves back when I was using cd baby . Now we just turn it in to the office and let them do the rest. We have help as far as PR and marketing is concerned also. Way bigger operation than we used to have but…
How do you achieve your sound? Do you work from a private recording environment or do you use a commercial sound studio?
Swing Dee Diablo: We do both. We have our own Studio and we also go to the Big spots. Pro Tools makes it easy to bounce around like that.
The best piece of advice in this business you actually followed so far, and one you didn't follow, but now know for sure that you should have?
Swing Dee Diablo: Dr.Dre said back in the days that u can't expect your friends to be fans/support u and he was right 100%…lol I would tell young artists to always do it for the love of making the music. It'll never get old if u do that. If you make good music, someone will find it and support it
How did you team up with The Brimstone Lab record label?
Swing Dee Diablo: Well I own and operate the Label with the 1 and only Snake Eyes Da Great! Co-Founded w/ my old friend Jason Phalen back in 1999. I've been running it ever since. We added DevilRap as an A&R and Black Magik is basically and A&R also now so we moving in the right direction.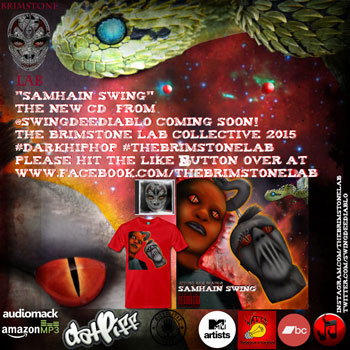 Do you consider Internet and all the social media websites, as fundamental to your career, and indie music in general?
Swing Dee Diablo: Big Time. Easiest way to reach the fans and get information out. The Internet has changed music tho and not for the better. We used to have to save up the pennies,book midnight studio sessions cause it was at a cheaper rate…. Get in there and go to work! Shit is a lot easier now.
If someone has never heard your music, which keywords would you personally use to describe your overall sound and style?
Swing Dee Diablo: #DarkHipHop #DetroitRap #PontiacHipHop #Horrorcore #AcidRap #GhettoMetal
Straight off the top of your head, how would you describe the current state of the Hip-hop, R&B and Rap industry in general?
Swing Dee Diablo: Horrible, honestly makes me sad to see who gets the marketing money and who doesn't. Shit is crazy out here. Everybody is hooked on drugs and shit…lol Rappers are Junkies nowadays. Everybody wants to be the same person. Wear the same tight pink pants and shit. Dudes is out here drugging woman and rapping about it and shit. Young Thug out here calling other men "Bae" and "Hubby" and shit. Rappers are actually bragging about not writing they raps and how lyrics don't matter anymore?? Really? Fuck Outta here with that shit.
As you work your way through your career, which more than any other fires-up your imagination – A Grammy award, Platinum music sales or any other tangible milestone?
Swing Dee Diablo: I just want to meet people and see some cool things.
What is the ONE thing you are NOT willing or prepared to do EVER, in your quest to achieve a successful musical career?
Swing Dee Diablo: Wear a Dress.
OFFICIAL LINKS: FACEBOOK – SOUNDCLOUD – TWITTER – YOUTUBE
Please follow and like us: