Richard Lynch is an American country music artist, who has compiled a long list of country hits and chart toppers in the world of traditional country music. His single, "A Better Place" topped the New Music Weekly AM/FM country chart, the IndieWorld Country Record Report, and spent an incredible 32 weeks atop the Roots Music Report True Country chart. His next 4 singles also topped the country airplay charts, including a duet with Grammy Award Winner, Rhonda Vincent.  Richard's last single, "Country Music Isn't Country Anymore" went Top 25 on the iTunes Canada sales chart.
Richard is a multiple-award-winning artist and a member of the Independent Country Music Hall of Fame, who has appeared on WSM Radio Nashville, RFD TV, and countless other media outlets.  He is also the host of "Traditionally Lynch," airing on TV and radio, and he's the founder of the Love Tattoo Foundation for veterans.
If you hadn't become a musician and were not a farmer, what do you think you would be doing right now?



Richard Lynch:  I would be building, working construction, I have built several barns and framed houses over the years.  I still work construction, mostly barn work today.   I would either be treasure hunting (metal detecting) or fishing if I could.
If you could be an animal, which would you be and why?



Richard Lynch: I would be the Bull of the Woods!  (That's from an old Merle Haggard/Leona Williams song)
Excluding the one above, what is the weirdest or funniest question you've been asked in an interview?



Richard Lynch:  I have been asked about the funniest moment while out on the road, which was when we left the keyboard player in the women's restroom at a gas station
What do you feel is the best song you've ever composed and why?



Richard Lynch:  I like my songs that I have composed that are not only a good song but something that can be beneficial to others, of which I have several songs that have become anthems for different folks.  Like:  Love Tattoo, Worth Saving, The Old Feed Store, We're American Proud………….If I had to choose probably We're American Proud.
Any special musician or producer you'd like to collaborate with next?



Richard Lynch:  To record with George Strait or Alan Jackson would be the ultimate dream.  I have gotten to collaborate with several of my country music heroes such as David Frizzell, Ronnie McDowell and Rhonda Vincent, we are planning to collaborate with Leona Williams in the near future.  This has been an honor for me.
If you can have your fans remember one thing about you, what would it be?



Richard Lynch: That I have always written and performed traditional country music, and stayed true to my roots.
What were your main compositional, performance and production challenges in the beginning of your career and how have they changed over time?



Richard Lynch: You have to work at and learn how to write good compositions, I started out at a very young writing songs and it has taken a lot of experience and practice to improve my compositions to a quality outcome.  Not to mention listening to and learning from better more diverse writers.
Do you think you can still get better as a musician? And if so how would you achieve that?



Richard Lynch:  Yes! I could learn the fourth chord! LOL!
I am always trying to learn as a musician and collaborating with the folks I have been recording with has challenged, pushed me to improve and be on the top of my game
What has been the most difficult thing you had to deal with so far in your music career?



Richard Lynch:  Dealing with other people's egos.
What is the most trouble you've ever gotten into?



Richard Lynch:   I got into a fight with another musician trying to sabotage my equipment, but I didn't get into trouble.  I just stand up for myself and my band and take care of business.
What's your view on the role and function of music as political and/or social vehicles – and do you try and affront any of these themes in your work, or are you purely interested in music as an expression of performance artistry and entertainment?
Richard Lynch:  We're American Proud is a fine example of my political beliefs.  As a rule I sing songs I like but I do portray my faith and beliefs in everything I do.
What are the five things you can't live without?



Richard Lynch: My wife, my farm, my guitar, my daughter and grandkids. Maybe sweet tea 😊
What's your motto or the advice you live by?



Richard Lynch: Don't take no for an answer!
What is your favorite song (s) to belt out at the bar/in the car/under the shower, or for karaoke, etc.?



Richard Lynch: in all those situations She's Got Me Drinking Again works, except I do not do Karaoke!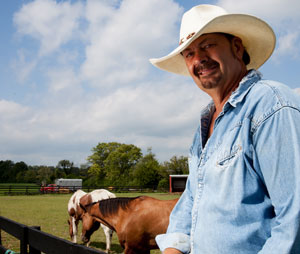 If you could go open up for any artist on tour right now who would it be?
Richard Lynch: Any artist who reveres true traditional country music, I would want to open up for!
What is your personal relationship with the new technology at hand, like tablets, smartphones and music making software etc.?



Richard Lynch: I have no personal relationship with new technology, like those items mentioned.   My only relationship is that I sing about them….I have a song Cut and Paste about modern day technology.    My wife and management team handle all my technology
What is the best piece of advice regarding the music business that you actually followed so far, and what is the advice you didn't follow, but now know for sure that you should have?



Richard Lynch: I should have continued songwriting that I had started at a young age but then gave up for a period time.  I am writing again, enjoying it immensely and coming up with some good songs I enjoy performing.
What is your relationship with visual media? Do you think videos are important for your music? Do you have a video you would recommend fans checkout so they can get in to what you're doing?



Richard Lynch: I think videos of songs are very important in depicting the story in the songs. Music videos have helped spread my music to new fans as people really like to share good videos on social media.   I would recommend our latest video…The Old Feed Store.
Tell us about your favorite performance venues

?



Richard Lynch: Our barn is my favorite!
Do you have specific milestones set on the agenda for 2019?
Richard Lynch: Focusing on traditional country music wherever I can share my music.
OFFICIAL LINKS: WEBSITE – TWITTER – FACEBOOK – REVERBNATION – ITUNES
Please follow and like us: