Reject Da Illest, a.k.a Cedric Lee McClain Jr. is a Rapper, Poet, Director and Songwriter born on the Westside of Chicago, IL. He was raised in a single parent household due to the tragic murder of his father in 1991. He relocated to the Southside of Milwaukee, WI in 2003. During his time growing up, the talent faced quite a few challenges with: school, the law, his personal life, and the list goes on. He didn't allow that to deter him from progressing though. In his late teens, he employed poetry and rapping to get him through the rough times. This form of venting eventually transitioned into the pursuit of a career in music.
Track Banditz Entertainment became the brand for Reject's musical endeavors. He co-founded the imprint with two of his closest friends. The outfit includes a sprinkling of artists with two in-house producers. The Mid-West artist has also released a handful of mixtapes and rocked various stages throughout select cities in the United States. Being driven by the influence of artists such as: J. Cole, Boosie, and Eminem (just to name a few), the multi-faceted Bandit serves as a prime example of the result of persevering in spite of one's hardships. His dedication and versatile skill set are certain to keep him as a staple in the music game for many years to come.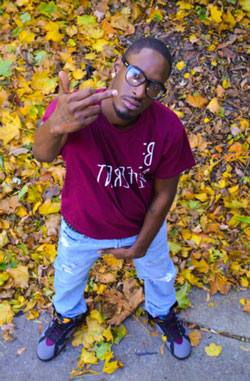 How long have you been in the music business and how did you get started in the first place?
Reject Da Illest: Music always came natural to me. All of My Role Models were Rappers, My Uncle, Father, Step-Father, all of them.  I wrote my first few songs when I was 9 but I didn't attempt to Rap again until I was 19 but Once I got started I never stopped.
Who were your first and strongest musical influences?
Reject Da Illest: My Uncle "Sna-Zo-Lee" and my Step Pops "Daddy Ray Ballachi" They had a group called Mustafia when I was little, I actually wrote my first songs in hopes of them letting me join. It never happened.
Which artists are you currently listening to? And is there anyone of these that you'd like to collaborate with?
Reject Da Illest: At the moment i'm rocking with Bryson Tiller & J. Cole harder than my other favorite artists. Meticulous Lyrics is how you get me and they haven't let me down yet. If I had the chance to collab it would be with both of them on the same song, That would be phenomenal.
How has the move from the Westside of Chicago to the Southside of Milwaukee impacted your songwriting, if at all?
Reject Da Illest: That move impacted my entire life! The things I went through on the South became the catalyst for my passion. I moved to Milwaukee when I was 13 and wrote my first poem at 19. That's actually what kicked all this off. I was a poet before I was a rapper. but before that I was just a Momma's Boy in Chicago who loved Reading and had to be in the house early. Milwaukee Made This Monster.
Do think that visual media and Youtube is an important tool for your music and music in general, and what is your latest video?
Reject Da Illest: Yes! The visual part is probably my favorite I even Direct and Edit my own Videos. I personally can't even become a true fan of an artist unless i'm a fan of their character first. My latest video is called 'YOU FOUND ME' and can be found on Rejectdaillest.com and youtube
Which do you ultimately prefer? Entertaining a live audience or creating songs in a studio setting?
Reject Da Illest: The Studio is my Home but I'm addicted to attention so Entertaining a Live Audience will always be my first love.
Tell us something about your lyrics and music production on your releases. Which part of these processes do you handle, and which do you outsource generally?
Reject Da Illest: I'm the only source needed for Lyrics, when it comes to production my go to Producers are Bandit Luce and Bigg Mic. I've also received beats from Kee City, TjOnDaTrack, and Darius Jega. I'm very picky when it comes to my art.
     8. What is the title of your latest music release and where can fans find it?
Reject Da Illest: YOU CAN'T REJECT DA ILLEST on  iTunes, Spotify, Google Play Store, Amazon, rejectdaillest.com and many more digital stores.
Which ingredient do you think makes you special and unique as a performing artist in a genre thriving with newcomers?
Reject Da Illest: I'm Unfiltered and Extremely Talented. I Scream Out What You're Scared To Think. I'm not ruled by money so I can't be controlled with money. I don't follow trends or attempt to fit in. Ever! I Speak For The Rejected
If you were forced to choose only one, which emotion, more than any other drives you to be a part of this tough business?
Reject Da Illest: Sadness. It breaks my heart seeing the people I love live unfulfilled lives. I can and will give us Heaven On Earth.
Which aspect of being an independent artist and the music making process excites you most and which aspect discourages you most?
Reject Da Illest: The Freedom To Express myself without "bosses" demanding I be politically correct Excites Me. I Say What I Want, How I Want! I haven't been discouraged in years.
When and why did you start "Track Banditz Entertainment"? Is this a vehicle just for you and your co-founders' music or do you host and support other artists too?
Reject Da Illest: Track Banditz is deeper than Music. That's Family. That's A Lifestyle. We have Boxing Banditz, Lady Banditz, Banditz that make Beats Hoopin' Banditz, Marine Banditz, Lawyer Banditz. If they are great at what they do this vehicle is open to them. I'm a very unorthodox minded person but trust me Everything will come together in due time.
Aside from the big financial budgets, is there anything at all that you envy about Major label artists?
Reject Da Illest: No, just the big financial budgets lol
The best piece of advice in this business you actually followed so far, and one you didn't follow, but now know for sure that you should have?
Reject Da Illest: The Best Piece of Advice I Followed was "Always Be Yourself". I took that and ran! The one I didn't follow but should have, " You gotta Pay to Play".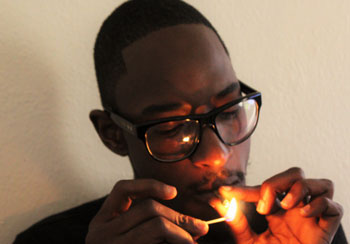 If you had a choice to work with any successful producer (living or dead) who would that be and why?
Reject Da Illest: Dj Mustard. I have the most fun rapping off of beats you can dance to and nobody delivers those type of beats like Mustard. (and Bigg Mic)
Do you consider Internet and all the social media websites, as fundamental to your career, and independent music in general?
Reject Da Illest: Yes, especially in a time where we look at our phones more than we look at t.v. I have fans in Canada and Alaska, that probably wouldn't have happened so quickly without the internet.
If someone has never heard your music, which keywords would you personally use to describe your overall sound and style?
Reject Da Illest: Unfiltered, Uncut, Descriptive, Lyrically Infallible,
What goals do you have lined-up in 2016 for both yourself and the near future in general?
Reject Da Illest: I am releasing 'I DON'T FIT IN' on May 24th. You can pre-order that now on www.rejectdaillest.com I just recently opened up an online store REBEL2RELIGION www.REBEL2RELIGION.COM  and I'm seriously considering releasing an ebook of my poetry.
As you work your way through your career, which more than any other fires-up your imagination – A Grammy award, Platinum music sales or any other tangible milestone?
Reject Da Illest: Selling Out Arenas where everyone knows the words to Every song
What is the ONE thing you are NOT willing or prepared to do EVER, in your quest to achieve a successful musical career?
Reject Da Illest: I will never conform! Take me for me or continue to let me run free. I walk to the beat of my own drum and that will never change.
OFFICIAL LINKS: WEBSITE – TWITTER
Please follow and like us: