Y-Dresta is an independent artist from Sacramento, CA. "Fly High" (ft.Karma & Dub Fuego) is the 2nd single off of his upcoming "Player 1" Album. The track was produced by the Dopeboyz. This is a very beautiful track. I would almost compare this to poetry in musical motion rather than just Rap music. The beat is very Jazz and Soul-like in nature, with a lot of piano, amidst the dark and heavy, bass and percussion. Y-Dresta's flow combines wit with a smooth rhyme style and a distinct voice that switches verses with Karma in absolute comfort mode.
DopeBoyz provides a toned-down lounge production that allows the lyricism to take front seat, until Dub Fuego infuses the track with a soul charged melodic hook to uplift the spirits. You haven't heard any other hip-hop track like it this year.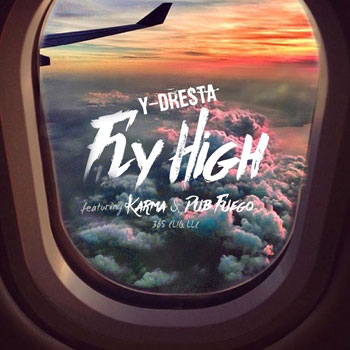 Y-Dresta's lyrics, however, are also a major asset to the record. Befitting perfectly to the DopeBoyz' jazzy loops and mellow atmosphere, Y-Dresta mostly possesses a carefree atmosphere around the microphone. He switches his flows around, from mellow, free flowing storytelling, to internal rhyming, syllable packing, and lyrical swipes.
Y-Dresta's universally easy tone makes his words ooze from his lips to perfection. The other part of "Fly High's" charm is Karma's wholly effortless rapping, even when lyrically he's trying to pull the deepest syllables out of his mindset. He is poetic in his own right, and has his tight moments. It's all smooth rap.
One of the beautiful things about the track is that we can see how both Y-Dresta and Karma develop a mature understanding of the world around them. They seem to be looking at the universe through intensely focused eyes.
It's a great release, especially considering the glut of mainstream hip hop, in which most artists, mire in their feuds, keeping the state of rap stagnant with releases more interested in dissing than perusing the depths of the song as an art form. Treating the single as a palate to paint a work of art, Y-Dresta creates words and rhymes reflecting a state of inner being, instead of the life on the streets game that so many are playing.
The simplicity of this record, and how everything fuses together, is how this track will be remembered over the coming years. "Fly High" (ft.Karma & Dub Fuego) is available on all major digital download stores including Spotify, Tidal, Apple, iTunes, Amazon and others.
OFFICIAL LINKS: WEBSITE – SOUNDCLOUD – INSTAGRAM – TWITTER
Please follow and like us: