Originating from the Dominican Republic and plying his craft in the Bronx, Amaury Gil, the artist, producer and CEO behind TheGilFactor – a music publishing company, a record label, and an advertisement agency, is on a mission to push his endeavors to the front row. In the game since 2006, Amaury has been perfecting his craft, and his versatility. He is able to work with a number of genres like Hip-Hop, Trap, Soul, R&B, Reggaton and EDM. Earlier this year, under TheGilFactor moniker, he broke out with the Latin flavored dancefloor banger "Crypto", which caused fans, critics and the industry to take notice. Now TheGilFactor bounces back with brand new single – his first release in English – entitled "Do It Most (Flexing)".
In collaboration with beat-maker OKHIPHOP, and the legendary talents of Aubry 'Juice' Delaine (Nicki Minaj), who brings his expertise as the official engineer to the mix – TheGilFactor leads the all-star cast towards a throbbing, mesmerizing street banger. Infusing his Latin roots into the gritty street raps that make him distinct from others in the game, TheGilFactor has clearly gone through his trials and tribulations to mature into the artist he is today.
TheGilFactor carries a distinct swagger in his flows, never deterring from his slick multi-syllabic progressions that come in smooth succession. It is all apparent on his new single, "Do It Most (Flexing)". It is a reflection on his career and life, taking us through the various layers that reflect the nature of his music and human being, leaving us with the conviction that TheGilFactor is consistently loaded and ready to unleash at any moment.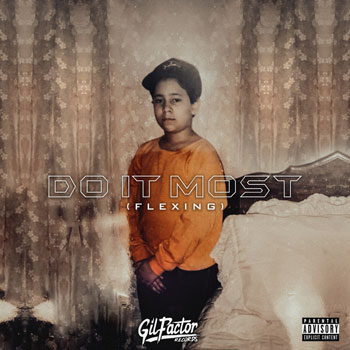 On "Do It Most (Flexing)", TheGilFactor has stirred up a platter to indulge in. Elegance, grit and power gorgeously overlay in a perfect crescendo of lyrical jabs and mind-melding swag. OKHIPHOP brings an infectious equilibrium with his bass-heavy style, while also leaving you in awe with the percussion and the keys, under TheGilFactor's ominous delivery trip-ups. The rapper's style warps our minds with his progressive storytelling technique and shifty street-wise analogies.
The delivery on the song is as solid, consistent and captivating – there is never a moment where you're distracted from what TheGilFactor presents to you. And that is because TheGilFactor, OKHIPHOP, and Aubry 'Juice' Delaine are all going in one direction.
"Do It Most (Flexing)" becomes a straight shot that can stay on repeat without getting tiring. TheGilFactor strides in sync with his emotions, and the beat, as he aspires to transport himself amongst the pantheon of great independent artists.
"Do It Most (Flexing)" epitomizes the highs an artist can reach when utilizing honest craftsmanship to express the skills one gains through maturity. TheGilFactor never raises his voice, or leans on too much studio trickery to get his voice and message across. TheGilFactor finds balance by throwing down gritty bars to embrace his street edge. The appeal of the project stems from the perspective that TheGilFactor provides in the form of rhymes and wordplay.
It takes extreme dedication and willpower, to keep your references on point – between old school storytelling flavors, and new school sonic vibes – but it's a balance TheGilFactor strikes easily on "Do It Most (Flexing)".
Dedicated to the core tenets of East Coast hip-hop, the track finds the Bronxite incredibly content to bask in a sound as muscular and technically crafted as this. The brilliance of "Do It Most (Flexing)", is that it soothes just as much as it shakes and rattles!
Listen to TheGilFactor New Single!
"Do it Most" (Flexing): https://ffm.to/npj42ab.oyd
Spotify:
https://open.spotify.com/track/5o0pH0BuS35EuLFENnfIl6?si=9f9f769d09df4924
Follow GilFactor Records:
Instagram – https://www.instagram.com/gilfactorrecords/
Twitter – https://twitter.com/GilFactorRecord
Website – https://gilfactorrecords.com/
Please follow and like us: