thecookiedimension's progression, or perhaps evolution, expansion, maturation – none of these terms encompass the full extent of the incredible breadth and depth of her tracks over the length of the 6 track EP "Spur of the Moment". I feel strongly she is the archetype of her genre. I'm not saying that so I can use the word 'archetype', either.
While individual tracks veer off into flirtations with various styles, the core sound is what you think of when remembering the textures and rhythms she uses. The only question that remains is, "the archetype of which genre?" It's Trip-hop, IDM, Ambient – it's really a whole lot of styles, most times wrapped up inside the same song.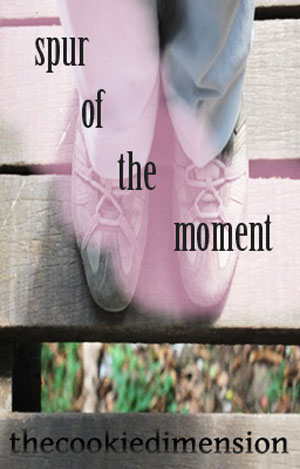 Cookie Llorente creator of the thecookiedimension project forges a tremendous upsurge of beats and harmonics, as everything swirls around you in all directions. It comes at you all at once and then melts you down into spatial bliss. And just when you've started to relax, it throws yet another series of lights and loops and curves at you. And that's just on the opening track "Sparks". Not even Autechre or the Aphex Twin gets close to being this left-field.
thecookiedimension is a sui generis act, and comparisons with contemporaries are of little use in orienting listeners.  Everything is cerebral; everything has a point. Texture often trumps melody, while creativity challenges emotion. The "Spur of the Moment" EP is arguably ambitious: it is sweeping, intimate, grandiose, mystical, dark and quirky.
Most of all, it is effortlessly confident in achieving of all these things. Listening to this EP reminds me of watching someone on the verge of breaking through into something new and unforeseen. Somehow it captures that startled reaction of pure creativity when the artist is confronted with the ambiguities, complexities, and harshness of the world.
Nowhere is this more evident than on "Darkerie, "Into The Depths" and "The First Ones". I believe that Cookie Llorente set out very deliberately to catalogue the insecurities and fears of the modern era, and then proposed a transcendent musical solution that is remarkably free of self-importance.
The music is so multifaceted that any analysis probably says more about the listener's mood at the time of playing the EP than anything else.
The songs start, they stop, restart and change direction, going from dark to light, as well as soft and then loud. "Spur of the Moment" offers a strong contrast of emotions and moods, always challenging the listener. thecookiedimension has something new to tell us.
Can you hear her – she is trying something different. How many people are prepared to listen? Any electronic music fan with an open mind, absolutely must give this recording a chance.
OFFICIAL LINKS: CDBABY – PROFILE – YOUTUBE – SOUNDCLOUD – PORTFOLIO – BLOG
Please follow and like us: