Skinny Is Green started off as a solo project by Rav Sitaula in 2013. After the release of the first album "Dreamers", SIG started getting show offers in different clubs and venues around DFW. That's when Rav knew he'd have to build a band from the scratch. Soon after, Jason joined in as the drummer, after they had me via craigslist. They soon decided to release SIG's 2nd album 'So, Who's Watching?' in early January 2016.
The band started a crowd-funding project which raised them enough funds to record live drums at various professional recording studios around DFW. The rest of the sounds, including guitars, bass and vocals were recorded at Rav's home recording studio and the album was completed in a matter of 3 months. Available on all major digital download stores, 'So, Who's Watching?' was released on October 1st.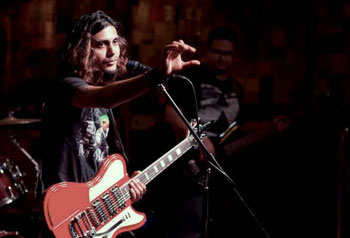 Music is one of the most powerful mediums to get ideas. Unfortunately we often are subjected to lyricists with no depth who, simply because they have a microphone and a guitar, fancy themselves as the second coming of Bob Dylan. Not so Skinny Is Green whose music has all sorts of influences from indie to hard rock, yet they stand firmly on their own and get 5 stars for their originality, intensity, and sincerity.
Unlike thoughtless puppet bands run by a corporate king whose sheep masses will one day wake up and put them in check, Skinny Is Green's roaring yet growing whisper is something genuine and fresh to look forward to.
Every single song is a different musical experience on 'So, Who's Watching?', and the entire album makes for a worthy purchase. Very rarely do you find albums that every song pulls a different emotion from within you and this is definitely one of those albums. This hits the spot with hard rockers like "A Better Place" and "End Of The Day", and eases up nicely with songs like "Live Again pt.1" and "Are You Ready".
This is an album that features the raw sides and refined sides of Skinny Is Green – and both are exquisitely captivating. Primarily because the band is totally proficient instrumentally, able to equally handle any sound that comes their way and secondly because the lead singer is a force of nature to be reckoned with.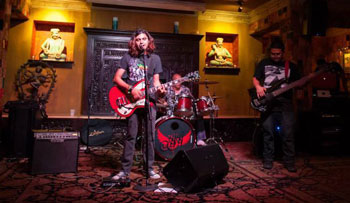 Short and sweet, SIG is all about constant evolution and their unapologetic shifts in style are what keep them relevant and interesting in my eyes. And they do it constantly on this album. One minute they're retro rocking like Zeppelin on "End Of The Day", and the next they're slow-lamenting on a sparsely fed acoustic-driven soundscape like "Imagine".
In between you'll be dazzled by the absolute beauty of standout songs like "She A Buddha" and "Live Again", which again showcase the absolute power and unique timbre of the vocals. More than anything else, Skinny Is Green put their emotion in the forefront with the awesome vocals and it works.
They blow the doors off the rest of the industry with this album.  These guys can play their instruments; they have mastered melody, creativity and matched it with excellent chord progression. They understand that minor chords hit the listener and create the power and angst just as much as sheer volume when they need it. You just need to add this to your collection!
OFFICIAL LINKS: WEBSITE – FACEBOOK – REVERBNATION
Please follow and like us: