Ray Bally has recorded and released Nature Of Love; Faker; Vol I with Dennis Young, and his new EP, BodyMysterySplendor. He started out in the NYC New Wave scene and over the many years has performed and recorded with many great musicians. We recently reviewed Ray's work together with Dennis Young in the "Dennis Young and Ray Bally: Volume 1" – a live in the studio, no editing, no dubs, all improvisation—collaboration. Now Ray Bally has dropped the 3-track EP, "BodyMysterySplendor", on which Dennis Young also performs. In fact, the Ep features Ray Bally: vocals/guitar, Dennis Young: guitar/vocals, Brad Kleiman: guitar/vocals, Steve Demercado: bass and Andrew Platt: drums. The tracks, "Your Body", "Mystery Play" and "Splendor & Hoax" were written by Ray Bally, while the recording was produced by Chihoe Hahn and mastered by Tom Ruff.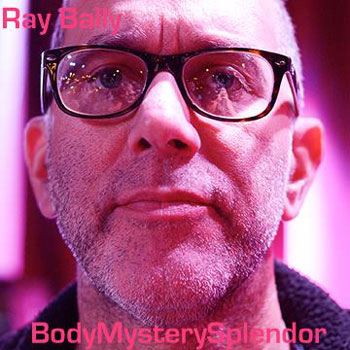 What makes any great album a best album are the songs that penetrate your soul but not the radio charts; something that will probably happen to "BodyMysterySplendor", where Ray Bally lays out exquisitely beautiful tracks.  The harder-edged electric rock sound with crunchy riffs and rhythms will stand as a perfect roots and alternative rock pieces for any time and place, even though these tracks would like to be boxed as new wave. As other great rock musicians have done, Ray demonstrates the universality of very specific instances and his ability to craft little stories in simple rock songs.
The poignant "Mystery Play," the spirited "Splendor & Hoax," and the stirring "Your Body" are examples of how potent these songs are in their own right. Collectively, these songs convey powerful messages about personal relationships and life in general. Ray Bally is one of those rare, naturally gifted artists who work straight from the soul. His music is transported to those fortunate enough to hear it. His lyrics are raw, cutting edge, sharp and brilliant. He makes his listeners feel his raw emotions, and experience the world as he knows it through his songs. Ray has something to say on every cut, but avoids sounding preachy. "BodyMysterySplendor" is a cohesive piece of work that almost sounds like a concept EP based on Ray's very honest, frank, cynical, and occasionally heart-wrenching perspectives. This recording is, quite simply, Ray Bally's best work and the place to start for the casual fan.
I think "Splendor & Hoax," may be among my top favorite songs already, and "BodyMysterySplendor" is where you'll find it. Ray Bally dresses his lyrics in hybrid rock/punk arrangements, but the whip of rock and roll drives the beat. The guitars are loud and thick with muscle. There's something about listening to this in its entirety that gives a more profound experience than just listening to individual tracks.  Each song bears a distinct and memorable harmony. Occasionally affected, though uncomplicated, "BodyMysterySplendor" is an EP by a true artist in perfect harmony with his calling.
OFFICIAL LINKS: SOUNDCLOUD – FACEBOOK – WEBSITE
Please follow and like us: