David Serero, the French-accented Jewish baritone, whose father was born in Morocco and whose mother was born in Iran, grew up in Paris. Although he was deaf for most of his childhood because of an undiagnosed ear infection, he caught up in his teen years after surgery corrected the problem, and set his sights on becoming an opera singer.  David started playing the piano at age 13 and began singing when he was 16 and now performs in 15 languages. After training in Russia, he premiered an operatic version of "The Dybbuk" in Israel, which was broadcast nationwide on radio. Although he has performed hundreds concerts all over the world, he is best known for starring as Don Quixote in a Paris production of "Man of La Mancha." David Serero also arranged and produced an album of jazz standards, entitled "I Wish You Love", for Jermaine Jackson (formerly of the Jackson Five), and together they recorded the French classic "Autumn Leaves."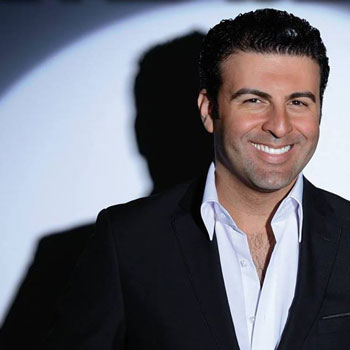 "ALL I CARE ABOUT IS LOVE" was David Serero's debut solo album. His other recordings, among many, include "L'HOMME DE LA MANCHA" (Man of La Mancha in French version), and "BEGGAR'S HOLIDAY", Duke Ellington's only musical. January 2016 sees the release of David's "ALL MY LOVE IS FOR YOU", a 10-track adult-orientated, Pop and Rock album. Times change – and what goes in and out of style is often very subjective to the period of time we are in. I think there are several reasons for why David Serero's opera-trained voice has an across-the-board appeal in the 21st century. The main reason is David's unique baritone timbre. His vocals are some of the strongest in the music business. Whether its pop, rock or opera, David has found the ability to adapt his style to many different music variants. His music also has some very interesting sounds. Finally, I think David's strength and experience as a live performer has really helped to solidify his on-going appeal.
There is of course nothing like singing songs you've penned the lyrics and music to and lived yourself. It comes through as emotionally real and much more believable to the listener, and that is exactly what David Serero has done here…and more. All the songs from "ALL MY LOVE IS FOR YOU" are completely written, performed, arranged and produced by David himself. Add that to the fact that there's virtually no style of song he can't sing with awesome pathos, and you have a winning set on almost every level. David has a voice and talent that exudes energy, personality, emotion, and his love of music with every note he sings. This album has a wide variety of music, and David nails every bit of it.
He hits you between the eyes with the opener "You Are For Me". You want to dance to the great rhythms of "All My Love For You" and "Someone Makes You Come". "I Want Your Love With My Love" is so smooth and makes you feel good. You can just picture the stories of "I'm Think I'm Gonna Love My Dear" and "More Than One Night" as you listen, because David doesn't just sing the notes, he reaches your soul and takes you through the experience. "A Man Who Gave You All" and "In My Life Without You" will make you feel reflective about your own life. If you are a fan of powerful, masculine, vocal tracks, delivered in in a "big" arrangement retro feel that is, at the same time, very much "today", you'll enjoy this album. First there is David Serero's voice – with its amazing power, control, and feeling. Then there is his choice of original material. All adds up to a brilliant and moving adult-orientated music album.
OFFICIAL LINKS: WEBSITE – ITUNES – SOUNDCLOUD – FACEBOOK – TWITTER
Please follow and like us: