Coming out of Texas, is the Hip Hop artist Ptah Heru (Born in Houston, TX) and Golden Baby Pro (Born in Austin, TX) with their collaborative project "Righteous Kingz". Ptah Heru and Golden Baby Pro first met during their college years at University of Houston and have been pushing forward as artist ever since. Not since the golden age of hip-hop has a duo consistently and persistently produced truly classic, meaningful, hip hop as Ptah Heru & Golden Baby Pro on their 16-track album, "Righteous Kingz".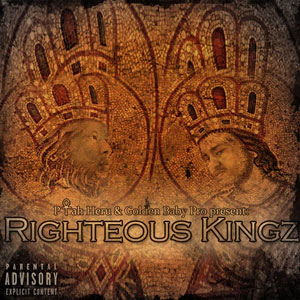 Here they deliver the raw essence of real hip-hop that not only uplifts but instills a powerful sense of belonging to something much larger than the hip-hop itself. The beats and lyrics roar across the airwaves right into your soul.
Ptah Heru & Golden Baby Pro equals an explosive combination, which is exactly what this album is: Explosive. The production on here is amazing and some of the most creative beats heard on any recent hp-hop album. Front to back the production here challenges works on par with the best producers in the world – underground or mainstream.
Sometimes epic, sometimes funky or soulful, there is lots of world music, ambient and jazzy sounds injected into these sonics which are very organic and warm. Pianos, strings, horns and guitars abound, along with the usual synths and drum beats. Hardly have I heard a hip-hop album this ambitious musically.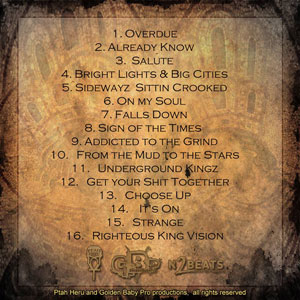 If only more people would open their minds and see that real hip-hop is not who has the most money, or who is pushing the nicest car. Hip-hop is about a microphone and the words that are spit into it. Almost every single track on "Righteous Kingz" is a classic, with memorable melody and unforgettable lyrics.
Days after hearing the album in its entirety, I can still recall all the intricacies and most of lyrics of each track. This is one of those albums that you throw in and just let it ride. No need to skip tracks. What's the last album you could actually say that about?
As long as groups like Ptah Heru & Golden Baby Pro represent it, the underground will never die. And that's exactly what I want to hear, underground rap and not the fake commercial radio hip-hop stuff. The problem is its really tough to hear underground recordings with major league production quality.
"Righteous Kingz" could be a masterpiece from the music vibes alone. Every beat is truly noteworthy. And then when you switch over to scrutinize the lyrical depth, the results are just as mesmerizing.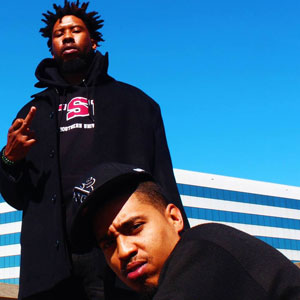 Ptah Heru & Golden Baby Pro's lyrics are razor-sharp, the words are sure to penetrate your mind, and keep you listening. The duo switch between smooth and visceral flowing, each style perfectly complimenting the elegant beats, and together, the duo create an album that, while shifting between dozens of moods, and concepts, is as cohesive as anything that's come before, or will come after it.
There are 16 tracks on this album, and I can say without hesitation that each track is gold; something I don't believe I've ever been able to say about an album with such an exceedingly long track-list. If I had to choose just 5 tracks that left a lasting impression on me it would have to be, "Sign Of The Times", "Strange", "Sideways Sittin Crooked", "Righteous King Vision" and "From The Mud To The Stars".
There isn't a single misstep taken by Ptah Heru & Golden Baby Pro, and no track overshadows the next, or falls below the standard set by the previous track; this is not just consistently dope, but as flawless as a hip-hop album can essentially be. "Righteous Kingz" beams with emotion, diversity, substance, and rich production that encapsulate all that is hip-hop or should be. It is an essential recording.
OFFICIAL LINKS: ITUNES – SOUNDCLOUD – FACEBOOK – TWITTER
Please follow and like us: