The single "Key and a Lock" by nineteen year old Pavle Mihajlovic, simply known as Pavle, popped up on my radar and found its way into my speakers. Out comes a crisp burst of indie rock, generating a handful of rolling basslines, snapping drums, and pointed guitar lines. The finished product packs enough punch to spread like wildfire among the genre lovers and the cross-over beginners of indie, and this is indeed exactly what should be happening with this artist right now. Most of all, it's impossible as a listener, to not get hooked to the song. Such a well-produced, balanced, strong, confident, yet easy-going indie pop track, as a matter of fact, has not yet been delivered this year.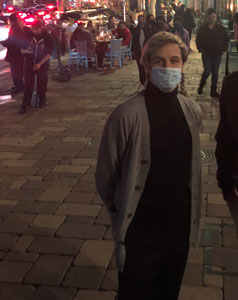 When listening to "Key and a Lock", I thought that it was a vibrant, eclectic mix of deep bass and resonant guitar. The melody is clear and sharp, the rhythm effortlessly slow burning, every little background croon rings as nothing but charming.
Pavle, knows how to write a pop tune, and better yet, he knows how to make it sound interesting. That's a pretty inviting concept nowadays. It's also something that has infinite definitions and a number of arguments behind it.
But, at the end of the day, most can agree that "interesting" is something that sparks the brain and grabs our attention. And that's what Pavle achieves with "Key and a Lock".
Moreover he achieves it without applying overwhelming sonic bombast or melodramatic vocal embellishments. Instead Pavle keeps the tone and texture steady, as he lays down a clever, well thought-out narrative, with laser sharp lines such as: "my throat is sore from swallowing my pride".
But, that's the real treat about Pavle's music. Within the vibrantly resonating guitar-driven soundscape lies the true flesh and blood of the lyrics. There's enough to love on the first listen, but there's a lot to appreciate on future returns to "Key and a Lock". This is at the heart of Pavle's appeal: an ability to create an intricate motif and theme constructed of an apparently simple song. Balance and depth of perspective are his strengths.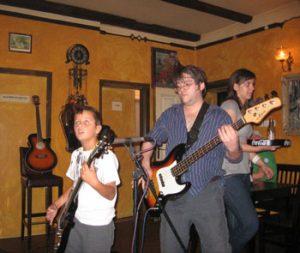 Pavle is one of the most distinctive young indie artists to emerge this year, a refreshing blast of fresh air blowing out of the left-field, and his story is an interesting one. Pavle Mihajlovic, works two jobs and goes to school at UCSD for his Pharmacological Chemistry degree.
He was born and raised in Serbia, and his family won a green card lottery to move to the US when he was 10 years old.  Pavlo started playing guitar at 4 years old, and was classically trained before branching out into electric guitar.
He has been performing music at bars since he was 9, all throughout Los Angeles and Serbia. Now based in La Jolla, most of his songwriting comes from 6 AM mornings, watching the sunrise on Mt. Soledad.
Pavle says that he has been lucky enough to have gone to hundreds of live performances, and taking in influence from many types of music, including ska, grunge, hip hop, classic rock, and reggae. It's what gives him an unpredictable flair!
OFFICIAL LINKS: INSTAGRAM – SPOTIFY
Please follow and like us: