Nubia Emmon is set to release her debut 5-track EP, entitled "Nubia Emmon 93" on April 12. In the meantime Nubia has dropped the SWV and Michael Jackson inspired single, "Hooked on Your Love". A smooth R&B classic sound, flavored with a delicate Hip hop edge.  Out of Austin, Texas, Nubia Emmon is a singer, rapper, dancer and songwriter.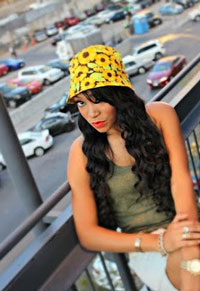 She is a distant cousin of The Queen of Gospel, Mahalia Jackson, her father grew up performing in an R&B band along with his brothers and sisters and her brother also performs in his own band. This innate love for music and constantly being in the presence of her family's artistry was passed on to Nubia, who was singing by the time she was 3.
This young lady has the gumption to take on the R&B world and succeed in it. Her sound and approach brings to mind what I think Aaliyah would be putting out if she was still alive today. Nubia leaves no stone unturned when it comes to relationships on "Hooked on Your Love", as she examines the pros and cons of her man.
She proves you can still stay relevant while singing from within. Her music is very deep and something that people can relate to. She really opens up her heart and soul and puts all of her doubts, feelings and emotions out there.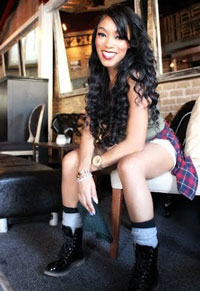 She is pretty much showing how she is in love with someone and how much she really loves them and what they mean to her; sometimes too much – as her love for that person becomes intoxicating to the point of no return. This is the type of song that plays in your head over and over again because it is that good, catchy and thought-provoking you will never get tired of it. Especially if you love in the same way!
Yes the beat is hot, but her smooth, easy going voice is the gem that makes this track. It's all about the vocals. Nubia really brought it to the table on "Hooked on Your Love", and single-handedly killed it. I think what struck me most about this this track, after the voice and beat, was its mature approach to love and relationships.
It flies in the face of the countless albums from female R&B artists that continue to sell only sex. It seems like everybody else has forgotten about the impact unconditional love has on relationships. Not Nubia Emmon, who shows us that she is still "Hooked on Your Love"!
OFFICIAL LINKS: WEBSITE – FACEBOOK – TWITTER – YOUTUBE
Please follow and like us: