Momin Deen's genius is in his ability to capture the wailing pain and intensity that were so much a part of the birth of rock and roll. On track after track, he never fails to concoct convincing variations on his introspective rock persona. Sometimes he will add pop flavors at other times it will be folk or indie sounds. Listening to his latest single "Sound Of Kites", you will be hooked by the purity of Deen's voice, his range, and the feeling he conveys. Deen displays his mastery of a type of singing I thought had disappeared with Orbison, Elvis and Jerry Lee. It was a distinct style.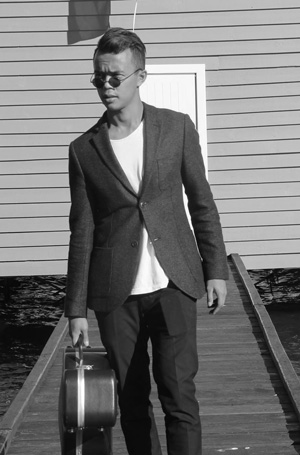 Momin Deen has a retro, sensitive "blue" rockabilly sound, to which it's gently rolling rhythm and up-beat hooky melody is not immune. Momin Deen aka Muhaimin Che Din, is a singer-songwriter and a poet – based in between Perth and Kuala Lumpur – heavily influenced by the likes of Elvis Presley, Bob Dylan, Marc Bolan, and the Beatles.
We can thank Deen for loving a music that has become almost "uncool," so much so that he has devoted a lot of time to it and written a great many songs that are very "cool" along the way. And we can thank him for taking a deliberate step away from the relative comfort of his own particular songwriting style and giving us a track devoted to exploring a song of the singer-songwriter nature.
Whether or not you like this particular genre, it is undeniable that Momin Deen is a very talented singer-songwriter with a good natured demeanor. His smooth, velvety voice and retro style is what makes his music worth listening to because there really are few artists doing what he does, and how he does it.
He has a warm organic sound coupled to a jangly electric guitar, which is so far removed from the cold computer-induced music we are accustomed to today. Even disregarding Deen's mellifluous voice, when he lets fly with the music, you'll still get goose bumps. If you listen to "Sound Of Kites" and don't feel anything, you obviously have no soul.
Many artists of this generation have their voices and music filtered and computer generated, so it's refreshing to hear an artist like Momin Deen turn out songs in a conventional bass, drums and guitar, live take situation. No doubt the studio ambience and recording "live" in real time makes all the difference.
His performances are so authentic it's hard to believe he is not from another time period. Because of his musical and personal style, it would be easy to brand Deen as a nostalgia act, but he is far from that as he adds a modern twist into his retro influences. In fact the gifted Momin Deen does an amazing job of creating a sound so similar to several legendary singers and artists but still manages to make them his own.
OFFICIAL LINKS: SOUNDCLOUD – TWITTER – FACEBOOK – INSTAGRAM
Please follow and like us: