The single "I Wanna Be With You" by EH, sees the artist  playing a heavy Heart card with powerful female vocals all over the register and the Baltimore rocker's gritty guitar backing up a chorus that is pure rock brilliance. Typically memorable and yet imbued with a panache that comes from the EH's gritty determination to utilize his probable years of experience playing heavy rock, it takes the blueprint laid down by the that and runs with it to go straight for the jugular with wild solos, layers of effects and the relentless percussion keeping the thing moving ever forward.
It's a clear signal that EH is here to get your body moving whether you like it or not. The track is equally brash and colorful although with a blues edge hinted at on certain parts of the track. But ultimately it's the sort of chorus that is painfully difficult to dislodge from the cranium whilst EH seems to have spent a fair bit of his time absorbing the atmosphere siphoned through the spirit of Eddie Van Halen and Joe Satriani's playing.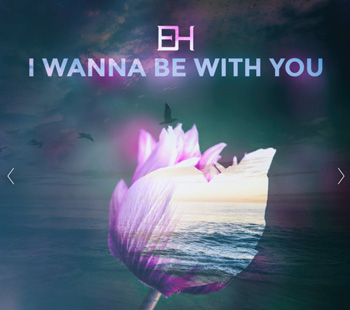 "I Wanna Be With You" is a more mature effort than the artist has attempted previously  – a contemplative song with the driving feel of eighties pop-rock, just a bit heavier, it is an unexpected diversion in the modern rock era that works thanks largely to the stunning Ann Wilson-type vocal delivery and the guitar shredding.
It's classic rock with a massive grinding riff, massed vocal choruses and more soul than you can shake the proverbial stick at, and that's without mentioning EH's jaw-dropping shredding display on the bridge – check it out yourself, you'll see what I mean.
"I Wanna Be With You" by EH is what can simply be termed great rock 'n' roll – free from any major label agenda or desperation to succeed. And it's this whoop of joy, and confident, self-assured artist doing what he loves most in all the world and comfortable in the knowledge that he has absolutely nothing to prove to anyone.
"I Wanna Be With You" is a gloriously heavy-handed stomp worthy of its name with a grinding guitar riff and lock-tight rhythm section while the vocals pushes the song to the max. EH has proved once again that he has the fire and the fury to craft relevant, exciting and beautiful songs and the follow-up to this can't come soon enough.
OFFICIAL LINKS: WEBSITE – REVERBNATION – YOUTUBE – TWITTER – CDBABY – ITUNES
Please follow and like us: