Michael Musco is acclaimed for his commercial music and licenses a large amount of that music to television, radio, and film. He has released critically acclaimed electronic tracks with Progressive House tones, while slowly working his way back into the music industry, after being disillusioned while playing guitar in local bands in a mid-western location and hoping for a big break.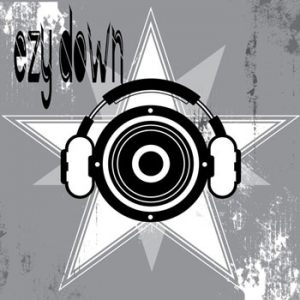 While simultaneously dedicating his time growing Musco Sound, Michael had also been writing, recording and producing the "Ezy Down Self-Titled Album" – a 13-track indie rock album. Michael Musco, lover of alternative, punk, garage, and good old fashioned rock and roll, has dipped into his bag of inventiveness and has created an album more eclectic than anything he has ever done.
It's clear that he's a driven performer and producer who exudes a passion for music. That being said, his music rarely catches me by surprise. By now most of us, regardless of whether you enjoy his output or not, have a good idea of what he has done and you either love his electronic dance rhythms or you don't. I approached "Ezy Down Self-Titled Album" expecting some good songs that didn't stray too far from his 'usual' blue print. What I got instead blew me away.
Michael is in full-blown rock mode here – and the results are excellent. He re-invents himself with every new record with more and more audio tricks on every track. Not very many can do that but still stay seriously grounded to who he really is – a rocker with a conscience, and an obvious dual genius. Michael is aN instrumentalist and lyricist who actually takes his craft very seriously and strives for a musical sound of depth and quality.
And the minute "Poor White Trash" kicks in you know you're in for a rocking ride. But instead of merely going with the noisy, angst driven alternative rock clichés, his approach is far more eclectic and often elusive, which he fully displays on quaint tracks like "One Word", "Hour Glass Brain" and "Dream Night".
However if you want the riff-filled rock clichés too, you'll find them on "Felon On The Run", "Gypsy Woman" and "Bounty". And if like me, you're looking for the outright best track on the entire album, go straight to "From The Moon To The Sun", without wasting any time.
My impression of Michael Musco is very much of someone who deeply understands his musical influences, yet is able to fuse them into a sound which is ultimately self-expressive. The "Ezy Down Self-Titled Album" is nothing like I expected, and I am extremely happy it is. Michael has created another style for himself (or rather momentarily gone back to his original roots) with this album, making a raw and gritty garage rock masterpiece!
This album is a wonderful blend of rock, where the mood and tempo really changes from song to song. The lyrics are mostly fairly simple, but every now and then that simplicity really catches your ear and your imagination, along with the expressive vocals. The rest is left to Michael Musco's guitar that builds throughout the stanzas until each song is growling like thunder!
OFFICIAL LINKS: WEBSITE – TWITTER – SOUNDCLOUD
Please follow and like us: