Matthew Birnbaum, also known as MattSoMuch, is an independent artist with a focus on spreading mental health awareness. He is an abuse survivor and has struggled with PTSD and drug abuse. His main goal is to provide a safe space and be a voice for those who are struggling, as music has always been a source of solace for him. One of his recent projects is "Hundred Percent", a diss track against flex rap. MattSoMuch believes that rapping about drugs, sex, and money is not a positive message to promote to a younger generation, and that trap music is pushing down more meaningful messages.
The grizzly-voiced wordsmith's frenetic flow and intricate rhyme scheme is a delivery system for his bag of wisdom, shades of aggression, and endless poetic devices. MattSoMuch has found a way to avoid the tropes that typically lead to even the best rappers creating music that pander to the masses. The consensus from his single, "Hundred Percent", is that he has all the tools in his arsenal to be one of the most exciting rappers in the game.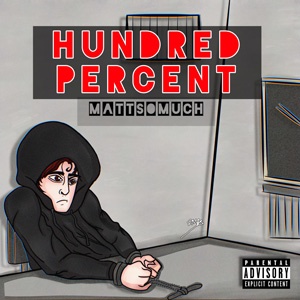 At the same time, "Hundred Percent" is only scratching the surface of who MattSoMuch is as a human being, and who he can be as an artist, maybe with a bigger budget and platform. MattSoMuch is finding ways to add layers to his artistry while never sacrificing the rap mechanics that is at the core of his game. He is a lyrical assassin, with a willingness to dive deeper and sharpen his focus as a messenger of meaning, breathing life into a menacing track.
MattSoMuch bends words to his will as he finds ways to rhyme any line. When firing on all cylinders, he sometimes sounds like an aggressive version of vintage Eminem. Besides his ability to deliver electrifying cadences, MattSoMuch is a master of wordplay proving his game is in its prime. Stunning penmanship, a sensational beat, and the incredible ability to fuse the two together, is what drives "Hundred Percent". It proves to us once why he is leagues above many of his contemporaries.
MattSoMuch's voice acts as an extra instrument on "Hundred Percent", and adds so much more to the song's dynamic atmosphere. MattSoMuch blew all of my expectations away with this project. His flow, delivery, and wordplay are remarkable; along with his ability to uncover key aspects of what's wrong with a large part of the hip-hop culture today. No doubt, "Hundred Percent" will have a lasting impression on listeners, even after multiple listens.
"Hundred Percent" is probably the first rap track I've heard this year that has clicked with me instantly. It possesses all of the genre's most essential elements. Many of which are missing from the work of MattSoMuch's contemporaries.  Every lesson, every thought gathered over his lifetime and upbringing, pours into the principles he unpacks in "Hundred Percent".  From what can be heard across this single, it becomes apparent that MattSoMuch was born to hold a mic, and if this song is any indication, he'll be doing so for a very long time.
OFFICIAL LINKS:
https://www.instagram.com/matttsomuch/
https://open.spotify.com/artist/1JHojvZK2E5nVHZLwBNXd0
Please follow and like us: