I read a question on the Quora website a while ago that read: "I'm 14, is it too late to make EDM?" Rightfully, someone answered: "No. It's literally never too late to do anything you're inspired to do. You can start making EDM when you're 70 if that's what you want to do."  All of which brings me to Mark England, the 52 year old producer from Wakefield in the UK. Mark developed a passion for music at an early age but never followed it up, as life and work took him towards another direction. It was the recent pandemic and subsequent lockdown, which offered the full-time IT professional, the time to unlock and rediscover his musical creativity.
Over and above being a de-stressing tool, music making allowed Mark England the opportunity to explore his musical ideas, all while having fun and receiving positive feedback from friends and listeners who encouraged him to release his music to the world. At an age when most successful men earn a comfortable living and have settled down into a respectable lifestyle, Mark couldn't resist scratching his musical itch.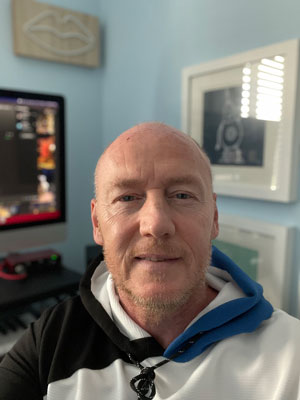 The proof is in a series of Mark England single releases which soon hit global music platforms. Mark eventually assembled his self-owned skills, and multiplied it by adding the knowledge he has been gaining from the current state of EDM and electronic music in general. All of which proves that he is motivated for greater heights, despite any question of age or socio-economic statuses.
On his releases Mark England showcases his ability to access what dance music should mean – rich, vibrant, thumping anthems, sometimes featuring sumptuous vocal performances, and at others, totally instrumental. With the single, "Fuck That Shit" (Radio Edit), Mark has defied expectations and created a diverse, club-leaning winning instrumental. This track is expected to make the most ardent of non-dancers want to move their feet.
An infectious blend of springy bass lines and sleek synth simplicity, infused with a powerful sense of rhythm, and flourishes of embellishing melodies that surface continuously, "Fuck That Shit" (Radio Edit), is yet another element of proof that Mark England takes his music seriously. On this track he does a hell of a job keeping himself entrenched in the trendy sounds of a notoriously fickle and finicky EDM industry.
"Fuck That Shit" (Radio Edit) is so good largely because it melds the best of the festival euphoria, with club-styled intimacy, and emotional vibes, at which Mark England excels. "Fuck That Shit" (Radio Edit) is a remastered radio edit of a previously released track," explains Mark, continuing: "I chose this title to reflect my feelings during 2020, and although the title is two fingers to 2020, it's also an upbeat track to encourage people to see there is light at the end of the tunnel and the good times will return."
The amount of addicting elements within this electronic behemoth is more than enough for the most diehard of dance music fans. "Fuck That Shit" (Radio Edit) by Mark England plays out like a powerful solicitation to listeners, to remember who they are and who they want to be, in a troublesome time full of uncertainties.
OFFICIAL LINKS: INSTAGRAM – TWITTER – SPOTIFY – APPLE MUSIC
Please follow and like us: