DICE The Gospel Souljer is a Canadian hip hop artist whose birth given name is Kenton Hoyte. Born in Toronto, Canada from parents of Caribbean descent, DICE has progressed his career from rejection to label owner. Uprizen Records was formed because DICE didn't remain idle. He took personal action to improve his plight. "The label goals are to uplift the listeners by comforting them, teaching them and growing with and helping the listeners go through the trials of life," says DICE, "leading or pointing them to the ultimate prize to which they believe can only be found in God."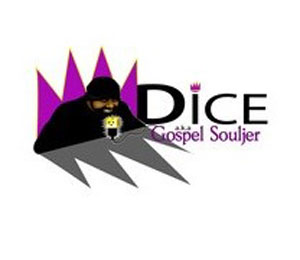 Uprizen Records is predominantly concerned with developing hip-hop, but is open to producing different genres of music. DICE The Gospel Souljer is currently promoting his single "World State Address". The track's narrative pretty much follows the indication of its title, as DICE unfolds the afflictions, hypocrisies and remedies of the people of the world's conduct.
Without throwing the 'Jesus' or 'God' word about relentlessly, or even citing bible passages endlessly, throughout "World State Address", DICE The Gospel Souljer challenges you and I to remember our identity in Christ, that we have been raised with him and are called to live for him, and serve him in everything. DICE doesn't mess around: he shares his thoughts plainly.
By pointing out the world's ills, DICE The Gospel Souljer cleverly gets us to look up and consider the God who reigns above. Mixing hard-hitting theological thoughts with real life application and consistently tight production. It only takes seconds to appreciate the sophisticated, layered production of "World State Address".
DICE The Gospel Souljer paints pictures with his words, describing the troublesome global situation and the uselessness of wars, while at the same time, digging into the personal issues behind the global events, when he raps sharp focused lines such as: "Why daddy went away so long, dodging bombs over Bagdad. Afghanistan, understand, what goes around, comes right back again."
As the song progresses, the music sounds refreshingly vibrant with some minimal but impressive drum programming. This only adds to the beauty of the words. The talented rapper and label CEO isn't content to make the same record repeatedly, or to copy something popular from the radio, but strives for originality at every turn. All of which is evident on "World State Address".
This single is just another example of DICE The Gospel Souljer growing and challenging himself as an artist. In general, the production lets DICE's verses lead, allowing this to be an introspective hip-hop track that propels listeners to become more aware of the situation around them, and looking towards the solution. "World State Address" takes us from the world's disasters, to realizing that we need a savior in our life, and understanding what our purpose is during our time on earth.
If you take some time to sit down and really absorb what DICE The Gospel Souljer is saying, you will appreciate this single a lot more. And while you're sitting down, grab a copy of DICE's book "Like Water to a Desert: For True Gospel Soul' Jers in these End Times" available now on AMAZON.
OFFICIAL LINKS: UPRIZEN RECORDS – INSTAGRAM – TWITTER – YOUTUBE
Please follow and like us: