Prepare to be uplifted and moved by the divine melodies of Lolita Moore's latest gospel masterpiece, "LOVED". This album is a testament to her transparency and authenticity, as she fearlessly delves into the joys, struggles, insecurities, and hopes that we all encounter in our daily lives. With a remarkable ability to translate her personal experiences into soul-stirring songs, Lolita Moore's music reminds us of the power of the Holy Spirit and the triumph we can achieve through Jesus Christ. Hailing from Sacramento and with roots in the Bay Area, Lolita Moore has been enchanting audiences since she was just a young child. Her innate gift for singing and songwriting blossomed at the age of eighteen, leading her to share her talents with local churches, festivals, and community events. Now an award-winning gospel artist, Moore has graced the stage alongside renowned figures such as Vanessa Bell Armstrong, Norman Hutchins, The Pace Sisters, Donald Lawrence, and Amar Khalil of Tony, Toni, Tone, leaving an indelible mark on the gospel music scene.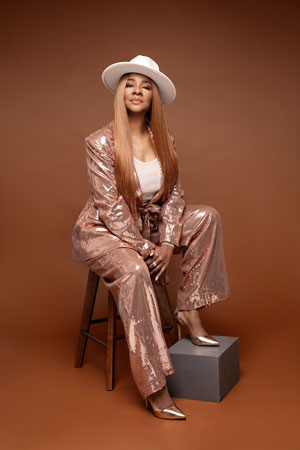 One of the reasons Lolita Moore stands out as a gospel artist is her ability to seamlessly blend contemporary musical styles with the timeless essence of gospel. In "LOVED", she fearlessly infuses R&B, Soul, Gospel, and Funk, boldly showcasing that Christian music can be both relevant and extraordinary.
This album effortlessly captures the essence of Moore's dedication and passion, as she masterfully crafts each track with meticulous attention to detail. With 13 beautifully recorded songs, "LOVED" immerses us in a world where the unconditional love of God triumphs over our countless flaws.
Lolita Moore possesses an extraordinary ability to touch the depths of our souls through her voice. Whether she sings with a soft and gentle tone, belts out powerful high notes, or soars like a diva, her vocals have an undeniable impact. Adding to the authenticity of her delivery is a subtle yet distinct rasp, which infuses her words with an extra edge. Despite the album's modernity, "LOVED" does not shy away from matters of faith, as Moore's musical choices gracefully intertwine with her profound spirituality.
From the opening title track, "Loved", Lolita Moore asserts her unique musical identity, as she offers a poignant reminder that everyone yearns to be loved. "God Is Good" allows us to glimpse into Moore's personal encounters with God, as her strong vocals empower listeners to embrace boldness and leave the past behind. The slow-burning ballad, "Heaven", captivates our souls with its heartfelt emotion, while the funky bass-driven groove of "The Blood" showcases the soulful grit in Moore's voice.
In "His Grace", the artist takes us on a journey, sharing her imperfections and challenges, and ultimately revealing her unwavering reliance on God's grace. "Everything" is a superlative example of the gospel genre's sonic evolution into something sublime.
Each track in "LOVED" tells a story of faith, with songs like "God Is Love" serving as timely cries for hope in our uncertain times. The funk-infused soul anthem, "Do You Know The Man", is enriched by a powerful horn section and a compelling rhythm that will move your spirit. "Holy One" switches into full Gospel mode, seamlessly transitioning into the slower soul searcher, "Doesn't Matter".
The warm instrumentation sets the stage for Lolita's powerful vocals to take center stage. It's a declaration of God's goodness, a testament to how He can turn any situation around and make it work for our good. As the track progresses, the instrumentation and vocals build, adding layers of depth, complexity and emotion to the song.
On any one of these tracks, when Lolita Moore begins to sing, her voice is imbued with a raw, emotional power that grabs the listener's attention and holds it until the song ends. Her vocals are full of passion and conviction, driving home the message of every song with every note.
As the album progresses, through the final tracks, "Good News", "Right Now" and "Hold On", those aforementioned elements are explicitly evident everywhere. But even more evident is the declaration that everything we need can be found in God, leaving the listener with a sense of hope and encouragement. Lolita's vocals deliver this message with conviction and sincerity.
In conclusion, "LOVED" is a testament to Lolita Moore's endlessly talent as a singer-songwriter and her commitment to spreading the message of God's love through music. It's an album, that seamlessly blends different musical styles to create something truly resonant and special.
With its powerful lyrics, infectious beats, and soulful vocals, "LOVED" is an album that will inspire, uplift, and encourage listeners, regardless of their background. Lolita Moore is a force to be reckoned with in the gospel music world, and "LOVED" is proof of that.
OFFICIAL LINKS:
https://lolitasmusic.com/
https://snd.click/Mak
Please follow and like us: