Lil Richie 92 was born and raised in Florence, South Carolina. His recent hot streak with his breakthrough album and the recent promotional tour directly leads to huis latest single "Kobe", the high point of the artist's career so far and a perfect showcase of a rapper in his absolute prime. It's a monster trap-induced track that feels like a massive radio hit right from the get-go.  Perhaps the greatest progression shown between his earlier releases and his latest cut, is Lil Richie 92's ability to carry a project on his own.
Here the artist proves that he doesn't need outside help to be a success. He's carved out his own style and few can do it as well as he can. "Kobe" says a lot about Lil Richie 92's confidence in his own abilities, and listening to the track, he's absolutely right in having that confidence.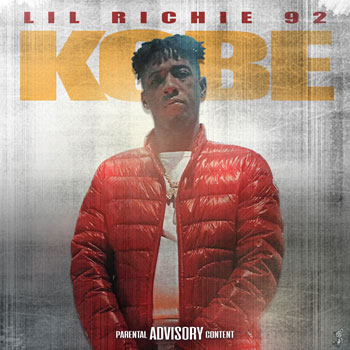 The progression of Lil Richie 92's as a rapper in a few short years, may be the biggest highlight of "Kobe", but a project like this certainly needs heavy-hitting production. The beat provided certainly is a heavy hitter, with a booming bassline and skittering hi-hats. There are probably few producers out there that can soundtrack Lil Richie 92's unique style quite like this.
Lil Richie 92, especially with his unorthodox style, will likely be a polarizing figure. Some will see him as a model for the new wave of hip-hop moving into an alternative direction, while others may see him as a threat on the genre's old school, purist stylistics as a whole.
Whether or not "Kobe" changes anyone's perspective on the eclectic artist remains to be seen, but it does create the most vivid, most consistent portrait we've seen of him yet. In recent times, Lil Richie 92 has dropped an album, singles and a handful of music videos.
Releasing a fair amount of music isn't unheard of, but for it all to be consistently strong and inventive certainly is. Seeking ascendancy to the underground trap throne, Lil Richie 92 has refined his aesthetic to such a degree, and is such a gifted songwriter, that even his minor works, such as a single track release, is thoroughly engaging.
"Kobe", his latest track seems to climax his growth-arc, and is downright predatory. The synths sounds spectral and ominous, and the auto-tuned melodicism drips from every bar. He drops fiery lines in the genre's signature warble, emphasizing every distinctive peculiarity in his expressive voice. And it's a reminder of just how special an artist Lil Richie 92 is.
The deep bass-heavy beat paired with the rapper's vocal excursions proves to be an entrancing combination. Lil Richie 92's song-making ability is undeniable, and the high energy levels present throughout "Kobe" never tapers off. The track proves that Lil Richie 92 has a winning formula and that there's no end in sight, as he is getting ready to gain a massive rise in his artistic status during the upcoming year.
OFFICIAL LINKS: WEBSITE – INSTAGRAM – SPOTIFY
Please follow and like us: