Lightspeed Lover is a funk rock band from Kingston Upon Hull. Their style primarily consists of rock with an emphasis on funk, as well as elements from other genres such as pop rock and psychedelic rock. In 2016 the band released its debut E.P "Attack of the Funktopuss" and has since been working on their next album which is set to release later in summer 2017. The EP feels big in scope, diverse and creative, and filled with mixes of classic funk and rock vigor.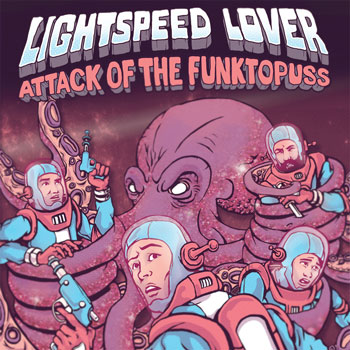 The opening track, "Lightspeed Lover" is as soothing as it is upbeat and sets the hook, which blasts you into the next screaming track "Fig Pinger", featuring a jaunt festing sledgehammer vocal attack that never seems to wind down. The throbbing and pounding bass attack just keeps up being relentless throughout as well.
"If Music Be The Food Of Love" lures you into a sense of comfort, and then suddenly shocks and explodes into a soaring chorus. These are just the first 3 opening tracks folks… and you're hooked. The vocals are sharp, held up unbelievably well with falsetto highs, demonic growls, and everything melodic and maddening in between.
And all of the above traits are displayed on the EP's standout track, "Tongue In Cheeks", which roars with energy and funky rhythm.  The low end is rumbling, but not distorted, while the mids and treble are crystal clear. The vocals are astounding, and clear in the mix. Sometimes the stars align and when they do magic seems to happen, as was the case with this track.
Throughout the EP Lightspeed Lover are constantly pushing themselves artistically, incorporating irresistible melody and groove, and mixing and matching between genres of music. This is the kind of addictive, compelling album you can come back to year after year, and it never gets old.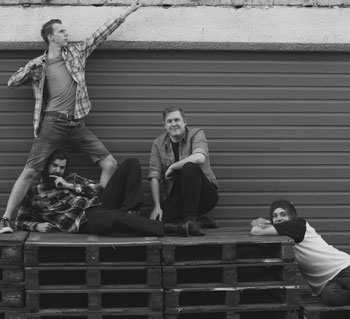 The surreal vibe and energetic groove of this band forges music that is completely unhinged and revelatory. On "Hot Italian Jobs For Food", Lightspeed Lover take their genre-busting specialty to the edge, set it aflame, and push it off a cliff- and they do it with style.
The only way a track like this can maintain any level of coherence is through consistent incoherence – grinding rock speed segues psychedelic, into thumping funk bass fading in and out of grunge riffs raging against surreal vocals – painting a backdrop for intricate drum patterns, and numerous effects, both vocal and instrumental, all which are woven together in one insane tapestry.
It is the kind of deranged funk-rock with fortune cookie lyrics that would reduce the average Nickelback fan to gibbering speechlessness. The guitar and bass are wicked groovy with outstanding drums and the vocals are simply amazing.
"Attack of the Funktopuss" is easily the most ambitious and eclectic recording I've heard so far in the new year. It is mind-altering music that will present you with a vast array of influences. With the release of this EP, Lightspeed Lover defines itself as the prototypical alternative funk-rock ensemble.
OFFICIAL LINKS: SPOTIFY – SOUNDCLOUD – FACEBOOK – TWITTER
Please follow and like us: