'Not Afraid To Bleed' is the second studio album release from guitarist, vocalist, and songwriter Dave Blair. An eclectic mix of funk rock and many other influences, Blair cites his musical influences as Van Halen, Santana, Hendrix, David Bowie, Niles Rogers, among others. The album was mixed by legendary producer Ronan Chris Murphy, who has previously worked with King Crimson, Steve Morse, and others. Blair's funk grooves are further accentuated by P-Funk All Stars / Woo Warriors bass veteran Donna McPherson, and the melodic, soulful vocal arrangements feature Scissor Sisters vocalist Bridget Barkan.
Dave Blair covers the spectrum of accessible and more complex music. The tracks are nostalgically original, reminiscent of days of old, but with the decidedly new flavor of today. In varying doses He brings the funk, the soul, the rock, pop and blues as well. The lyrics are deep and it's just a very full sounding, well rounded album.
There's a song for every mood. Dave can switch from the full blooded driving funk on "Gonna Do", straight to the melancholy and slow burning "Blameless".   The singing and especially the harmonies are wonderful just about everywhere on the album too.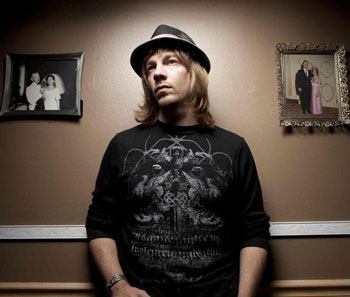 But it's probably Dave Blair's distinctive guitar passages that will captivate you most. It may be a riff, a strum or a searing solo. Sometimes it's subtle and colorful; at others it's crunchy and dynamic, either way it will almost always leave your jaw on the floor. Dave is masterful here, as are the supporting musicians.
This is not an album to be taken lightly, you need to give it your attention and focus, it will transport and transform you. In this day and age of cookie-cutter pop musicians, it's so refreshing to always be able to escape into music of the caliber that Dave offers here. In particular, songs like "Red Flags" , which reminded so much of early Santana before he became formulaic.
"In Love With You" is another track that will easily grab you on an emotional level, but if you listen more closely it will also impress on a technical and arranging level, with its soaring choruses and ever changing soundscape.
This album feels like an inspired collection of many of the best organic ingredients of the Dave Blair musical stew. There are the lighter, funky jams. There are some of the harder edge electric influences, blended in just the right proportions. There's also some acoustic driven stuff, like for example the upbeat closing track, "Gonna Be Alright".
And in-between we get plenty of melody, harmony and straight ass-kicking rhythms; case in point "Gonna Be My Lova". And for all of this we can thank Dave Blair for striving to expand musically and leave no stone unturned.
All throughout 'Not Afraid To Bleed', Dave Blair's songwriting is superb, his guitar work unique and utterly creative, as his voice resonates the lyrical message to the listener. In summary, this is a tight, crisp, not over-played, not over-produced album – A new funk rock inspired record that doesn't retread the same old stuff and will have the genre's audiences climbing the walls!
OFFICIAL LINKS: WEBSITE – FREE SONG – FACEBOOK
Please follow and like us: