"We all want to get out. Not stay at home. I can't wait for summer 2021. Virus got me once but now I want some fun," sings Larry Jay, on his latest single "Worldwide Party Day". Fired up by hope and nostalgia, that's a dream most of us are carrying around on our shoulders on a daily basis. Unless you live under a rock, you're probably well aware of that feeling in these troubled times.  This song is almost guaranteed to be a fan favorite, for the uplifting and hopeful lyrics alone.  And eventual radio play or chart success aside, this song has the makings to generate the energy that will echo all across the globe. Fans, music consumers and those that identify closest with songs and artists have a way of cutting through what industry tells them is good. They cling to the tunes that move them, and this song is absolutely that.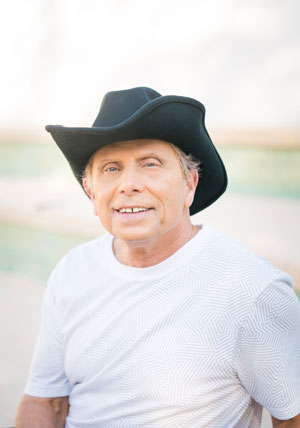 "Worldwide Party Day" sounds great, and in a way gives us another portion of the narrative of the working man, the common man, you and me, those worn down by all the restrictive measures undermining our freedom to be together and have fun.
A New York native, now residing in California, Larry Jay brings his vision for the future to life on this track. He does what he does best, digging into an Americana mindset and putting it to music for parties, sing-alongs, and pondering through feelings, memories, hopes and more.
A first runner-up in multiple songwriting contests, including the prestigious John Lennon Songwriting Contest, Larry Jay says he started writing and performing music "To set my soul free."  And it shows here as this kind of song is what Larry does best, selling the emotion behind the story and hitting you in the feels. He traffics in broad relatability and underdog charm, together with sharp songwriting and emotive punch.
Larry Jay, who has performed at the famed and historic Troubadour in Los Angeles, and has shared the stage with Neil Young sideman and member of Crazy Horse, Sonny Mone, is undeniably skilled at crafting Americana styled songs that hit all the expected beats, imbuing them with well-observed detail and clever turns of phrase. He is an artist who can relate to the public, while at the same time keeping his original ideas of music.
Larry Jay throws lots of personal wisdom and life lessons into each and every one of his songs, and "Worldwide Party Day" is no different, as it focuses an eye on the future. This is a song you can sing your heart out to in the choruses.
It evokes a great message for anyone who listens to it. It is safe to say that Larry Jay is an astute, once in a lifetime kind of songwriter and musician, who comes to the table without any overwrought pretentiousness, but brings a whole lot of substance to his musical creations.
OFFICIAL LINKS: WEBSITE – TWITTER – INSTAGRAM – SPOTIFY
Please follow and like us: