Rap and Hip-hop has become pop music's alchemy. Any style is fair game to be blended, morphed, mixed, and rolled back out with newfound urgency and impact. One style that has been steadily undergoing this process is punk music, and one of its up and coming protagonists, $kirmish has put together diverse amalgams of punk, electronic and trap that is nothing short of hypnotic. However his music is in constant evolution. $kirmish has been inspired by such artists as the Sex Pistols, Black Veil Brides, Lil Peep and Eminem. From his combined influences, he says that he is motivated into making something new that is "exhilarating, heartbreaking, shocking, excitable and everything between."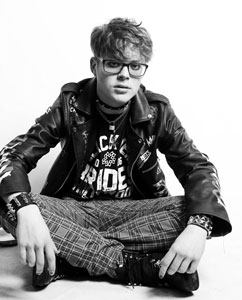 In December of 2020 he decided to erase his past music identity and sound, and branch away into new avenues where he could focus on the things he really wanted to do, and spread the messages he truly holds dear. $kirmish is also part of Revolution Underground – a UK based underground music community that strives to connect talented musicians and other musical based talents from across the country.
In fact, it seems that via Revolution Underground, $kirmish has linked up with Alixn & Zxkker to release the single "Waifu". This collaborative trio boasts their diverse musical ranges, delivering a track that is as catchy as it is captivating.
If you like soulful, stretched-out singing, skittering trap hi-hats, and a thick rumbling low-end, you'll dig this track. The sound is intimate and introspective, refining the subtleties of a style that pulls from so many different sources.
$kirmish along with his crew, demonstrate a chameleon-like talent for creating everything from the most infectious beat to the gentlest verses. He defines the modern position of urban-based music, which is unafraid to wear its heart on its sleeve.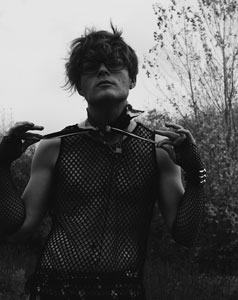 It's a futuristic fantasy song, with its plucked guitars, stacked vocal exchanges, and explicit sentimental and sexual references. $kirmish not only has a knack for storytelling, but a talent for transmuting private emotions into vivid, visceral life settings.
"Waifu" draws the listener's attention every which way, as $kirmish, Alixn & Zxkker unpack their verses.  They all clearly have a vision and an ambition – both within their own work in the song, and in the scope of the project as a whole. They breathe life into an intensely beguiling and unique track that shows off their skills and collaboration in an effortless way.
"Waifu" is not particularly long, on the contrary it's actually quite concise, lasting just 2 and forty-two seconds, so it wastes almost no time saying what it really wants to say. The infectious beat and lyrics make it an easy listen and provide a smooth transition between the artists, as they switch duties. This slow-building track shows off the incredible easy-going talents of $kirmish and his posse, as they sing about their "wife for life", and connect with fans on a new level.
Where $kirmish will go from here sonically, is anybody's guess, as he says he has big plans for 2021 and beyond. For now I thinks fans can be more than happy to savor the hazy soulful urban flavor of "Waifu".
OFFICIAL LINKS: ONLINE MUSIC COMMUNITY – TWITTER – INSTAGRAM
Please follow and like us: