Gilbert "Gil" Scott-Heron (April 1, 1949 – May 27, 2011) was an American soul and jazz poet, musician, and author, known primarily for his work as a spoken word performer in the 1970s and 1980s. His recording work received much critical acclaim, especially one of his best-known compositions "The Revolution Will Not Be Televised". The recording is an in your face declaration of the hoped uprising of the masses in defiance of authority and senseless following "…the revolution will not go better with coke. The revolution will not fight germs that may cause bad breath…"
Rochester, Minnesota, Hip-hop musician, Joe McShan aka Jae Havoc, takes his cue from that masterpiece to launch his own 13-track magnum opus, entitled "Kill Scott Heron". Gil Scott-Heron was one of those rare, gifted men with the ability to invoke change and revolution…in the musical sense. Jae Havoc doesn't stray too far from this formula. All tracks on the album were produced by Jae, except three, which were created by Brakebill.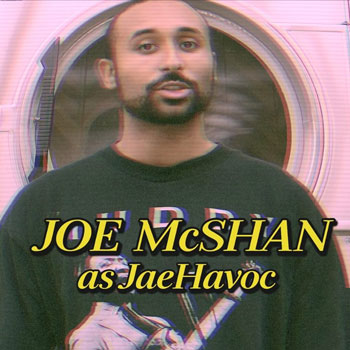 As expected, soulful, melodic beats and biting social commentary is what you'll find on "Kill Scott Heron". Jae Havoc pulls no punches in his political and social assessment of the world around him. This is not some feel-good or party rap rubbish. Serious commentary is the order on this album. Kind of like Public Enemy or the Talib Kweli of his day, Jae Havoc stays grounded in the real and the here and now. Musically I'd say that this is insightful progressive Hip-hop with definite alternative and experimental influences. The closing instrumental song "Dusk", also celebrates two powerfully emotive and creative musicians on guitar – Paco Reincke and Jake Norton.
All through the album, Jae Havoc puts a magnifying glass on society and his experiences that are largely ignored by the majority of rappers. For every Hip-hop artist who can't find anything to rap about, but clothing, cars, and the opposite sex, put the gun down, and put this album on! Now shoot straight to standout tracks like "Sometimes (Full Measures) [Ft. Doc Foxer]", "Population Poltergeist [Prod. Brakebill]", "Escapism For Dummies [Ft. Sam Phoenix]", "No Alphas (Wolves in the Street) [Ft. Sam Phoenix]", "The Rise of Fall [Ft. Montana Filoteo]" and "Cold Open (You Better Run)". Jae Havoc may be a little too much for some people. If you are looking for catchy hooks or an abundance of choruses, you will not find them here. If you are looking for bouncy, flashy hip-hop party beats, you also won't find those here. In fact, the production value of this album has nearly as much to offer as Jae's rhymes do. The album is filled with beautiful soundscapes loaded with some amazing samples.
I've been infatuated with the underground hip-hop scene for a few years now, which is something that more hip-hop lovers need to do, since the commercial product has gone down the toilet since the mid-90s. It's hard to classify Jae Havoc as simply an underground rapper, because if you honestly listen to his music, it's unlike anything you've ever heard out there today. He brings in many influences from way outside the genre. These tracks have substance to them, and they don't need to grow on you. At first listen your jaw will drop to the floor. Jae comes with mad complexity but he is easy to understand. I can't find a flaw on this album, it is definitely perfect. Do yourself a favor, pick this up!
OFFICIAL LINKS: FACEBOOK – YOUTUBE – SOUNDCLOUD – BANDCAMP
Please follow and like us: